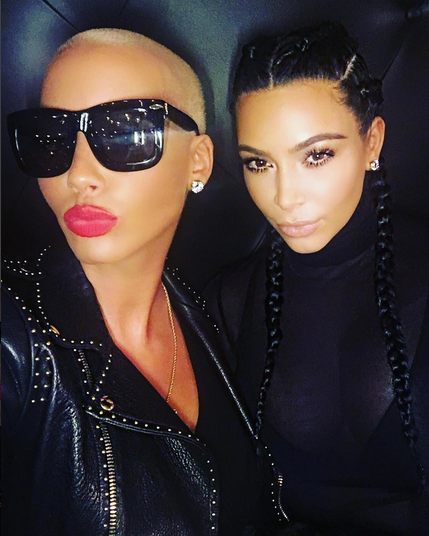 Amber Rose is extending the olive branch to Kim Kardashian West in the name of feminism. Get those deets and check out video of Lauren London's red carpet interview at The Perfect Match L.A. premiere was cut short when Jennifer Lopez hit the red carpet inside….
First they're sour, then they're sweet with a small dose of shade.
At one point in time Amber Rose and Kim Kardashian West couldn't stand one another. After the Twitter wars between Amber and Kim's sisters and Amber's ex-Kanye West publicly "slut shaming" her, the two were at odds.
Just last month, the ladies decided to bury the hatchet and joined forces on the 'Gram with a selfie that nearly broke the Internet.
Now that bygones are bygones, Amber is extending the olive brand to her former enemy in the name of feminism. After Kim K posted a naked selfie on social media, she received tons of backlash from fans and celebs. She then took to her website to pen an open letter to clap back at the body shamers. And now, Amber is seemingly coming to her defense. Well that's interesting.
The "How To Be A Bad B*tch" author hopped on Instagram to invite the reality star to her next SlutWalk.  She encouraged Kim to own up to her now 13-year-old sex tape (that ultimately put her in the limelight). She posted: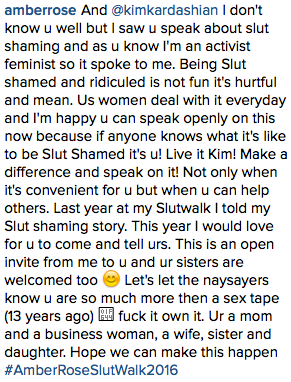 Hmm...is Amber being low key shady or nah?
In another IG post, Amber did come to Kim's defense popping off at singer P!nk. She reposted one of P!nk's posts and had plenty to say in response: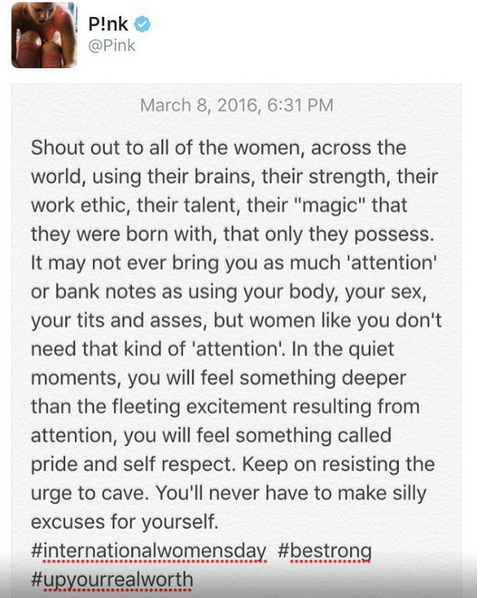 Speaking of shade...
If you thought we were exaggerating about the Jennifer Lopez effectat The Perfect Match L.A. premiere the other night, here's the proof.
The Perfect Match star Lauren London was making her way down the carpet to conduct interviews when ish went left. Lauren was chopping it up with a magazine when all of a sudden Jennifer Lopez hit the red carpet and the camera man shifted his focus on her! Lauren seemed annoyed, threw up her hand and said, "Go head! You're doing a lot" then walked off from the reporters. Bloop!
Peep the clip above.
Well Lauren hopped in our comments section on IG where we posted the video earlier to respond to the shady antics saying:

While that interview was cut short, TheYBF.com got the chance to chit-chat with the actress on the carpet. You can check out our interview below:
Photos: Amber's IG