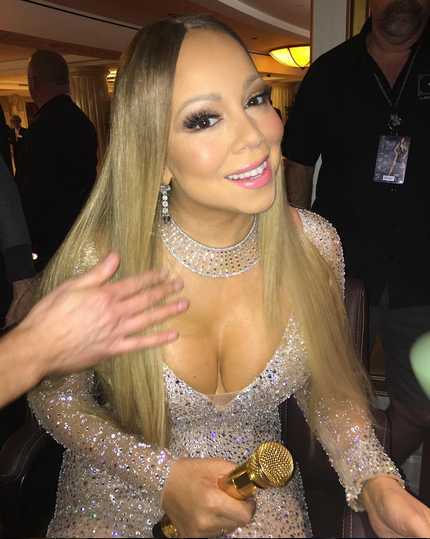 Shade Queen Mariah is back at it again.  Remember like 15 or so years ago when Mariah claimed she "didn't know" Jennifer Lopez?  J.Lo has been making her interview rounds lately to squash the beef, and MiMi just re-ignited it.  Check the newest video inside, plus Cuba Gooding Jr. doing the absolute most in the club, in case you missed it.
Oh Mimi.  What are we going to do with you (besides us taking notes on how to effortlessly shade)?
Jennifer Lopez stopped by many talk shows this week and last and tried to convince folks there's no beef between herself and Mariah Carey.  That interview from the early 2000's (when J.Lo was pretty much a bonafide pop star) when Mariah answers "I don't know her" after being asked what she thought about Jennifer Lopez is still one of the most epic diva moments in history.
J.Lo hit up "The Wendy Show" yesterday and confirmed she and Mariah had met several times and she was just "forgetful."  Hmph.  But Jenny also didn't see her show in Vegas recently.  Folks asked her why not and she said she didn't have time due to taping "Idol."  She did, though, find time to make it to everyone else's (and we mean EVERYONE else's) show.
Aside from the other shady moments here and there between the two, J.Lo swears there's no beef at all.  And then, TMZ caught up with Mariah in Vegas last night.
When she was asked -- with Jenny's name even being mentioned -- what she thinks about "I still don't know her" still being relevant today.  She responded,"I still don't know her."
BLOOP.  Check it below:
There's nothing like classy shade that we KNOW won't end up with two ladies fighting in the streets.
In other ish caught on video:
Cuba Gooding, Jr. is loving his fame resurgence y'all.  And we can't even blame him.
"The People vs. O.J." star was spotted turnt all the way up inside Club Liv on Sunday.  Rick Ross was hosting the spring break party and plenty of celebs were in the mix.  But the one that stood out, Cuba of course.
He had his shirt off and on his head, he was eating people's cell phones, and dancing on top of couches. Dude was getting his entire life.  But that's what you do when you have a hit show on tv.
Peep the videos below:
But that face of his when he got caught trying to lick a chick's face and was all up in her Snap...HA!
Get it Cuba!
EXTRAS:
1. Follow us on Snapchat & Periscope (@TheYBF on both)!
Photos/Videos: Instagram