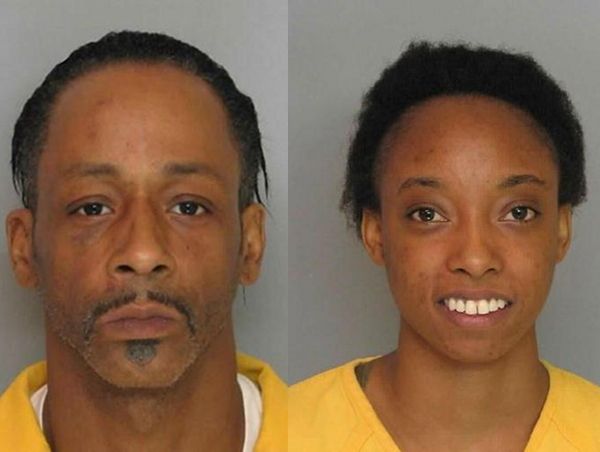 Another one.  Apparently Katt Williams needs to do a #JailTalk for Snap because dude is in there more than a little bit.  News inside on his latest arrest on Tuesday and who else is involved in the foolery....
Comedian Katt Williams has possibly graduated from assaulting people himself to getting other people to do it for him while he watches.
A man believed to be Katt Williams' bodyguard was recently the victim of another alleged Katt Williams crime in Georgia.
Bodyguard Corey Dixon claims that about a month ago, Katt attempted to force him to commit crimes around town.
Hall County Deputy Nicole Bailes says Corey refused to "engage in criminal activity as directed by Williams."  Corey says he was then taken back to the comedian's home on Lake Breeze Lane in Gainesville and punished for it. 
According to the Sheriff's Office press release, Katt ordered a 24-year-old woman named Tatiana Smith (pictured atop in new mugshot next to Katt's new mugshot) to take a baseball bat and beat Corey with it in the chest.  She's also accused of choking him.
Katt reportedly stood back and watched, and even ordered her to kill him.
"He ordered the assault and stood there while the assault was happening. It is my understanding that there were firearms present. Mr. Williams had a firearm on his person," Bailes said.
Katt was booked Tuesday on charges of aggravated assault, false imprisonment and terroristic threats.  Tatiana and another resident of the home, Lena Smith, were also arrested on a combination of charges including aggravated assault, possession of marijuana and possession of Alprazolam. All three are being held without bond and have a hearing set for 2p Wednesday.
As for why it took this long to arrest Katt, Bailes said:
"Obviously, Mr. Williams has been in the news quite a bit, and we wanted to preserve the integrity of our investigation. When we initially received this, we wanted to follow up with this. A lot of our witnesses live out of state."
On the same day this alleged attack happened, Katt and a group of 15 people allegedly robbed five women at gunpoint in Atlanta.  The next day, Katt was arrested in Philly for attacking a pool store owner.  Also within the last few weeks, Katt was caught on video punching someone on stage during Beanie Sigel's show in Philly.
Chile...
EXTRAS:
1.  Popular Grammy-nominated gospel recording artist, James Fortune, has pleaded guilty to assaulting his wife. STORY
Photos: Gainesville Police Department