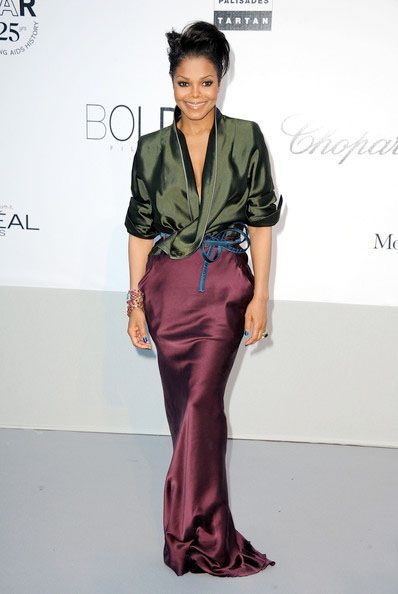 Uh-oh! We hear Janet Jackson may have cancelled her European tour dates. Get those deets, plus, find out why folks are dragging Lil Mama over her "Work" remix inside…..
The mega "Unbreakable Tour" may not be rolling in a city near you soon.
Just months after Janet Jackson postponed upcoming tour dates in the U.S., it appears she has now cancelled the European leg.
According to reports, Ticketmaster issued an email to ticket holders explaining that they would receive a refund for their tickets since it's unclear when Janet will be able to get back out on the road. The email said:
"It is impossible to confirm new date at the present time so we are refunding all ticket holders."
You'll recall, Janet had to cancel and postpone a handful of dates that were set to go down this Spring after a health scare. While it's still unclear what health issues she is having, she had to undergo emergency surgery in December. She also cancelled two tour dates back in October after her doctor ordered her to rest her vocal chords.
All of the European dates have been taken down from Ticketmaster's website and sources confirm to Billboard the tour is cancelled. While the UK dates are nowhere to be found, the American dates are still up on Ticketmaster.
A few days ago....
It's Super Saturday at #Meydan. I'm looking forward to performing at #DubaiWorldCup16; March 26th!https://t.co/YjgWmms6QH

— Janet Jackson (@JanetJackson) March 5, 2016
Janet shared a video on Twitter sharing how excited she is about performing at the Dubai World Cup on March 26th. Will she make it? Time will tell...
In other news...
Rihanna and Drake's "Work" track has everyone dropping it low and twerking for their lives. So, Lil Mama decided to make her own remix to the hit track.
In the clip, she performed a few sexy dance moves at a basement party with her girls. Making the song her own, she added in a few bars and she even flexed her vocals over the beat. Now, folks are dragging her on social media for it. Check out the video above.
Once the remix was released, trolls came out to roast Lil Mama. And here are the tweets:
Lil Mama needs better friends.

— Blédakiss (@ChefRoble) March 6, 2016
Lil Mama remixed Work... its called unemployed pic.twitter.com/qlbCSuuDGX

— Derik M. (@noLove_moreLOUD) March 6, 2016
Lil mama we said look for work, not remix it. pic.twitter.com/mfmYtYD06U

— (@DubOnDaBeatz) March 6, 2016
Lil Mama doesn't understand that she was a one hit wonder & that was lipgloss.. She keeps trying, poor girl.

— curls. (@cuuurlybeauty) March 5, 2016
Lil Mama got me crying...those dancers got paid in fruit punch and an Uber ride.

— SHAWN. (@saytruuuth) March 5, 2016
Why do they hate on Lil Mama so much?
Photo: Getty