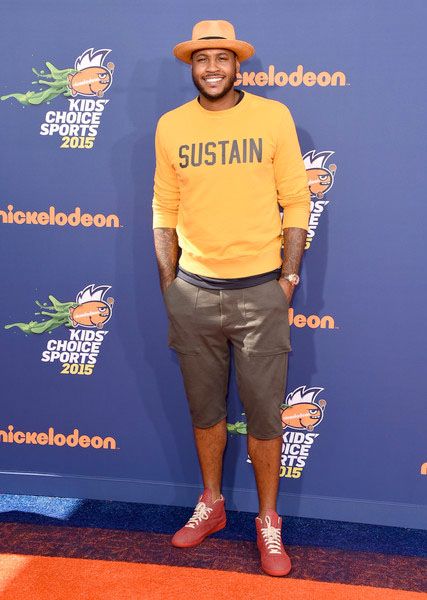 How cute! Carmelo Anthony is designing a new Teenage Mutant Ninja Turtle clothing line for the kiddies. Meanwhile, Jourdan Dunn opens up about black women in the fashion world and the guilt a working mom feels for her first ELLE UK cover. Get it all inside….
New York Knicks baller Carmelo Anthony is joining the ranks of his fellow NBA ballers-turned-fashion designers, such as Russell Westbrook and Dwyane Wade, stepping into the fashion world. But, Carmelo is taking a different route. He's bringing new fashions to the kiddies.
Carmelo has teamed up with Nickelodeon and Macy's for the release of a new clothing line coming this spring. The collection, an active line of boys' apparel and accessories, is inspired by one of his favorite childhood cartoons, the Teenage Mutant Ninja Turtles! We're sure his son Kiyan was all over this.
"For me, this is a big moment," said Carmelo. "I grew up on the Teenage Mutant Ninja Turtles, so to be able to partner on a boys' collection with Nickelodeon and Macy's goes beyond my wildest dreams. As a kid, they were one of the first cartoons I gravitated to."
According to Women's Wear Daily, the kiddie collection will include T-shirts, hoodies, shorts, pajama sets, socks, basketballs, and an over-the-door basketball hoop to practice their b-ball skills. Of course.
Melo wasallin for the new project helping to pick out fabrics, textures and colors for the new line. He told WWD,
"I was basically involved in the whole creative process — the colors, which are kind of obvious considering they're turtles, and the slogan, and the textures. I was involved in every step. We really took our time to narrow it down and figure out what we wanted. I feel good about all the pieces."
We predict a photoshoot starring Kiyan rocking some of his dad's latest designs coming soon.
The limited release line will make its debut in early May that will available in all Macy's stores and online, ahead of the release of the sixth Teenage Mutant Ninja Turtles movie in June. We hear Melo may make a cameo in the film as well.
Products will be made available until they sell out, so don't wait until the last minute to cop a few pieces. Pieces from the TMNT x Melo collection will range from $20 to $35.
Congrats Melo!
On the magazine circuit....
Supermodel Jourdan Dunn is gracing a new magazine cover. The British beauty rocks a Miu Miu silk top and a Vivienne Westwood on the cover of ELLE UK's April 2016 issue.
Inside, the 25-year-old model opens up about the black woman's presence in fashion and the guilt a working mother often feels.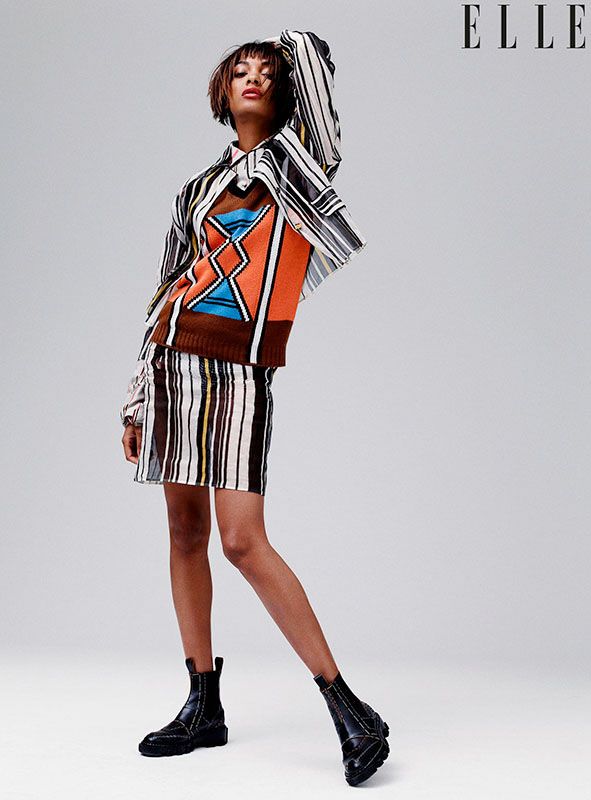 While Jourdan has been slaying the modeling game and nabbing a spot on Forbes list of top-earning models, she still feels diversity is not fully inclusive in fashion. She said,
"There are definitely a lot more girls of colour being represented. But I also feel like we're 100% still not there. I want to see us get to a place where seeing a black girl, anywhere, is not such a big deal. Why can't it just be the norm to see black models in campaigns and on covers and runways? It's still too much of a big thing when this happens."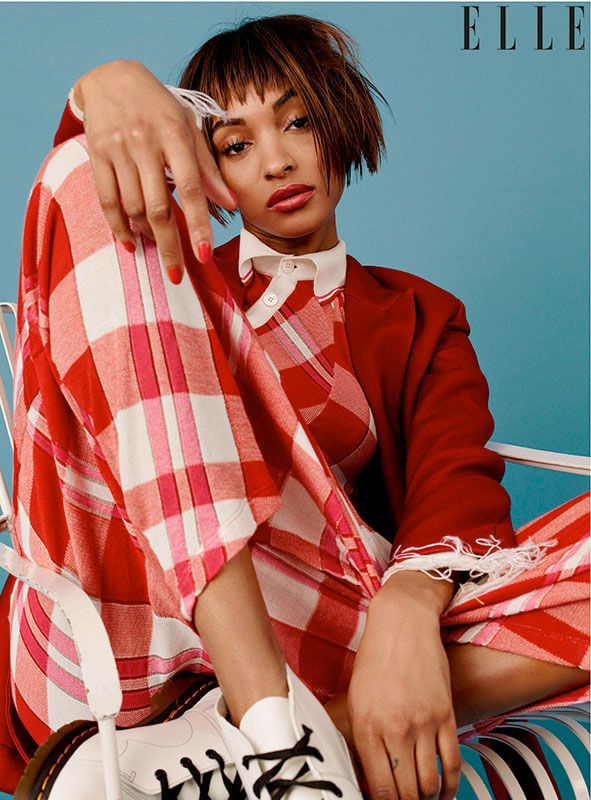 As the mother of a six-year-old son, named Riley Dunn, Jourdan said she sometimes feels guilty when work calls and she has to leave her son, who battles sickle cell anemia. The Sickle Cell Disease Association of America ambassador dished on balancing her career and caring for her son's needs. She said,
"The one thing about parenthood no one ever warns you about. They tell you about the sleepless nights, but no one ever warns you about the guilt. He was just in the hospital last month, but I'm fortunate that he's quite well. So if something happens at work and I don't get an opportunity, it's fine. I'm not gonna cry about this stuff. I've got bigger things to think about, like my son and if he's OK and keeping him out of the hospital. Ultimately, I look at it like this: I am my son's lifeline. Mummy needs to work to put food on the table and pay his school fees. So I always keep that in the back of my mind."
We're sure it's hard having to leave her son behind, especially when he's sick.  We're glad she has a good support system to help care for him.
You can read her full interview here.
In collaboration with the ELLE UK cover, Jourdan filmed an an original ELLE short film. Check it below:
Shout out to all the working mothers out there grinding for their cubs!
Photos: Bjarne Jonasson via ELLE UK/Getty