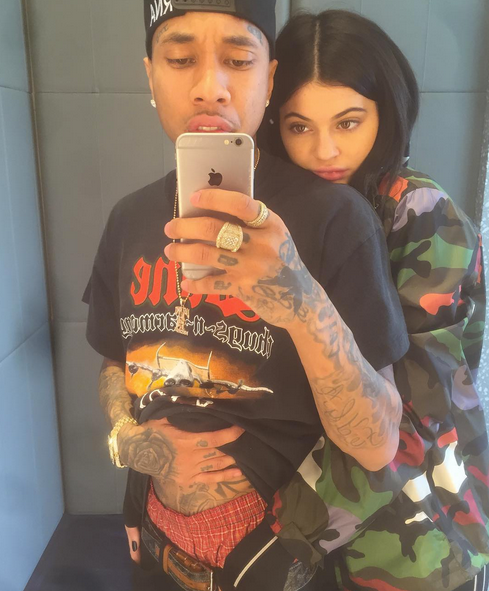 Tyga opens up about his beef with Drake and his controversial relationship with Kylie Jenner in a new interview. Meanwhile, Elton John is bashing Janet Jackson for not singing live during her concerts. Bloop! Deets inside….
Tyga came under a lot of scrutiny for his relationship with reality star Kylie Jenner. The 26-year-old west coast rapper started dating the reality star before she hit the legal age of 18 (which she celebrated last August). They were often spotted out together, but remained mum on their relationship up until she became legal. 
T-Raww has kept quiet about the backlash, until now. In a candid interview with radio personality Shay Diddy at 106 KMEL in San Francisco, he opened up about how he's handling being criticized for dating an underage girl.
"I don't know," Tyga said. "It's kinda hard to talk about that because people are gonna bash. I didn't understand it though because I'm like, 'This person is a really good person.' It's almost like, the devil keeps trying to tell me something to not follow God, just let God do what he want to do. So, I don't really know how to speak on that because it's just something I have to deal with. A lot of things in life, you just gotta deal with it as it comes. That's what I learned."
What he fails to realize is the negative backlash had nothing to do with whether Kylie was a good person or not. Folks were going in about his relationship because he is a GROWN man dating a child. Interestingly enough, he said he feels like his age is what helped him help her get through the public scrutiny.
"Me being older than her, I've been through a lot more things, so I can help her more with it," Tyga said. "Even though she's been more in tabloid media limelight than I have been, I can see that because I know what type of person she is. I know what she deals with."
Oh.
He's still missing the fact that at one point he was messing with a CHILD and that's why people had so much to say about their relationship. People had a problem with them dating because there's this little law called statutory rape. Hmph.
Changing subjects, the "Rack City" rapper also dished on his beef with Young Money labelmate Drake and how the media played a big part in their feud. He also shared how Kanye West helped them squash their beef and resolve their issues.
"It was really never no problem," said Tyga. "It was miscommunication. It was media. Then, once you get into the petty game, it's just like let's be petty all day. It was just media and stuff. We never really had a problem. Over time, people grow apart. You don't know what the other side is feeling…and you just lose that communication with somebody. And then, we just linked up. Ye [Kanye West] put us in the room when he had, I think it was Yeezy Season 2, and we just chopped it up for a long time about a lot of stuff."
Later, Tyga talked about how Justin Bieber put him on to SnapChat. Can you guess what attracted him to the social media app? Girls!
"I was in the studio with Justin Bieber", the "Ayo" rapper said. "It was like three years ago. We did this record and he was like, 'Bro, are you on Snapchat?' I was like, 'What is that?' He was like, 'Snapchat. Girls, they can send you pictures and you can delete them and it deletes.' I was like, 'What is that?' He set my Snapchat up for me and I never knew how to use it so I never used it…I had it for like three-and-a-half years. I just never knew how to use it. [Now] Snapchat's cool."
We find it odd that he revealed he joined SnapChat to bag chicks while talking about his relationship with Kylie. Maybe she's unbothered by it.
The "Stimulated" rapper also talked about never meeting his dad, a new movie he's producing, his reality show "Kingin' With Tyga" getting renewed for a new season and more.
Peep the interview below:
In another interview...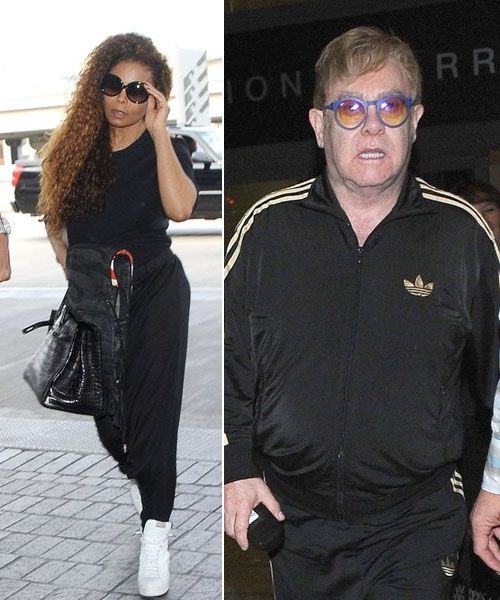 Chile! Elton John is NOT here for Janet Jackson lip-syncing during her shows.
The shady singer, who collaborated with Janet on his album Elton John and Tim Rice's Aida, sat down with Rolling Stone to give his opinion about critics calling Janet's show the "greatest show ever." And he held NOTHING back.
"You know, f*cking music magazines writing a review of Janet Jackson saying, 'This is the greatest show – four and a half stars,'" he said. "It's f*cking lip-synced! Hello! That's not a show! I'd rather go and see a drag queen. F*ck off."
SAVAGE!
Janet isn't the only star Elton has called out about lip-syncing. Back in 2004, the Grammy Award winning singer-songwriter went OFF on Madonna for doing the same thing. He said,
"Madonna, best live act? Fuck off," he said. "Since when has lip-syncing been live? Sorry about that, but I think everyone who lip-syncs on stage in public when you pay like 75 quid to see them should be shot. Thank you very much. That's me off her Christmas card list, but do I give a toss? No."
Zero chill.
You can read his full interview here.
Janet is gearing up to go back on her "Unbreakable Tour" (after having to postpone it due to health issues) starting March 26th at the Dubai World Cup.
Photos: FameFlynet/Tyga's IG