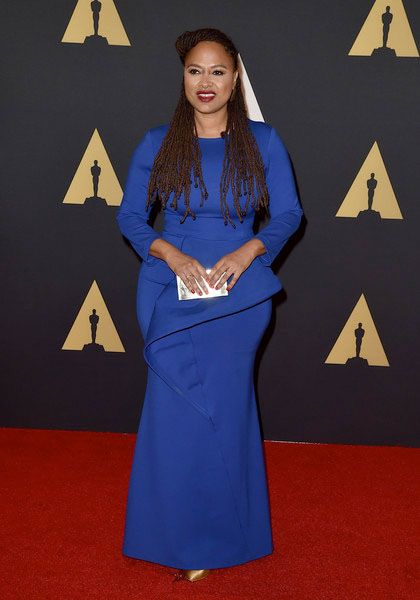 Ava DuVernay is taking her directorial talents to Disney for a new film titled A Wrinkle in time. Get the latest on Ava's newest gig and find out what Tia Mowry Hardrict said about transitioning to reality TV inside….
And the gigs just keep coming in!
Fab directress Ava DuVernay is reportedly gearing up to helm a new project. According to Deadline, Ava has officially signed on to direct Disney's adaptation of Madeleine L'Engle's classic A Wrinkle in Time, with a script written by Frozen's Jennifer Lee.
Below is a description of the book:
A Wrinkle in Time is the story of Meg Murry, a high-school-aged girl who is transported on an adventure through time and space with her younger brother Charles Wallace and her friend Calvin O'Keefe to rescue her father, a gifted scientist, from the evil forces that hold him prisoner on another planet
That's not all….
The SELMA director has also been offered to helm a film by DreamWorks titled Intelligent Life, where Oscar nominated actress Lupita Nyong'o is reportedly attached to the film. We're certainly here for that!
These are just two more projects added to Ava's already full plate. She's also working on a film about Hurricane Katrina with David Oyelowo and she's finishing up Queen Sugar series on OWN that she wrote and is executive producing alongside Oprah.
Continue the black girl takeover Ava! 
In a new interview…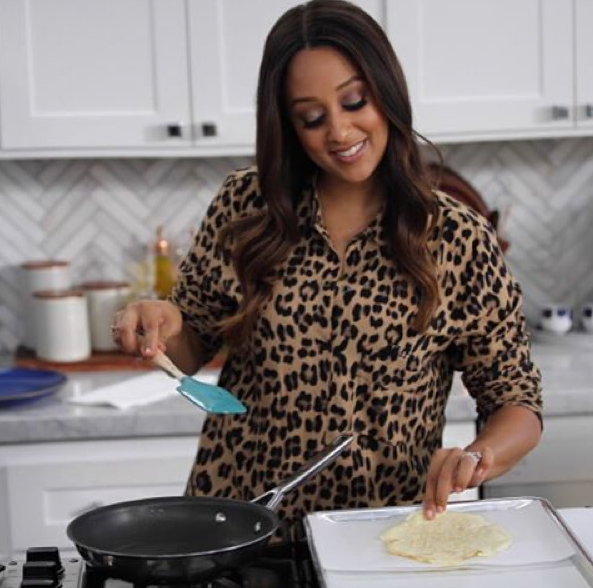 Tia Mowry Hardrict has been heating up the kitchen since her departure from the hit sitcom "The Game." She's the star of her own cooking show that also serves as somewhat of a reality show. Her show is about her real life and how she juggles being a businesswoman, mom and wife.
In an interview with the Miami Times during the Food Network & Cooking Channel's South Beach Wine & Food Festival, Tia opened up about how her career is changing parallel to what's going on in her life. She said,
"What I'm personally going through is what inspires me. As a teen, I did Sister, Sister, and a lot of the themes were based on what teens were going through — dating, bullying, and peer pressure. Then I went to college, and I traveled around the world and experienced this transition into young adulthood and knew heartbreak, dating, and wondering what you wanted to do with your career, which was like my character in [the TV comedy] The Game."
The actress-turned-TV-chef wants other mothers out there to know that if she can handle juggling the many different hats she wears on a daily, so can you! She explained,
"I am a working mom, and I have to balance and juggle a family and a career. I'm not playing a character, so I want people to see that if Tia can do this, so can they."
Transitioning from scripted television to reality TV has been pretty much smooth sailing for Tia because she's in total control of her show. She talked about not allowing this industry to comprise her morals and being the boss behind her new project. She said,
"My number one rule is that I do not allow this business to define who I am. With that said, there are a lot of producers out there who believe, and it is true to some point, that confrontation and drama gets ratings. But it's not about trying to fit that mold. It's about me being who I am. I believe I bring authenticity. I never tried to shape and change myself to fit what's now and what's hot. I had creative control to say that this is not the route I want to go. I am here to inspire."
Loves it!
Tia also offered up a few healthy eating tips for those who live a fast-paced life (don't we all?). She shared,
"Know that this is going to take more time than grabbing a slice of pizza or opening a can of tuna, but know this will be a better choice." She also suggests stocking your fridge with staples. "What I like to do on Saturday or Sunday is go to the grocery and get fruits, vegetables, rice, pasta, and chicken broth." A good time-saver is to purchase chopped carrots, celery, onions, and garlic. "The only thing you have to do is toss them into a pan with a protein."
We love her advice on preparing your meals ahead of time and staying consistent. It definitely aint easy. You can read her full interview here.
Photos: Getty/Tia's IG