Minister Louis Farrakhan has (slightly) changed his tune and has offered Beyonce protection in the midst of rumors that some policemen will be boycotting her upcoming concert dates. Get the latest inside….
Nation of Islam leader Minister Louis Farrakhan is offering up protection for Beyonce during her upcoming FORMATION World Tour amidst reports that some police unions will be going out of their way to NOT protect her at her stadium performances.
Sounds like the minister is changing up his tune after scolding Bey over the way she dresses a few months ago. Remember when he publicly criticized Jay Z telling him he needed to keep Mrs. Carter "covered up?" Hmph.
Yesterday, Minister Farrakhan delivered the keynote address at the Nation of Islam's Saviours' Day Convention in Detroit where he addressed the "Formation" singer's unapologetic Super Bowl Performance and the supposed boycott from police that followed.
He started off saying, "And my sweet sister Beyonce. Boy! Did she fix them?! People are terrified. Beyonce? She started talking that black stuff! And white folks are like 'we don't know how to deal with that.''
He continues, "When one of us shows independence: Look at how you treating Beyonce now. You go picket? You're not going to offer her police protection, but the F.O.I. (Fruit of Islam) will."
They don't want that!
He then praises Grammy Award winning rapper Kendrick Lamar for setting a new standard in the rap game and then yelled out, "The cultural revolution is on!"
Check it:
According to reports, police unions in Miami, Tampa and Nashville, TN are calling for officers to NOT volunteer to work at her upcoming show and to discontinue listening to her music.
Javier Ortiz with the Miami Fraternal Order of Police issued a statement saying, "We're not going to put up with her anti-police message. Beyoncé used this year's Super Bowl to divide Americans by promoting the Black Panthers and her anti-police message shows how she does not support law enforcement."
And he wasn't the only one with those feelings. According to Billboard, Tampa Police Benevolent Association President Vincent Gericitano posted a statement on the group's website saying it was "disgusted" with Bey's Super Bowl halftime performance and "equally disgusted" with her new "Formation" music video.
Why is it that any time someone is PRO-black that automatically equates ANTI-white in some folks minds? Learn the difference folks.  And please understand that calling attention to the wrong doings of any organization does not equate being anti said organization.  It's always so interesting when certain members of organizations choose to be outraged about folks commenting about their wrongdoings, as opposed to being outraged about the wrongdoing itself.
By the way, 8 out of the 9 cops killed in the U.S. in 2016...were killed by white men.  But they don't want you to know that.
Miami police spokesperson Lt. Freddie Cruz reportedly said there were extra-duty shifts for the concert and that it will be"open for officers to sign up. Whether they sign up, it's up to them."
President of New York's Sergeants Benevolent Association Ed Mullins says he fully supports the Miami police union's decision to boycott Bey's tour telling Pix 11 News, "Law enforcement across the country has to make a statement that we're not bad guys and she's got to stop portraying us as bad guys."
The president of Nashville's Fraternal Order of Police told CBS, "We ask officers to refuse to support the efforts of artists who promote a false narrative of law enforcement attacks on black citizens."
Not everyone has lost their minds though.  Police spokeswoman Andrea Davis said there's no indication that officers will be boycotting Bey's concerts adding, "This has been blown way out of proportion." We agree. In fact, Tampa brought some humor amid the controversy tweeting:
What?! @TampaPD officers have been in #formation for days signing up to keep the #Beehive safe! #Truth#Factpic.twitter.com/5skrSDNHNS

— TampaPD (@TampaPD) February 18, 2016
All of this boycott talk is BS being that if there aren't enough officers to cover Beyonce's concert, officers will be assigned as a safety precaution for the artist and the fans that attend. The Formation Tour kicks off April 27th in Miami.
Nice try guys, but you will have to get in "formation" and deal!
In other Knowles family news...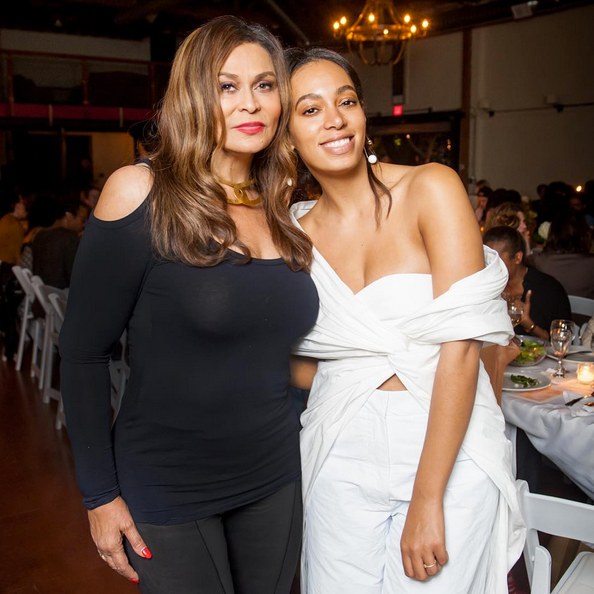 Like mother, like daughter!
Solange and Mama Tina linked up to celebrate Solo's Saint Heron label with a fabulous 5-course seated dinner in LA. last night. Those good genes run deep.
The mother-daughter duo enjoyed the company of Tina's husband Richard Lawson and few of their close family friends, actor Glynn and Jo-Ann Turman. Afterwards, Solo hosted a "Wine and Grind" afterparty where she invited a few fans to come out and party with her and her team. Nice!
Photos: Getty/Tina's IG