Supermodel Leomie Anderson unleashed a Twitter rant that will hopefully have some make up artists reevaluating their make up kits. Find out what she said and get into the #BlackGirlMagic designer Zac Posen displayed at NYFW inside….
British model Leomie Anderson unleashed an epic rant about make up artists who come to work not prepared to fulfill their duties to the fullest capacity.
During New York Fashion Week (that just wrapped up), Leomie took to her Twitter account to air out her frustrations over make up artists who don't come prepared to do make up for women who are not white. And supermodel Jourdan Dunn concurs.
Leomie started off her rant questioning why white models can be confident their make up will be flawless on the runway while black models have to do a seek-and-find for an artist who has foundation that would match their completion. Make up artists weren't the only people she called out. She said they need more hairstylists who can do textured hair as well.
She tweeted (read from the bottom up):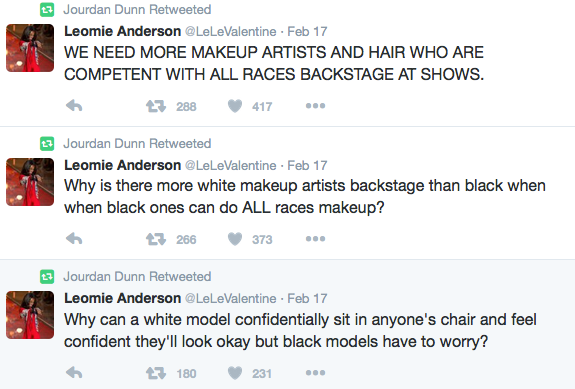 Jourdan retweeted Leomie's tweets in agreement with her statements. Remember when Jourdan popped off at Victoria's Secret and decided not to walk in their show? While it's still unclear exactly why she decided to back out, we have a GOOD guess why she bailed.
Leomie even went as far as putting one of the make up artists on BLAST, showing her make up kit filled with foundations that catered to women with fair skin. Peep the tweet:
@DPatronne here are her foundations yet she confidentially put her hand up to take me in her chair pic.twitter.com/S8ivmvusSN

— Leomie Anderson (@LeLeValentine) February 17, 2016
Bloop!
Leomie is NOT here for this foolishiness…neither are we.
But we are HERE for this: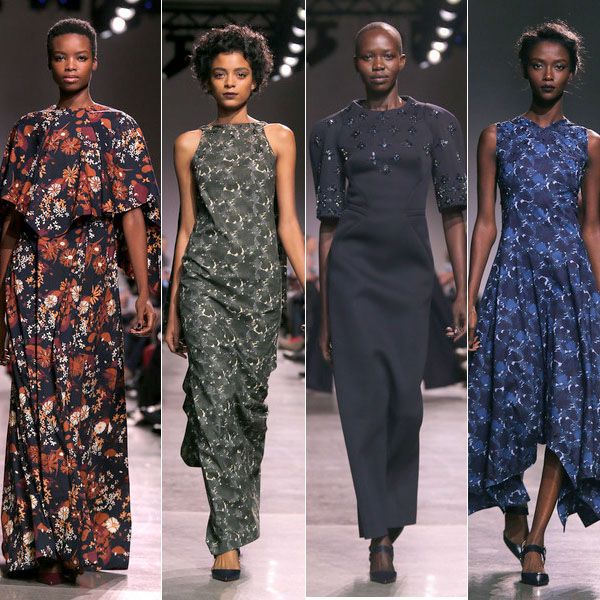 Take a moment to soak up this black girl beauty. OK!
Designer Zac Posen is shaking up the fashion world with his NYFW fashion show. 25 of the 33 models he chose for his runway show are black women. YES, a black girl takeover went down during NYFW. And we love all of it.
Before his show earlier this week, the designer posted this on Instagram:
Zac posted a picture of himself carrying a bag made my black model Ashley Chew with the caption,"#BlackModelsMatter #womanofcolormatter #Diversity is what makes the world beautiful and inspiring! #NYFW #FW16 @cfda bag by @ash_chew"
Finally someone who GETS it.
For his Fall 2016 collection, he said Ugandan princess Elizabeth of Toro was the inspiration behind the new collection. He explained, "This collection was inspired by Ugandan Princess #ElizabethOfToro a royal who studied law at Oxford, modeled for Diana Vreeland at Vogue and represented her country at the United Nation. Therefor it was a dream to have Ugandan beauty #AamitoLagum close my fall 2016 collection."
This is definitely a huge step in the right direction to start adding more diversity in the model/fashion world. Hopefully, this rubs off on other designers to start choosing more women of color to walk in their shows.
Photos: Getty