Angela Bassett weighs in on the O.J. Simpson scandal, and Brandy opens up about losing a movie role to Tika Sumpter. Deets inside...
Angela Bassett's husband Courtney B. Vance is starring in the hit crime drama "The People vs. O.J. Simpson" as defense attorney Johnnie Cochran. If you watched last night's episode, you see we're right at the point where Johnnie Cochran joins O.J.'s "Dream Team" defense as they prepare to build their defense on race.
Now, the "American Horror Story" actress is weighing on the murder scandal 20 years later.
In a new interview with Closer Weekly, the 57-year-old actress says she believes O.J. killed his wife Nicole Brown Simpson. She tells the publication when asked her thoughts, "Yeah, I think O.J. did it."
The Oscar nominated actress then added she's praying for their children who lost their mother in such a brutal way. She continued,
"But what's most important are those lives that were lost in that senseless, reckless, violent way and the young children who lost their mother. My best wishes are for their comfort."
We're sure it has been difficult for Sydney and Justin Simpson to have to relive this tragic moment in lives play out on television.
In another new interview.....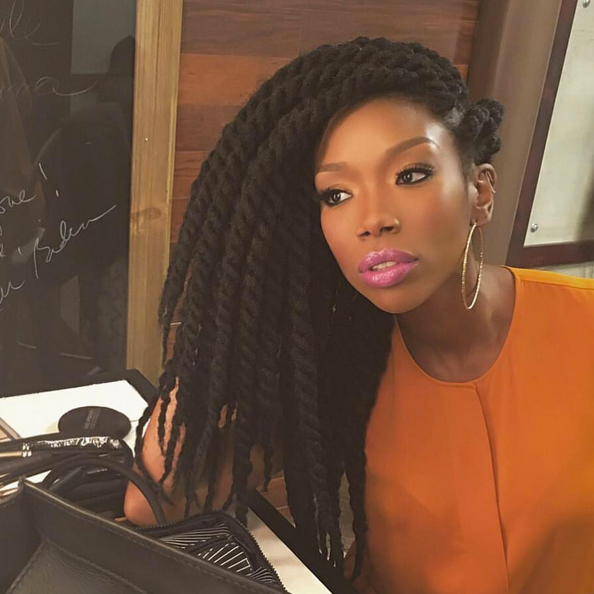 The season finale for Brandy's new BET sitcom "Zoe Ever After" aired this week. So, she has been making her media rounds to promote the show (which we surprisingly thought was cute series).
The R&B singer/actress stopped by ABC Radio to talk about her new show and how she lost out on a movie role to another YBF actress.
She also dished about working with Martin Chase on the history making 1997 TV movie classic (and the first time Cinderella was portrayed as a black woman) Rodgers & Hammerstein's Cinderella. She reflected on a time where she had given up and quit everything. Music. Acting. Everything.
Debra was working with Mara Brock Akil on the Sparkle revival and did all she could to get Brandy the role. Unfortunately, it wasn't enough and the role was given to actress Tika Sumpter. Brandy explains,
"There was a time where I had stopped everything and I had a meeting with her and I just told her that I wanted to work with her again and if she had anything she was doing to please keep me in mind – you know, that heart-to-heart conversation," Brandy shared. "And she did Sparkle with Mara Brock and Salim and I went in and auditioned and she was really behind me, like really encouraged me, just really had my back. And I had felt good about my audition by it just didn't work out."
While the Sparkle role didn't work out, fate brought Brandy her very own sitcom. And a role that she could easily adjust to. Being a single mother of a 12-year-old daughter (Sy'rai Smith), she said she wanted the series to mimic a bit of her personal life as she co-parents with Sy'rai's dad, Robert Smith. She said,
"I also wanted Zoe to reflect a bit of my personal life. I'm a single mom but I co-parent with Syrai's dad, which I think is beautiful. I think is mature. I think it's a great thing and I think it's great for people to see that. And that was really important to me. So those were the two things that meant everything; to see the co-parenting and to see this woman in her thirties still striving for what she believes in and what she wants to do."
We wonder if that means Robert stays trying to get some nookie and interferes with her new relationships. 
Stil, it's nice to hear she and her ex are co-parenting effectively.
"Zoe Ever After" aired its season 1 finale on Tuesday. No word yet on if it will be renewed for season 2.
Photos: Getty/Brandy's IG