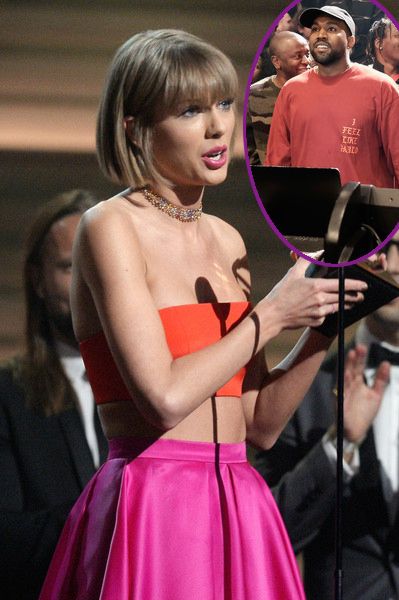 Putting out that statement just wasn't enough, apparently.  Taylor Swift had more words for Kanye West as she accepted her Album of the Year Grammy.  We've got it all inside...
Last week, during Kanye's Yeezy Season 3 show at Madison Square Garden, he played his album The Life of Pablo for everyone in attendance.
On "Famous," he rapped:
"I feel like me and Taylor might still have sex / Why, I made that bitch famous / God damn / I made that bitch famous."
When Kanye claimed afterwards that Taylor had given her blessing, Taylor quickly popped back saying that was completely untrue.  She said she actually told Kanye not to release anything with disparaging lyrics about her.
He did anyway.  So now, Taylor has a message for Yeezy.  On the night she walked away with Album of the Year, she used her acceptance speech to tell young women not to let anyone belittle or take credit for their accomplishments:
"And as the first woman to win Album of the Year at the Grammys twice, I want to say to all the young women out there, there are going to be people along the way who will try to undercut your success or take credit for your accomplishments or your fame."

"But if you just focus on the work and you don't let those people sidetrack you, someday, when you get where you are going, you will look around and you will know that it was you and the people who love you who put you there. And that will be the greatest feeling in the world. Thank you for this moment."
Taylor also faced a lawsuit a few months where a man claimed she stole his lyrics to use in 92% of her biggest songs.  The case was dismissed, but she could be referencing that a little bit as well.
Check out video of Taylor's words below:
Here's her full acceptance speech:
By the way, we thought Kanye would pop back, but he hasn't...yet.
Photos: Getty/Twitter