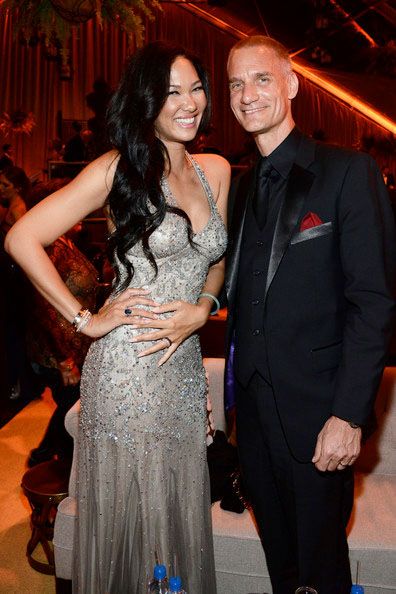 Kimora Lee Simmons' husband Tim Leissner is currently involved in a money scandal that has forced him to take an absence of leave from his job. Oh? Get those deets and check out flicks of Chanel Iman heating up NYC inside….
While Kimora Lee Simmons presents art gallery presentation during NYFW, news broke that her husband Tim Leissner may be in hot water.
According to the NY Post, Tim Leissner, co-president of Goldman Sachs Singapore, is in the middle of being investigated by the FBI for an alleged multi-million dollar money scandal involving his investment firm. The FBI is now investigating a Malaysian state fund - 1Malaysia Development Berhad - Tim set up where his company was paid "sky-high commissions for bond sales." Apparently, $681 million tied to the fund mysteriously turned up in the bank account of Malaysian Prime Minister Najib Razak. Oh?
The Post reports:
The FBI reportedly is investigating all the fund's transactions in concert with wider probes of money-laundering allegations spanning five countries.

The sum of three bond sales for 1MDB back in 2012 and 2013, totaling as much as $6.5 billion, reportedly yielded fees, commissions and expenses for Goldman of almost $593 million, the equivalent of 9.1 percent of the money raised. The typical cut for an investment bank is about 5 percent.

"If it exceeds the limit Malaysia sets for investment managers of a fund, then Goldman will have to deal with some negative kickback from Malaysia," said Dick Bove, a bank industry analyst at Rafferty Capital Markets.

"It is a known fact that there is a lot of fraud, and under-the-table stuff like that happens if you are a bank and want to get business done in foreign countries like Malaysia," said one veteran regulator. Another person who has considered the Goldman case said with a wink that there may have been multiple "managers" feeding off Goldman's lucrative Malaysian business — in effect, accepting kickbacks.
Yikes!
Tim has taken a leave of absence from his position and he is believed to be living in L.A., likely with Kimora and their kids. Let's hope this all doesn't blow up in his face.
In NYC....
Life of a supermodel.
Chanel Iman wrapped herself in lace and threw on her thigh-high boots to celebrate with fans at the Sports Illustrated Fan Festival in the Big Apple. It's cole outside in NYC, but Chanel kept it hot.
After the festival, she headed inside to attend the Sports Illustrated's 2016 Swimsuit Edition event held at the Altman Building yesterday to celebrate her spread in the new issue.
While her boyfriend Jordan Clarkson attended the All Star Weekend festivities in Toronto, the Victoria's Secret model was on the NYFW scene doing her model duties. Unfortunately, the twosome spent Valentine's Day apart, but we're sure they'll be doing plenty of making up soon.  (Editor's Note:After this story was published, Chanel's camp reached out to YBF to say Chanel and Jordan Clarkson are no longer in a relationship).
Inside, the DOPE star posed and snapped flicks with her Sports Illustrated model friend Gigi Hadid (who's also featured in the 2016 edition):
Speaking of supermodels....
Model chick Jourdan Dunn hit up the Jeremy Scott Fall 2016 fashion show rocking a Moschino shirt as a dress paired with black thigh-high boots. The models are loving the thigh-high boots this season.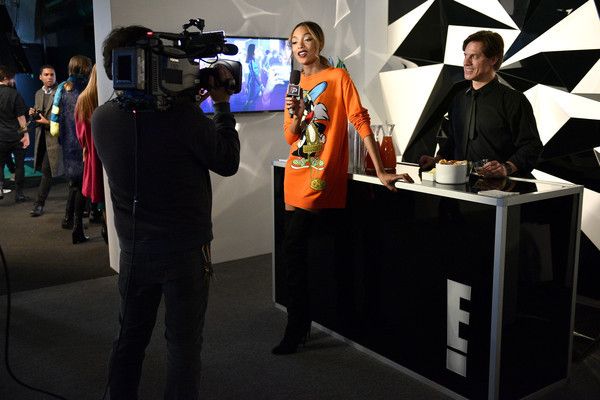 Backstage, she stopped to chop it up with E! News about the fashions she saw on the runway that she was oogling over.
Take a peek at our NYFW round up with Misty Copeland, Justine Skye, and more in the gallery below...
Photos: Getty/Splash