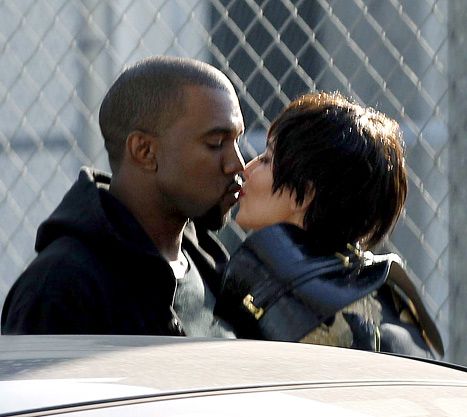 Despite Kim K. publicly saying in an interview on the "Today Show" just weeks ago that she would never put her personal relationships on her show again, she went and did just that.   The official confirmation about Kanye joining the Kardashians, plus Teyana Taylor signing on with Mr. West, inside...
In the most predictable news of the day, Kanye West has been confirmed as making an appearance on the upcoming season of "Keeping Up With The Kardashians."  Typical easy publicity tool for the culture vultures that are the Kardashians.  And what Kanye is gaining out of this--other than the obvious--who knows.
The rapper was in L.A. this weekend to spend some time with his boo at the Laker game, (above) her L'Uomo Vogue photo shoot (VOGUE Italia's editor corrected Kim after she tweeted it would be for VOGUE Italia), and reportedly Kourtney Kardashian's baby shower.  Kim flip-flopped on her previous statements about guarding her romantic life and and told E!'s reporter today:
"I want to show my life.  If we are having dinner and he does show up, I'm sure we're not going to go, 'Stop the cameras!'"
Yes, because the end of days would ensue if that family stopped rolling the cameras.  She continued:
"I'm not going to be taking a bubble bath and drinking champagne or on a sex swing [on camera] like Khloé [Kardashian Odom] and Lamar [Odom] do," Kim said. "It's not going to be like that."

"My heart's a little more guarded," she said. "I showed so much of myself in the past. You almost get embarrassed showing this big wedding, which I would have had cameras or not. So I think you want to just guard yourself."
And Us Weekly claims Kanye is working on a new track about Kim--where he dreams of "wedding bells".  Interesting that Us Weekly has never once talked about a rap song before it's been released, but they conveniently know all about Kanye's new one--with the lyrics:
"Now she back in the club in a tight dress with dreams of someday wearing a white dress," he says in a new rap. "Even though I met you in the club in a tight dress/At first sight I could picture you in a white dress."
Here we go....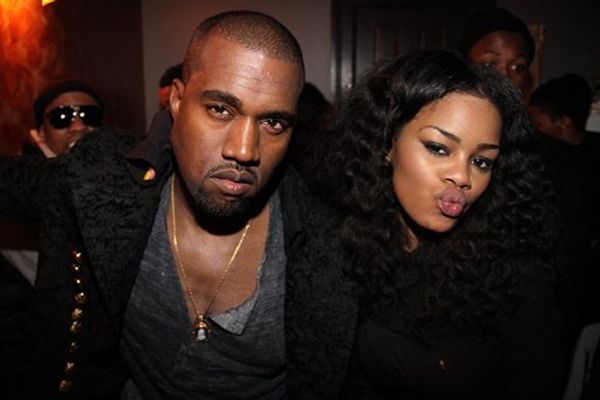 In other Kanye news, 21-year-old Teyana Taylor, who opened for The Game's European "Red Tour" late last year, has just been signed to his G.O.O.D. Music label.  She's jumped ship from Pharrell's StarTrak label--which she was signed to at 15--to join the fellas over at Def Jam. 
According to the press release, "Kanye has signed Teyana Taylor, the multi-talented young singer-songwriter, rapper, dancer/choreographer, and actress to G.O.O.D.'s expanding artist roster."
Details of Teyana's first album and single releases will be revealed in the weeks and months ahead. Meanwhile, her first mixtape, The Misunderstanding of Teyana Taylor, released last month, has spun off a pair of hot new tracks: "DUI" featuring fellow Def Jam artists Fabolous and Jadakiss, and "Make Your Move" featuring Wale. The mixtape, according to the press release, evokes classic '80s and '90s R&B, paying homage to Teyana's influences including Janet Jackson, Mary J. Blige, and especially Lauryn Hill.
Not gonna lie--I love her "Marvin's Room" cover "Her Room." But didn't Teyana deny the fact she was signing with Kanye just a few months ago on The Breakfast Club?  Whatevs.  Congrats anyway.
Pic: FAME?/Flynet