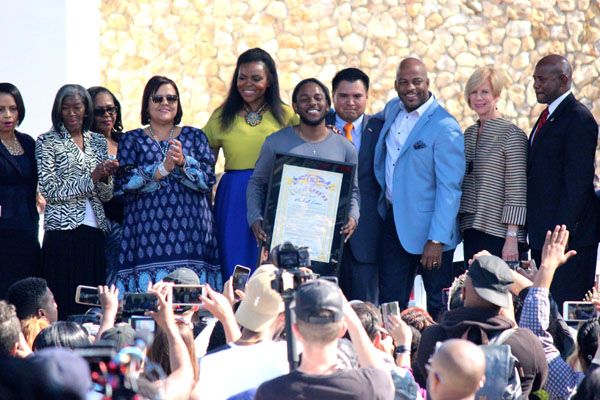 Kendrick Lamar just received a MAJOR key. Literally. The west coast rapper was awarded the key to his hometown of Compton. And Mayor Aja Brown fired off a shot at Drake during the ceremony. More inside…
Major key alert!
Grammy Award winning rapper Kendrick Lamar, who's up for 11 nominations for Monday's awards show, has plenty to celebrate after a fabulous day in the city he grew up in.
Standing in front of the Martin Luther King Monument at Civic Center Plaza, (photographed by Mya Singleton, music writer for Hollywood Unlocked), K Dot was presented with his very own key to Compton by Mayor Aja Brown yesterday.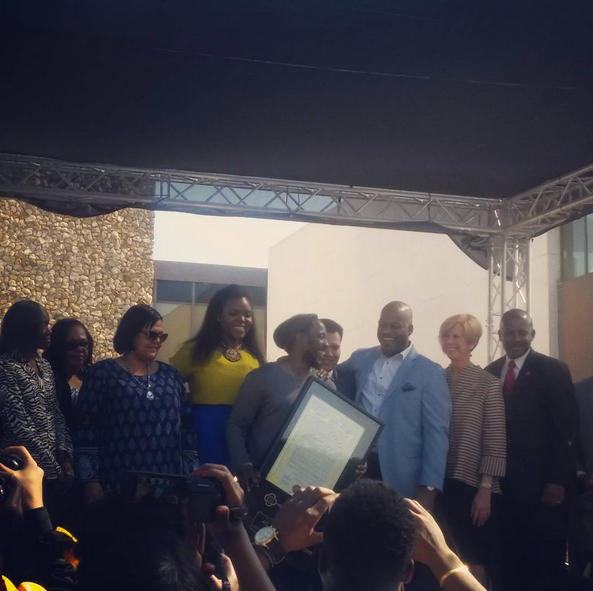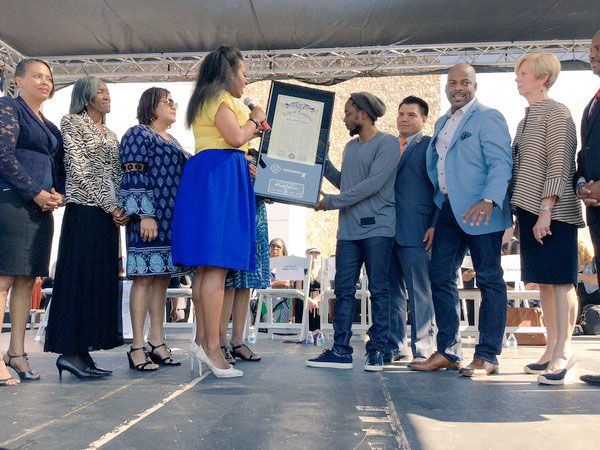 During her introduction, Mayor Brown quoted a few lyrics from K Dot's "Alright" track before gushing over his accomplishments and praising him for being a good influence to the younger generation.
Then, things took an awkward turm when Mayor Brown fired off a shot a Drake saying Kendrick's key is BETTER than Drizzy's key. Drake received the key to Toronto on Friday.
Check it:
Well alright.
Before accepting the award, the ceremony was kicked off by performances from a few Compton kiddies, dancing it up to his tracks, "i" and "Alright." Rapper YG, also a Compton native, was also in the crowd to show his support.
After accepting the key, Kendrick took the podium to reflect on what it was like growing up in Compton and to revel in the moment. He said,"Looking around as a kid, I was fascinated knowing that it doesn't stop right here. Being 5 years-old, I knew for a fact that I could be anything I wanted to be. And coming back here today and seeing these kids out here, we share the same similar stories."
He continued,"And having this key to the city, it's just not a representation or glorification that I have for Compton. It's a representation of all of us. This is a representation of us opening more programs for these kids and opening more job opportunities. That's how I'm looking at it from my own platform."
Sweet!
Check it:
Afterwards, he stopped to snap pics with fans: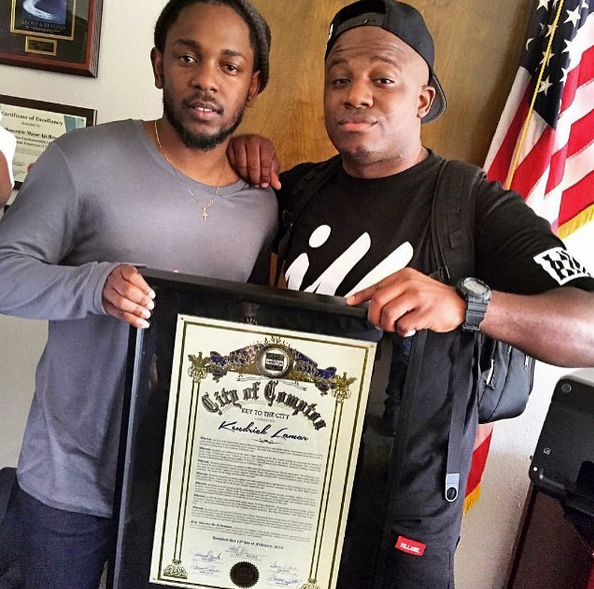 #KendrickLamar#Key2CPT#Compton#ComptonUp#TDEpic.twitter.com/o5gRI5Hcar

— The City of Compton (@ComptonCityHall) February 13, 2016
Congrats Kendrick!
Photos: Mya Singleton from Hollywood Unlocked/Compton City Hall's Twitter/@360nobs/@thirdegreeburns/@ceojwill/@kiiy_is_winning/@adrianawrites