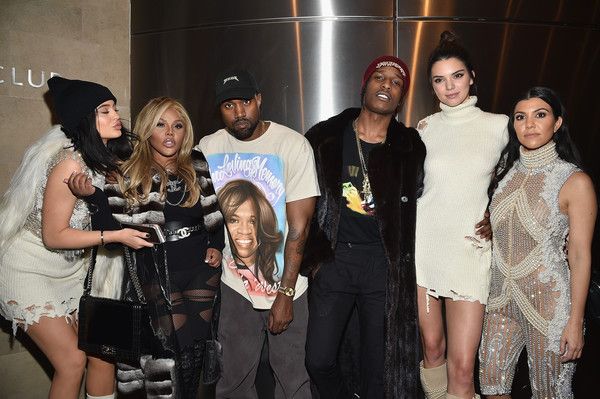 When Kanye West isn't screaming about "the culture" being muted and usurped by corporate vultures....he's selling to them his own $300+ hole-y shirts, dresses and pants.  And begging Hermes to be its creative director.  We've got everything that went down inside the Yeezus Season 3 show inside...
Nope, it wasn't a cult recruitment meeting.  It was Kanye's Yeezus Season 3 collection debut and his The Life of Pablo listening event at Madison Square Garden.
While Kanye riled up the sheep masses in attendance (and those watching from afar) by claiming corporations are out to mute him and the culture so everyone needs to rise up against the evil Nike and the sort, he offered alternatives -- his own high priced gear and music.  Well, the rile-up-with-half-truths-and-make-yourself-the-hypocritical-savior tactic apparently is working for Trump.  So why not 'Ye?
For what it's worth, we do like what we've heard of TLOP so far.
Plenty of folks on social media and even some editors (Anna Wintour) were salivating over the circus of Kardashian-Jenners, furs, stark white Balmain clothing, dark refugee-inspired clothing, a Naomi sighting and glorious music.
There were other folks, though, who had a different take.  A writer at NY Mag said in an article after the show:
Today I went to that Fuccboi Heaven, otherwise known as Madison Square Garden, where Kanye West debuted his collection for Yeezy Season 3 and played all the songs from his yet-to-be-dropped album. A blessed event, indeed. And I stood on the floor among the fuccbois in their hypebeast garments, Supreme hats, perfectly positioned knit beanies, Thrasher hoodies, and limited-edition this and thats. I swayed and bopped with them as they listened to Kanye West's The Life of Pablo, as they praised his genius, brilliance, and fire tracks (not really the clothes). I got the contact high of the fuccboiphoria they felt from being among the first 20,000 people (by Yeezy's estimate) to hear TLOP and buy merch that nobody else can get — the highest of highs.
In Fuccboi Heaven, every Kardashian-Jenner, from Kris and Caitlyn down to North, is there to greet you at the pearly gates, wearing kustom white Balmain ensembles that Olivier Rousteing lovingly designed for them. (He's there, too. In heaven, fuccbois can finally get some Balmain.) Archangel Naomi Campbell is there. As is Lamar Odom, because what heaven would ever leave Lamar Odom out in the cold. And Donda, she's there, too, as an angel riding a Pegasus in video-game form. This is not something we question, because who questions miracles.
Damn.
Kanye has been tweeting nonstop since the event, and going on about how his collection and music has changed the world.  He's providing alleged proof that he's winning the fight against corporations.  He says Yeezy has, in fact, jumped over the jumpman by toting an article about Nike slipping in sales and Adidas gaining them.  (Aren't they both corporations, though, at the end of the day?)
So apparently, folks are starting to believe Kanye's self-created hype.  That's what Kanye claims.  If one says something enough, it can become true.  It has worked for plenty of rappers.  We guess...
As for the show, Kanye literally put "his family" on his back with his aurbrushed Donda and Robert Kardashian tee: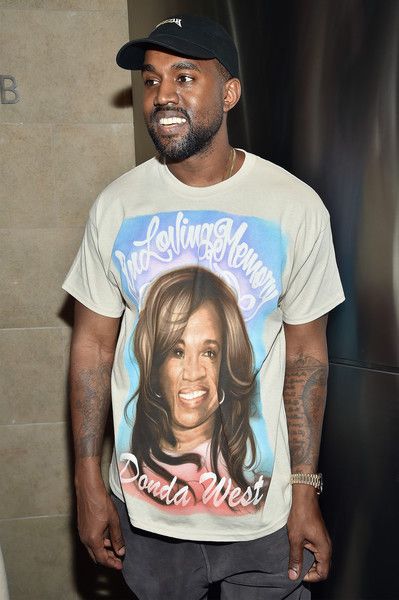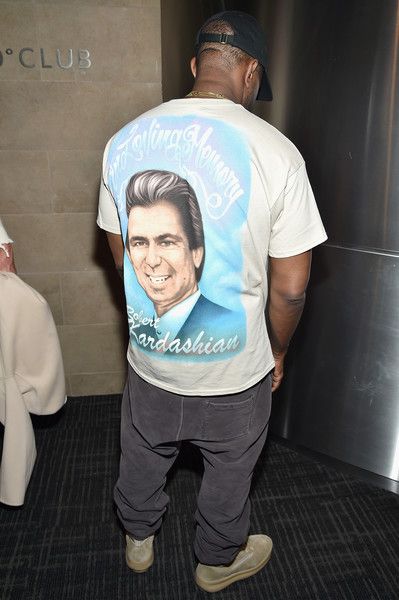 He responded to critics about it HERE.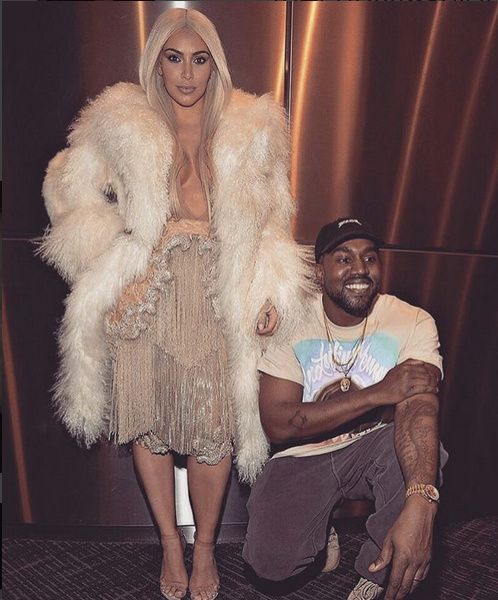 Yeezy dressed the entire Kardashian-Jenner clan in custom gear.  Nope, not offshoots of the Yeezy collection itself.  But threads that were the fruit of a collabo with Balmain.  Kanye jetted to Paris a few weeks before the show to link up with Balmain's Creatve Director Olivier Rousteing to create a collabo mini-collection for the family.  Here's what transpired: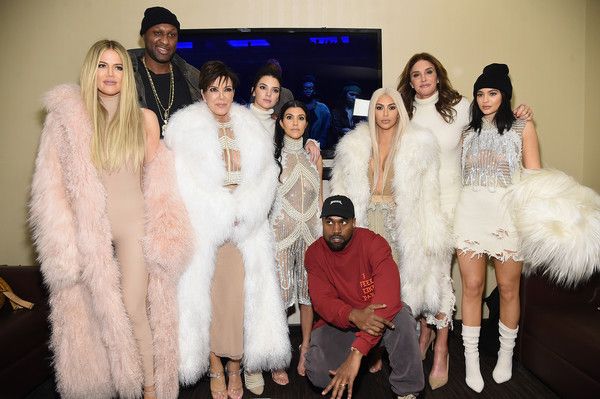 We're not sure if 'Ye had just watched that Versace Lifetime movie or what, but this is giving us Donatella vibes all day long.  And yes, Lamar Odom rose from his medical bed and jetted across the country to take in the fashion show with his "estranged" wife Khloe.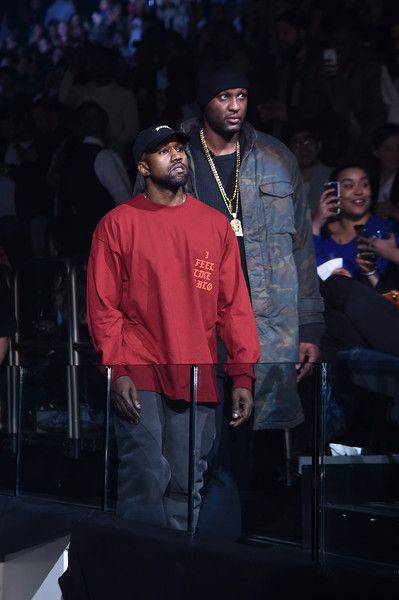 He even walked in with Kanye to show brother-in-law solidarity.  Or whatever.
Even Caitlyn got her custom creation...which made her and daughter Kendall twinsies.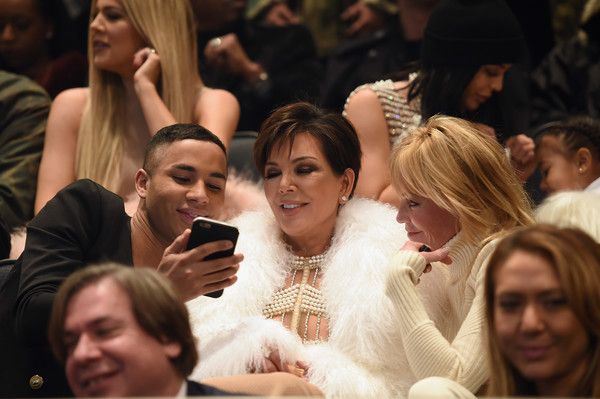 Olivier was obviously proud of his work for his "besties".
Little Nori was ready for the scene...fur and all...as she made her entrance with her mom and aunts.
Lil Kim was there and snapped pics with Caitlyn: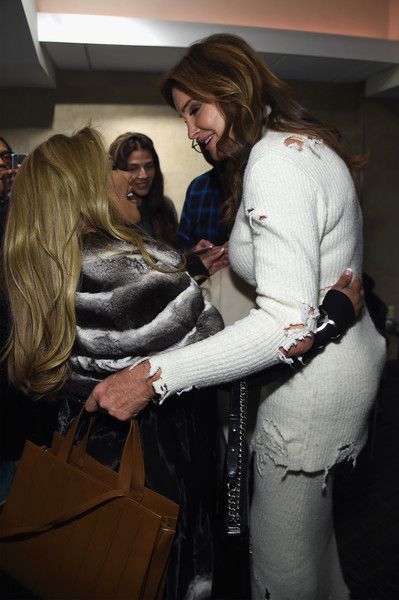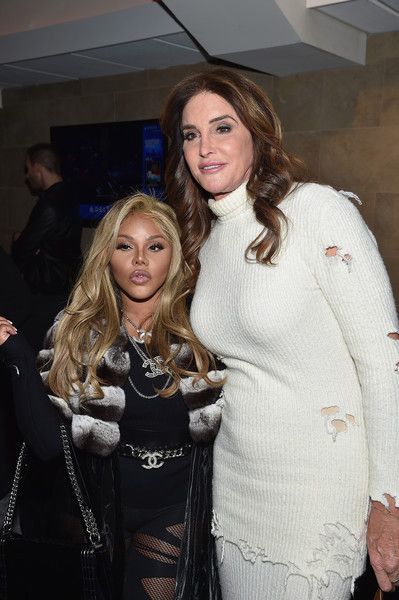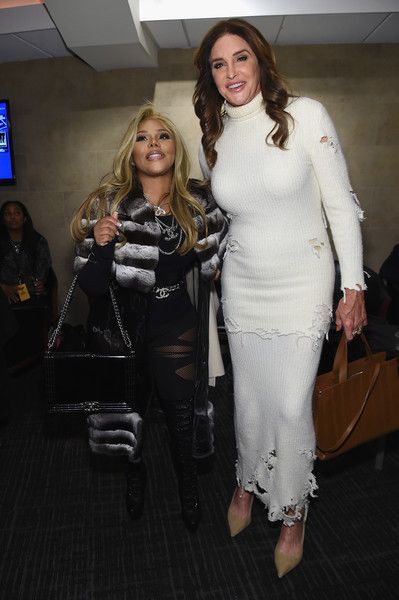 There are so many "Who has more ____?" type questions in our heads....but we'll keep them to ourselves.
Khloe and Lamar picked up where they left off as husband and wife: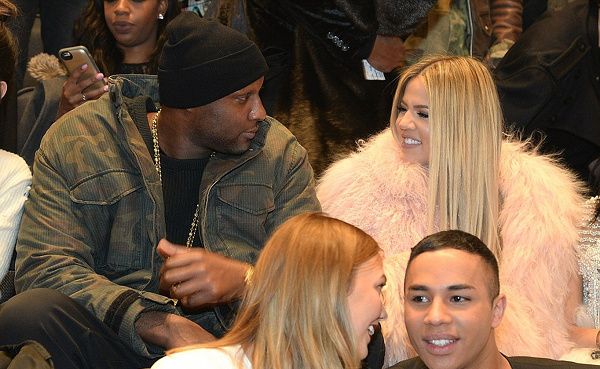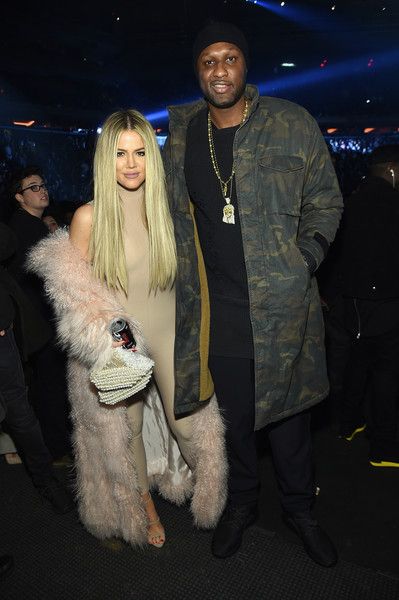 Ye's rapper friends were also in the mix:
He snapped pics with Kim and ASAP.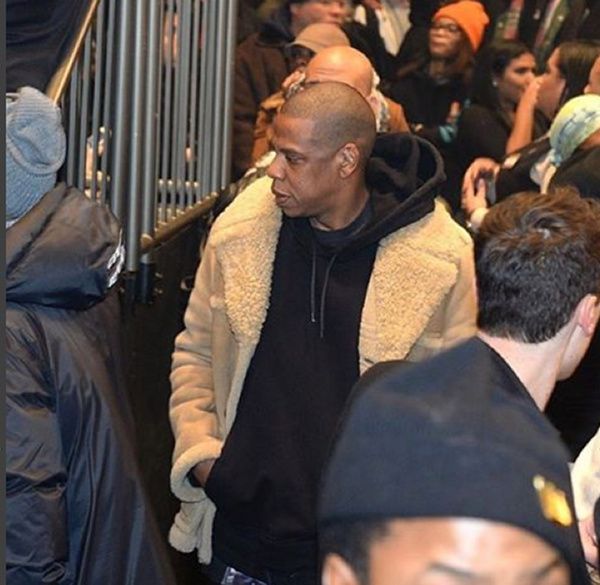 Jay Z came out to support.  And looked a little confused.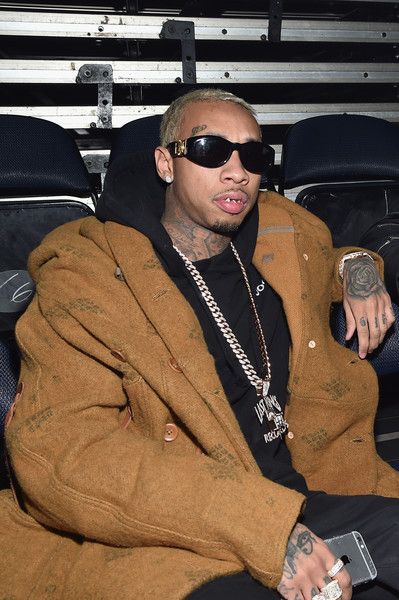 Tyga was in the mix as well, of course.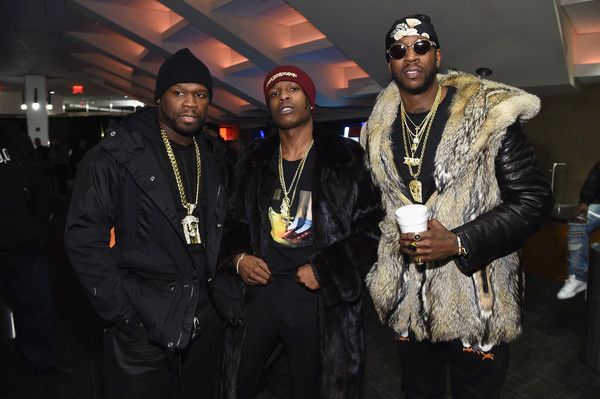 50, 2 Chainz, and ASAP Rocky brought out the furs and chains.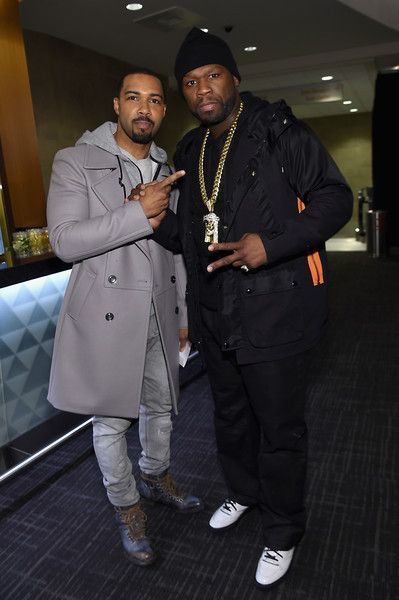 Fif brought his  Starz co-star, "Power" star Omari Hardwick.  And he is looking GOODT.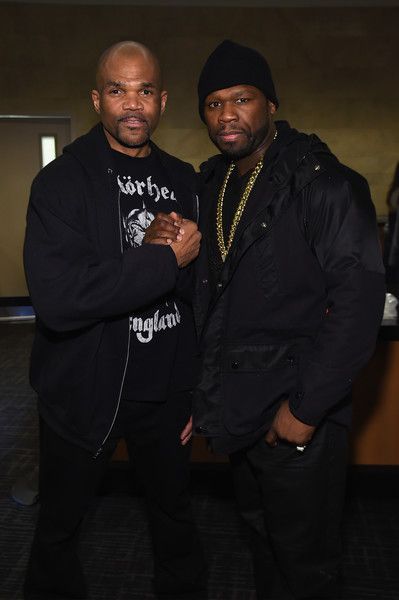 The "Power" star also posed it up with Run DMC OG Darryl "D.M.C." McDaniels.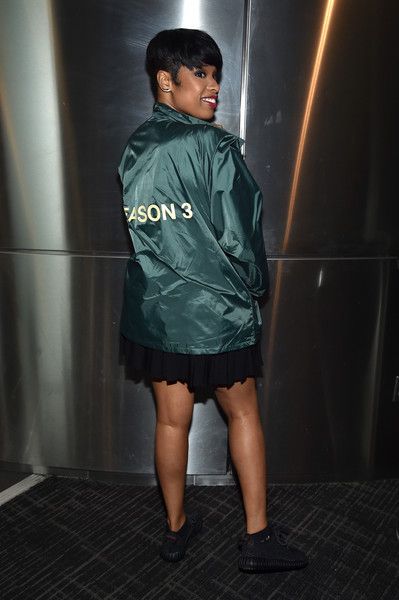 Kanye's fellow Chi-Town native Jennifer Hudson came out to support.  She posed it up with fiance David and Rosie O'Donnell.  Interesting...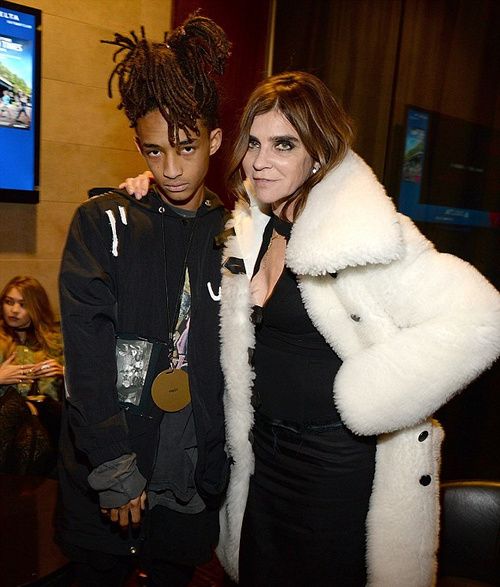 Jaden Smith was all about serving face.
Speaking of serving: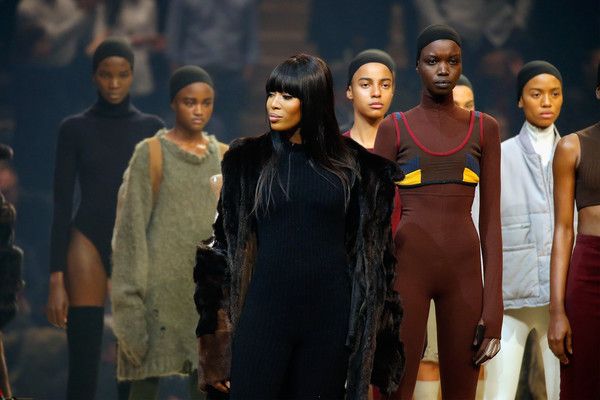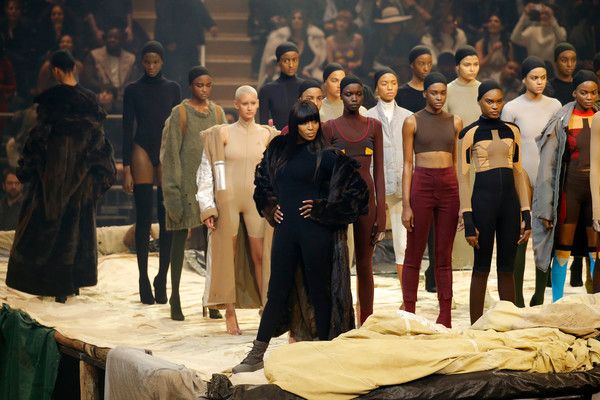 Supermodel Naomi Campbell slayed as a surprise featured model in Kanye's "refugee inspired" show.
Then he had everybody rocking and swaying, jumping around, and zoning out to the new album: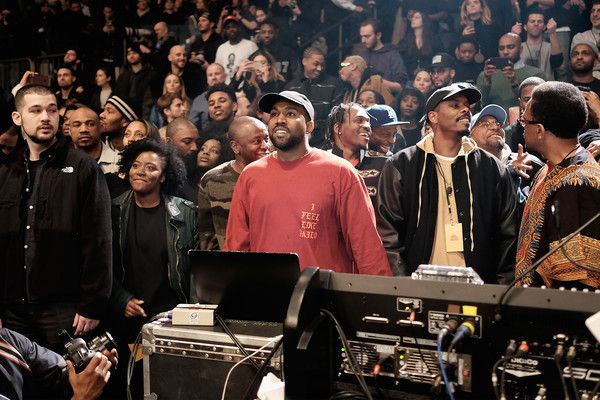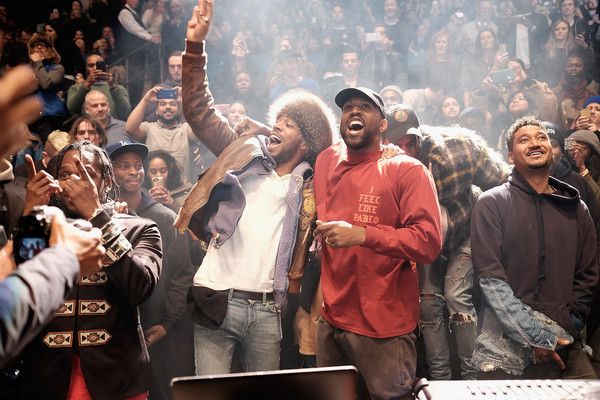 As for the models: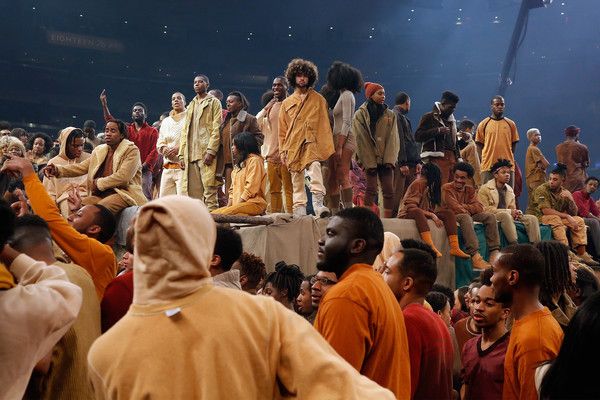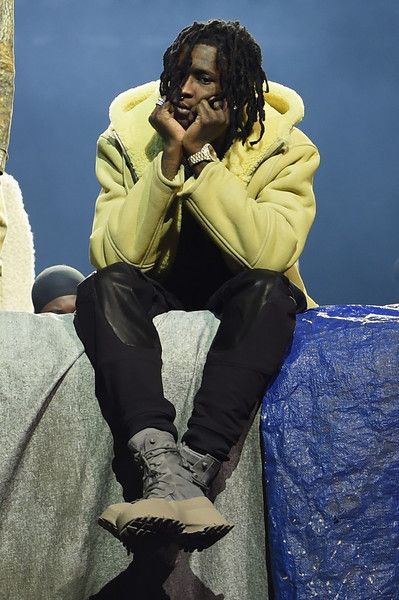 Young Thug was in the mix.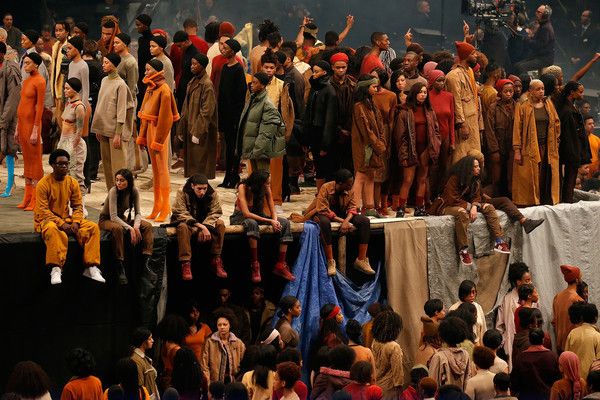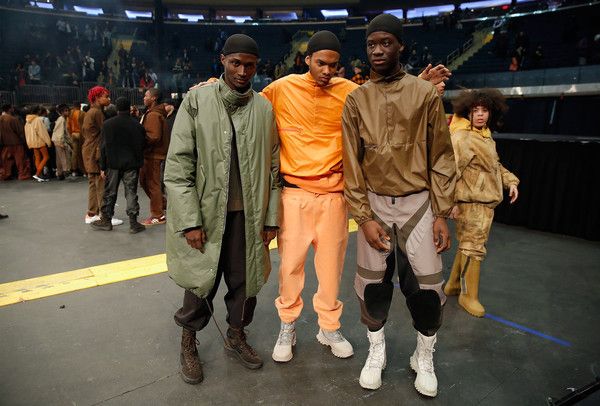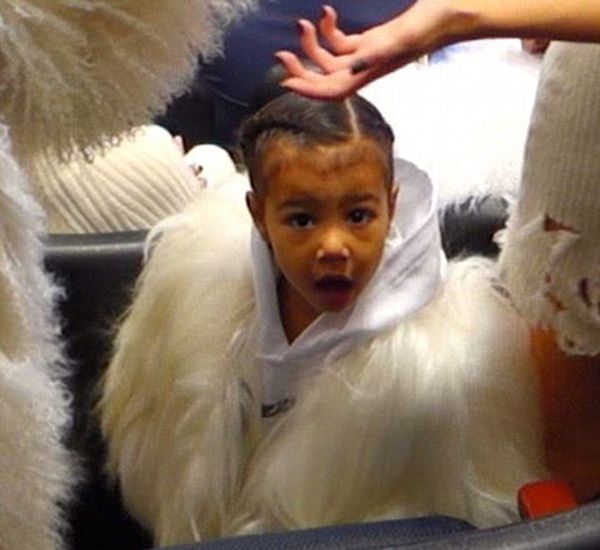 Yeah...exactly our face too Nori...
Photos: Getty