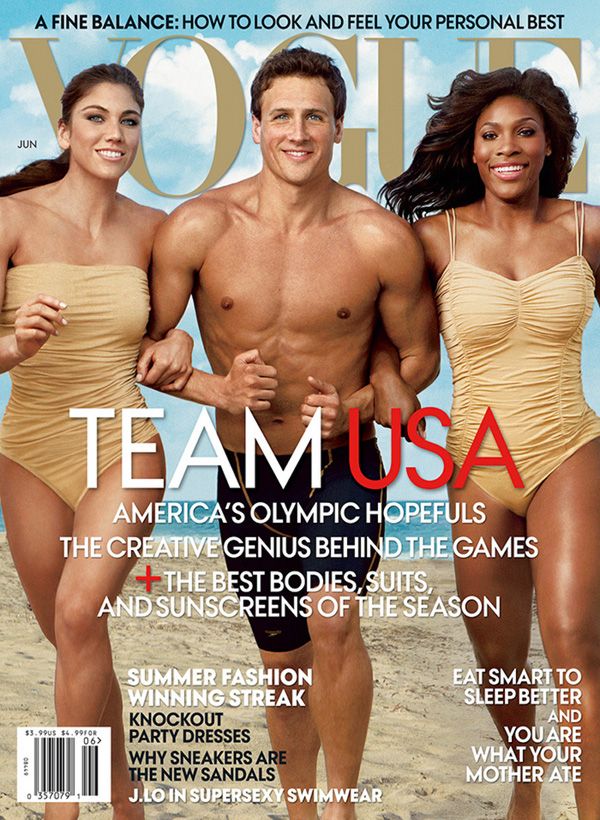 Now THIS is an accomplishment to boast about.  YBF chick Serena Williams landed the June 2012 cover of American VOGUE as the iconic magazine focuses on TEAM USA & top American Olympic hopefuls.  Check the cover pic inside, plus Miami Heat star Dwyane Wade's pic in the mag's Olympic issue as well...
With the Summer Olympics going down in London this July, the magazine world is taking notice of the fittest bodies around.  Namely, for their cover, Serena Williams, soccer star Hope Solo & swimmer Ryan Lochte.
In the Annie Leibovitz-shot feature, the Olympic hopefuls pose in their swimsuits and fashionable sports gear while showing off their toned and rock hard bods.  It's a good look for the fashion designer/nail tech/top tennis player int he world.
BONUS: Dwyane Wade is also featured in the issue alongside model and ballet dancer Karlie Kloss for a spread where some of the top 2012 Olympians are featured.  Dwyane spoke to VOGUE about his upcoming 3rd Olympics:
The first time Dwyane Wade went to the Olympics, in 2004, he was really still in awe of his heroes. Having grown up on the South Side of Chicago (where he is at work building a community center), he idolized guys like Michael Jordan, whom Wade, 30, patterned himself after in a lot of ways. "We grew up watching the Dream Team, and we thought it was an honor to be on the team," he says of his fellow rookie Olympians, players like LeBron James and Carmelo Anthony. He was shocked when, in Athens, the all-stars lost to Puerto Rico, Lithuania, and then to Argentina in the semi-finals—a golden flop, 89–81. "We had to wait four years to get back and hush everybody up and redeem ourselves."

He flew past injuries—you don't make mind-blowing layups without risking at least your hamstring—to lead the so-called Redeem Team in 2008. He scored big when it mattered, especially in the difficult final game against Spain. When Kobe Bryant and Le­Bron ran into foul trouble early and were benched four minutes into the game, Wade surged ahead, coming up with three three-pointers and reigniting the team's fight for the gold. Is he surprised to be up for 2012 in London? "I thought Beijing would be my last one, but here I am!"
Karlie's wearing an Oscar de la Renta sequined guipure lace dress & Manolo Blahnik pumps int he above pic.