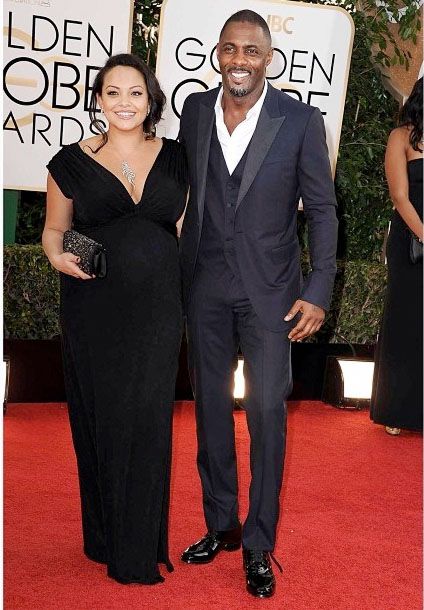 In Splitsville news, Idris Elba and his longtime girlfriend Naiyana Garth have allegedly called it quits after Idris was spotted out with Naomi Campbell. Meanwhile, rumors are circulating that Jordin Sparks and boyfriend Sage The Gemini have broken up. More inside….
Wait…what? Idris Elba…is newly single? That's what the rumor mill is claiming.
Two-time SAG Award winner Idris Elba and his longtime girlfriend/mother of his son Naiyana Garth have reportedly called it quits. A source tells The Sun the two have called it quits and that Idris has already moved out. He found a spot not far from their home to remain close to their almost 2-year-old son, Winston. The source claims,
"It ended very recently and it's too soon for her to talk about it. They've kept it very quiet, so she's surprised people know already."
This Splitsville News comes just days after the "Luther" star was spotted leaving 1 Oak in L.A. with supermodel Naomi Campbell. Oh?
While there aren't any receipts (as of yet) that Naomi is the cause of the breakup, we did notice Idris didn't bring his girlfriend to the SAG Awards. He showed up with his 13-year-old daughter Isan. We also noticed he never thanked his girlfriend during either of his acceptance speeches. Hmm….
Do we believe it?
In other alleged breakup news....
There are also rumors that R&B singer Jordin Sparks and her boyfriend Sage The Gemini have called it quits after 10 months of dating.
A source tells US Weekly, the 26-year-old songstress has removed all signs of Sage on her Instagram. And she did, we checked. We took a peek at Sage's Instagram account and we didn't come across a pic of Jordin either. Hmph.
Based on an IG caption Sage posted back in December, it appears this was likely going to be the outcome. He wrote,
"Mentally and physically I am weak. I am seeing and feeling myself get weaker says the old me. My imagination is a horrible place that I battle with in my relationship (being jealous) etc I say to myself maybe I should work out till I push evil thoughts out of me and ask God to shine light in the dark I'm f--kin myself up. I need to be a better man all the way around. So with that being said I will do so. Right now I'm actin like a bitch I'm makin bitch moves so I need to change that if I can get motivational words from you guys that would be amazing. Thanks."
You'll recall, Sage temporarily deleted his social media accounts last summer after he was accused of cheating – i.e. trying to holla at some chick on Twitter. Sighs….
Wonder if his alleged cheating ways had anything to do with the rumored breakup.
Are we believing the rumors?
Photos: Getty/Jordin's IG