Ciara has inked a new deal with another brand. But, she also has a new lawsuit on her hands. She's suing her baby's father Future for defamation. Deets inside…
Following a successful campaign with Roberto Cavalli, Ciara is teaming up with another brand. This time the R&B songstress will be the face of footwear brand Keds, along with singer Tori Kelly and actress Allison Williams, dubbed the Keds Collective.
CiCi will flex her model skills in the footwear brand's Spring 2016 collection to celebrate the company's 100th anniversary.And we've got the first sneak peek at her spread above.
Not only will she be featured in the new campaign, she's also creating a customized Keds collection in collaboration with TopShop (another brand she faces), according to WWD. The new collection is expected to hit stores in March.
The "I Bet" singer will perform at the "100 Years of Keds" event in West Chelsea (NYC) held at Refinery 29 on February 10th. Congrats CiCi!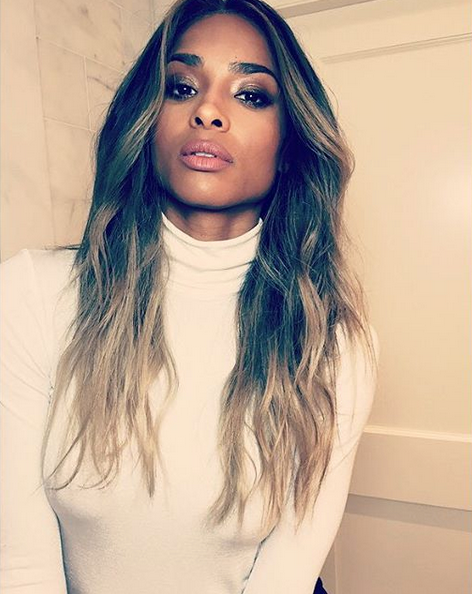 Today, the singer debuted a new blonde hue after ditching her long, dark tresses. She seemingly seems unbothered, especially with these new reports that she filed a lawsuit against her ex-fiance Future.
According to The Jasmine Brand, CiCi pulled the trigger on a $15 million defamation lawsuit last month claiming the ATL rapper is trying to ruin her career with false statements and accusations.
She's trying her damndest to keep Future from talking about her negatively and to keep their son Future Wilborn's name out of his mouth.
The lawsuit was filed in Fulton County, Georgia on January 21st with accusations of defamation, slander and libel. She claims over the past year Future has made false statement regarding her character and her parenting skills. She claims he dragged her name in the media in an attempt to boost album and tour sales.
You'll recall his attempt at dragging CiCi via Twitter with claims that she has control issues and that she was keeping him away from his son.
She mentions her current boyfriend Seattle Seahawks quarterback Russell Wilson in the suit as well. She says Future is exploiting her new relationship, using lies to help promote his new music.
She also recalls that HuffPost interview that Future did where he disclosed details about their sex life. She says he inappropriately revealed details about their personal life that should have remained under wraps. She points out another interview Future did with XXL where he called her evil for letting Baby Future attend Russell's NFL training camps and being photographed together.
The suit also says since December 2014, Future has seen his son a total of 19 times, with some occasions spanning several days. 19 times? Really Future? She claims she has gone out of her way to bring her son to Georgia to spend time with his dad, but to no avail.
As Future continued to blast her in the media, CiCi finally decided she's no longer keeping quiet and is now taking matters into her own hands…legally. She's demanding $15 milli in damages and another $25K in legal fees.  This could be a move to simply get him to shut up. 
As of now, Future has not responded to the pending lawsuit. This could get messy….
Photos: Ciara's IG