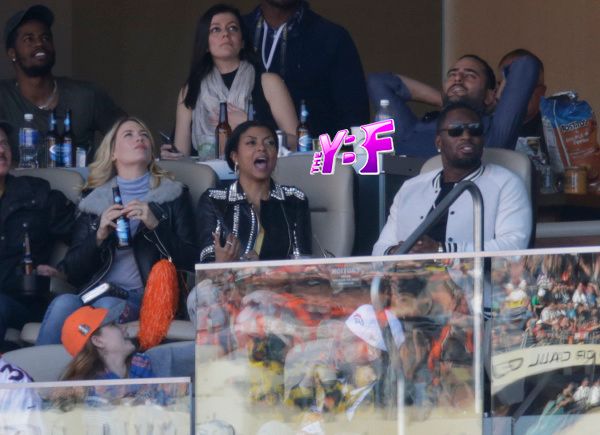 Taraji P. Henson was spotted with her rumored boo Kelvin Hayden... again. The twosome hit up Super Bowl 50 together and looked like one, happy couple. Also in the stands, cutie Blue Ivy was spotted sitting with her mom's bestie Gwyneth Paltrow and her kids during Beyonce's halftime performance. Pics inside…
After getting cozy at the NFL Honors on Saturday night, "Empire" star Taraji P. Henson and her beau Kelvin Hayden were spotted together again.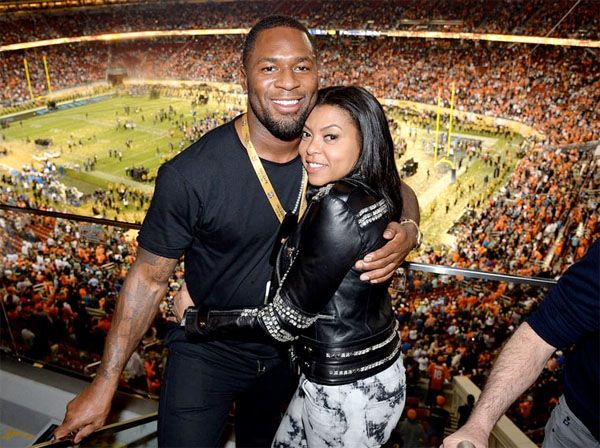 The twosome were all hugged up before taking their luxury box seats to watch the Carolina Panthers and the Denver Broncos battle it out during Super Bowl 50 yesterday. We assume the Golden Globe winner isn't bothered by the other chicks who came out claiming they were his girlfriend shortly after rumors started circulating that he was dating the 45-year-old actress.
Looks like she's living her life like it's golden, regardless of the rumor mill.
During the game, Taraji made a major fumble off the field! As Coldplay took the stage to kick-off the halftime performance, she shot off an Instagram post that had the Internet laughing collectively.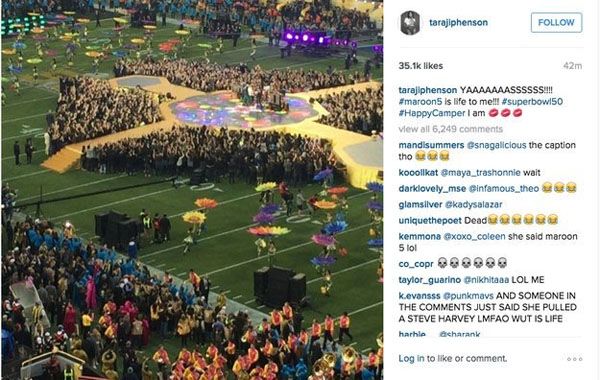 Apparently, she missed the memo on who the halftime performers were. She praised "Maroon 5" for giving her life when it was Coldplay on the field performing! Oops! She quickly deleted the tweet and said, "Oooooooopppps. Lmao! #Superbowl50."
Maroon 5 got wind of her tweet and responded:
Then she sent them a few emojis:
Hilar! 
But there was a good reason why she confused the Super Bowl halftime headliner. Too much DRANK! She explained to Entertainment Tonight, "So, I don't know if you know how it goes down in the suites. They put a lot of drinks in there — Kool-Aid, lemonade, iced tea. I mixed it all, and I sat there, and I'm sitting with people who drank the Kool-Aid as well."
She said her friends kept talking about Maroon 5, so she assumed that's who was performing. She continued, "Everyone's talking about Maroon 5, and I put it down. And I'm like, 'That's not Maroon 5, right?' And they're like, 'No, that's Maroon 5!' and I'm like, 'Are you sure?'"
She ended with saying, "I'm human. I made a mistake. It happens! Come on, I drank the Kool-Aid!"
That's her story and she's sticking to it!
Also in the stands...
While her mom was busy snatching wigs and edges with an epic halftime performance, Beyonce's daughter Blue Ivy was chilling in the suite with her mom's bestie Gwyneth Paltrow and her kids, Apple and Moses.
Photogs captured cutie Blue trying to get down off of Gwen's lap as she gave the tot a kiss on the cheek. Looks like Blue was ready to bust some moves like her mama.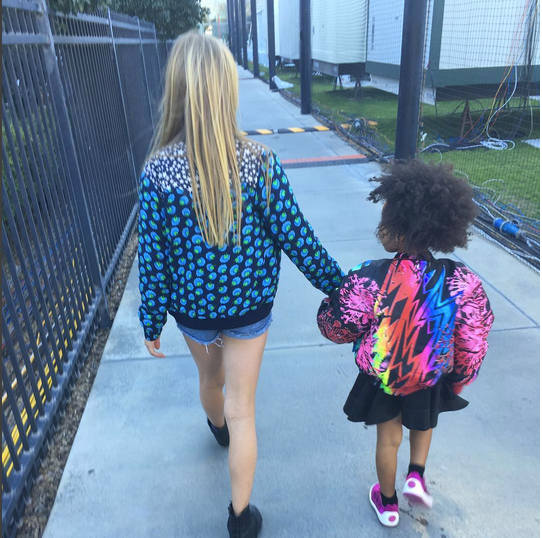 Blue and Apple Martin -- Chris Martin & Gwyneth's daughter -- showed off their jacket game before entering the stadium. Cute!
Photos: Splash/Getty/Instagram