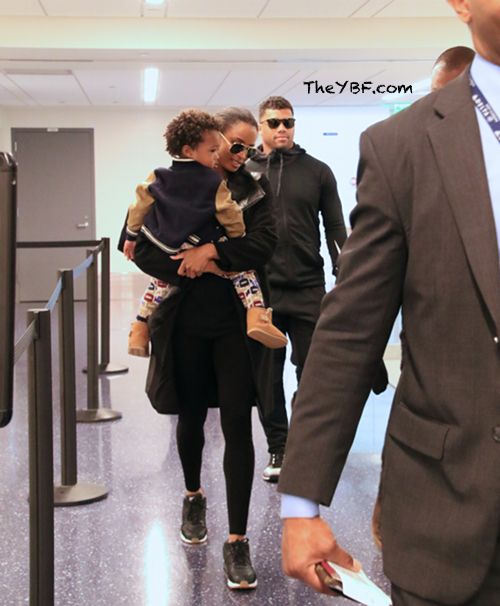 Not everyone was at the Superbowl this weekend! Ciara, Russell Wilson and Baby Future were spotted jetting out of L.A., Kevin Hart & Ice Cube were busy giving away free ice cream and Tiffany Pollard wasspotted on the promo trail. Pics inside…
Following Super Bowl 50, Ciara, boyfriend Russell Wilson and Baby Future are headed out of L.A.
Today, the R&B singer, her adorable son and her former Super Bowl champ boyfriend were spotted making their way through LAX airport. While Russ and CiCi were pretty mum on their whereabouts for the big game Russell was pretty active on Twitter last night.
The Seattle Seahawks QB first sent out a tweet shortly after Marshawn Lynch seemingly announced his retirement from the NFL. He said to his teammate, "Honor playing with one of the best running backs of all time! Going to miss sharing the backfield with you 24... #BeastMode @MoneyLynch"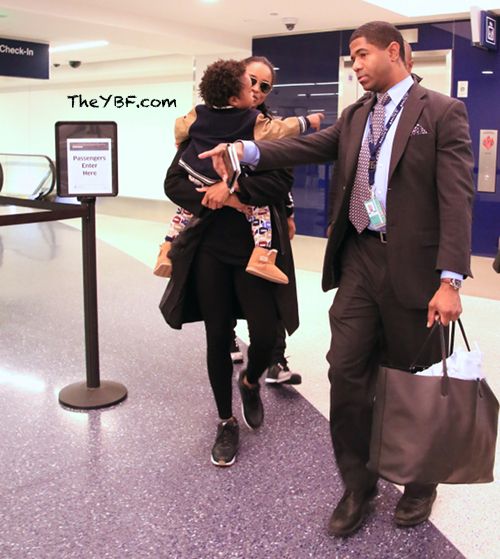 After Peyton Manning and the Broncos were crowned this year's Super Bowl winners, he posted up a special message to Peyton. He thanked him for inspiring him as a young boy while attending one of his football camps. He wrote,
From all the wins, to the few tough losses.

From the 71,000 yards, to all the touchdowns, to the few interceptions.

From all the meetings, to all the hard practices, to all the film, to all the blood, sweat and tears.

From all the Pro Bowls, to the handful of MVPs, to the two Lombardi trophies. From all the teammates, to all the opponents, to all the fans.

From the blue and white, to the blue and orange …

Sheriff,

If this is it, there's one moment I won't forget.

10th grade. Louisiana. At your quarterback camp.

You inspired the kid in the green shirt.

You inspired me to work hard. To be disciplined. To be respectful. To take notes.

You inspired me to love the process. To love the sweat. To love the tears.

But most of all …

You inspired me to love the game.

Thanks, Peyton.

If this is it,

Thanks.
Sweet!
No word on where they're headed, but our guess is another family vacay.
Elsewhere....
The grind never stops!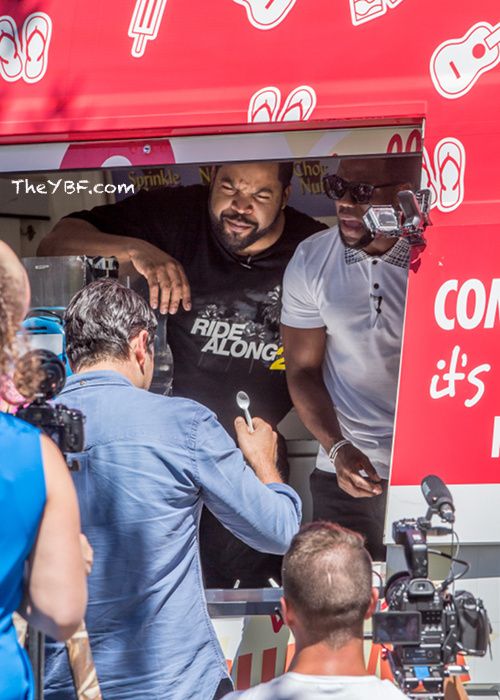 Comedian Kevin Hart and rapper/producer/actor Ice Cube are still on the Ride Along 2 press run. The fellas linked up with Nova's 96.9 Van to hand out free ice cream to fans in Sydney, Australia.
While Kev was sleeping, his Hyundai Super Bowl 50 commercial aired during the big game. He woke up to the great news that his commercial ranked No. 1 according to the 2016 Ad Meter Results. He hopped on Instagram to express his excitement saying,
"Wooooow....I woke up to this amazing news, my "Hyundai" commercial was the #1 ranked commercial doing the Super Bowl!!! That's HUUUUGGGEEEE....Major thank you to my Hyundai family for this amazing opportunity & I also want to give a shout out to Peter Berg & the entire production crew that was involved with making this amazing spot!!!! #HyundaiSuperBowl #1"
Congrats!
In case you missed the commercial, check it below: 
In the UK....
"Celebrity Big Brother" star Tiffany "New York" Pollard and her re-enhanced lady lumps were spotted leaving ITV studios after an appearance on "This Morning" daytime show.
During the interview, Tiffany explained her actions during an episode of the show where she became hysterical after she thought she had learned her housemate David Gest had passed away. But that wasn't the case. When her housemate Angie Bowie told her that her ex-husband David Bowie had passed, Tiffany mistakenly thought it was David Gest.
She blamed the mishap on the fact that there aren't any newspapers or any way for them to know what's going on in the outside world. She said her co-star David Gest had been ill from pneumonia previously and she instantly assumed Angie was talking about him.
Check it:
Down in Miami....
Former Spice Girl Mel B jetted to Miami for a sweet surprise. The singer hosted a meet and greet at The Sugar Factory showing off her curves in a nude curve-hugging bodycon. 40 & FAB!
Inside, she snapped it up with all the fans who came out to see her: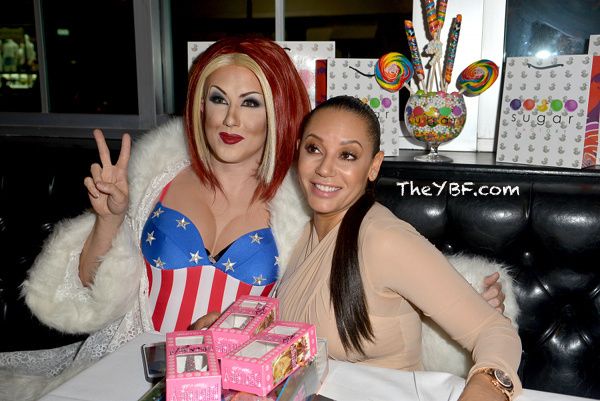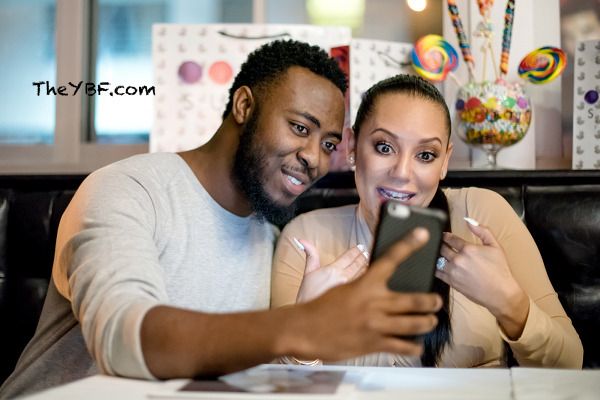 Fun times.  She's looking absolutely gorgeous these days.
Photos: Splash/INF/WENN