The SuperBowl is a little over 24 hours away, and Beyoncé is already snatching wigs before she makes her special halftime appearance.  Get her new video for her new single "Formation" inside....
Queen Bey isn't letting folks breathe.  She's officially back in Formation.
Remember those shots of her filming a mystery video around New Orleans?  Well, now we know why.
The Queen of setting social media on fire with surprise music moves is back at it again.  She just dropped a brand new video, her first -- aside from a feature here and there -- since the Beyonce: Platinum Edition album.  The video is for her brand new single "Formation." 
We all know how important visuals are to Beyoncé when it comes to her music.  She wants to roll it out the way she wants to roll it out.  And rightfully so.  That includes putting daughter Blue Ivy in the video when she wants to.  And she does so in these new visuals.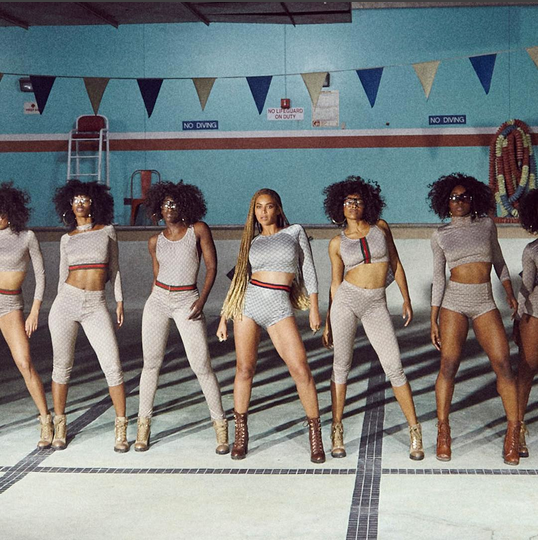 "Formation" takes us to the Crescent City for another beat-heavy anthem (while sampling the Queen of Bounce herself Big Freedia and the late Messy Mya).  So y'all already know how LIT this is about to get.
As for the vibe, let's just say right before the sick Mike Will Made It-produced beat drops, the message goes something like this:
"My daddy Alabama/My ma Louisiana/You mix that negro with that creole make a Texas Bama"
By the way, her stylist Marni had custom Gucci two-piece sets made.  This should get interesting. 
There's also a shout out to the Hands Up Don't Shoot campaign.
Bey is dropping other messages throughout as well: She likes her baby's hair with baby hair and afros, her man's black nose like Jackson 5 nostrils, her hot sauce in her bag, and she's unapologetic about her Texas accent (and everything else) folks give her hell about.  She wants women and black folks to know their formation is their slayage.  So slay on.
Grab your braided wigs, your slay, and twerk somethin' to this #Message below: