Beyonce has overhauled her management team, dropping the old and in with the new. Get the deets, plus get the scoop on the Future vs. Young Thug Twitter beef inside…
Beyonce is on her boss ish and cleaning house!
According to Page Six, Mrs. Carter has parted ways with her longtime business manager and has hired a whole new team to help drive her career to higher heights. Is that even possible? She's totally at the top of her game, but we're here for more advancement.
For the last five years, Lee Ann Callahan-Longo (above) was employed as Bey's general manager who handled all of her business/endorsement deals and things of that nature. Well, her time as business manager is up and she's no longer working for Bey. But, she will still remain in the Grammy Award winning singer's life as they have a long history together. Beyoncé's rep, Yvette Noel-Schure said in a statement,
"Lee Anne Callahan-Longo has worked with Beyoncé for the last 10 years. Their friendship supersedes business, and while she is no longer an employee of Parkwood, she will remain an imperative part of Beyoncé's life."
The "Grown Woman" singer has since hired JPMorgan Chase's head of sports and entertainment marketing Steve Pamon to take her place, joining the Parkwood Entertainment family. He also reportedly masterminded the bank's sponsorship of The Carters' "On The Run" Tour.
A source told the site,
"Beyoncé basically cleaned house, got rid of her whole team, which included her cousin, and hired a new team. She wants to surround herself with business people who could take her career to an even higher level. She has one album left to deliver before her deal is up with Columbia, plus she wants to make smarter decisions where it comes to touring, sponsorships and acting roles."
Beyoncé's rep went on to explain the re-workings of Parkwood saying:
"Last year, Parkwood Entertainment created new departments and recruited new executives from the tech, business and entertainment sectors who joined the team to help grow Parkwood and its interests . . . Some senior staffers were given the opportunity to reposition and stay on. Some members . . . awakened [to] new interests and decided to follow personal routes.
Sounds like Queen Bey is ready to make some major moves in 2016 and we're here for it all.
Speaking of Bey....
Her mom Tina Knowles Lawson and her step-dad Richard Lawson shared a lovey dovey shot on social media yesterday. We're not exactly sure where they are, but we have a very good guess.
It appears the twosome were seated at a stadium of some sort. Mama Tina wrote"Anticpation!!!" in the caption of the pic, which leads us to believe she and Richard were likely at Bey's Super Bowl 50 haltime rehearsals. Nice!
Anyone else excited about her performance?
In "rap beef" news....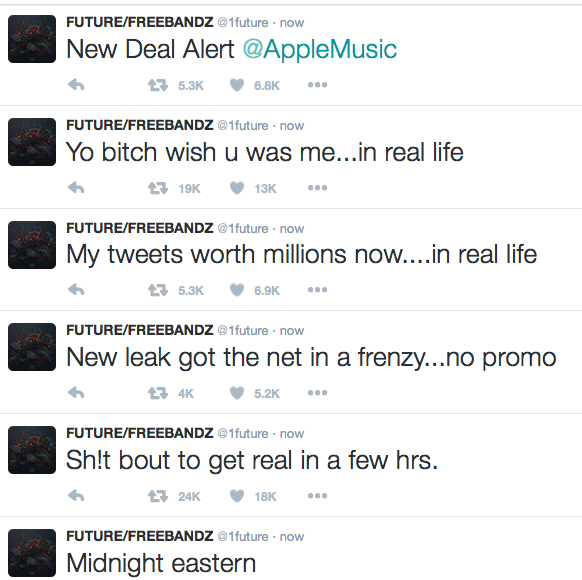 Rap beefs have been popping up a lot lately. And now Future and Young Thug are reigniting their beef putting those Twitter Fingers into overdrive.
Last night, Future (tweets abouve) announced he was dropping some new music at midnight where Young Thug decided to indirectly address him about his "bullsh*t" tunes. Yikes. Neither of the two "@" each other, but you could see they were going back and forth with one another.
After Thugga said something about his music, Future subtweeted about people wanting to be him and that his girl wish he was him. Thugga clapped back. Then, Future announced he copped a new deal with Apple Music and Thugga had something to say about that as well as well. Hmph.
Peep their twitter exchange above and below (read from the bottom up):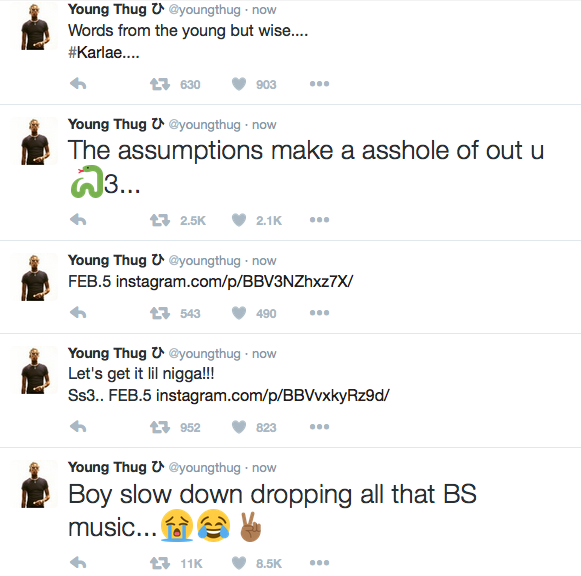 Thugga ended with:

Interestingly enough, they both have new projects dropping on Friday. Future's EVOL project is set to premiere on DJ Khaled's We The Best Radio, while Thugga is releasing his renamed mixtape I'm Up.
Photos: Getty/Tina's IG