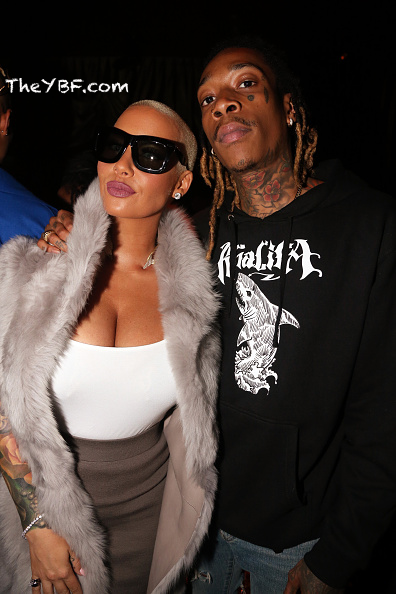 While Amber Rose and Wiz Khalifa were spreading love at his album release party, Kanye West was busy posting fake magazine covers and poppin' off on Twitter. Deets inside….
Amber Rose and Wiz Khalifa's relationship after marriage has done a total 360 since around this time last year. You'll recall, the two were involved in a nasty custody battle over their son Sebastian. And then, Wiz dropped that track "For Everybody" (featuring Juicy J) firing shots at his baby mama, alluding to her being a ho and other things.
But, that's no longer the case.
Wiz and Amber have been happily co-parenting together (they've been spotted out on family outings with their son a few times) and it seems their relationship goes beyond just caring for little Bash.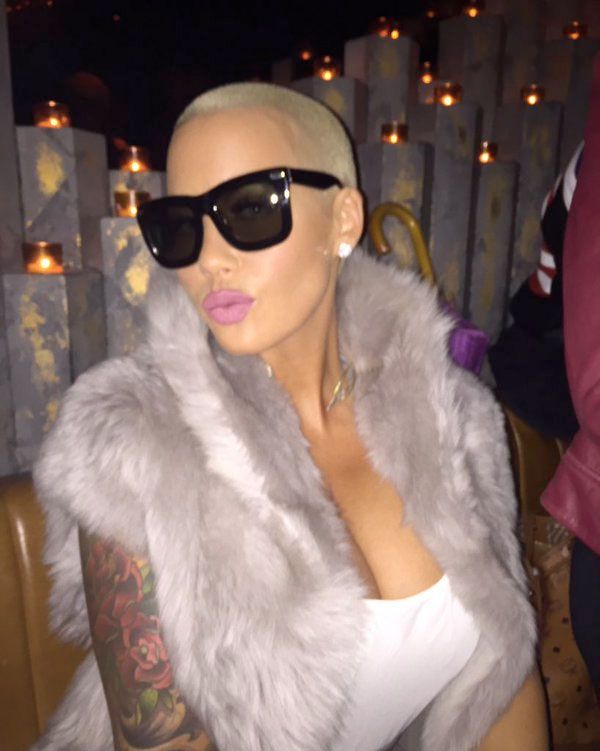 Last night, the "How To Be A Bad B*tch" author popped up at her baby daddy's Khalifa album listening party in NYC to show her support. She hopped on Instagram captioning, "Supporting Sebastian's Dad at his #Khalifa Album Listening Party"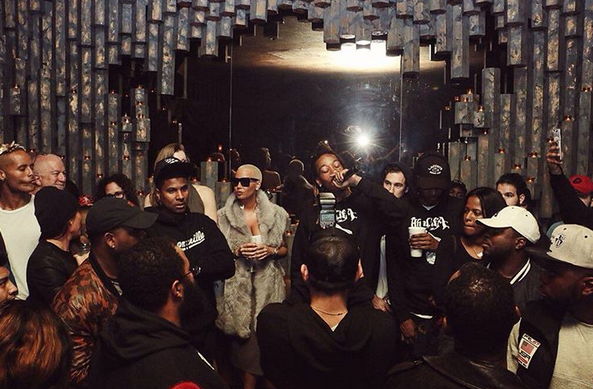 But the real party started AFTER the event:
It appears the twosome may have left together and were all cuddled up in the back seat of their ride. In a video, Wiz sticks his tongue out and starts wiggling it around before Amber leans in and kisses him on his cheek.
Hmm…maybe they want that old thing back. Their divorce is still pending and hasn't been finalized just yet. Also, Wiz recently confirmed he's single and Amber doesn't seem to be dating anything, so maybe it could it happen. And we're sure Bash would LOVE it.
Back at the party...
Wiz made his rounds, enjoying his favorite pastime and chopping it up with former NFLer/daytime talk show host Michael Strahan all while listening to his new LP: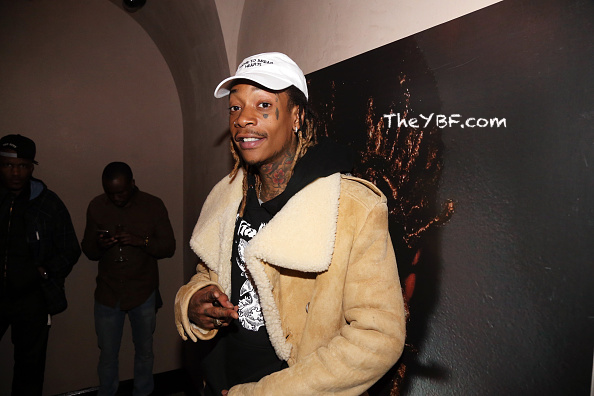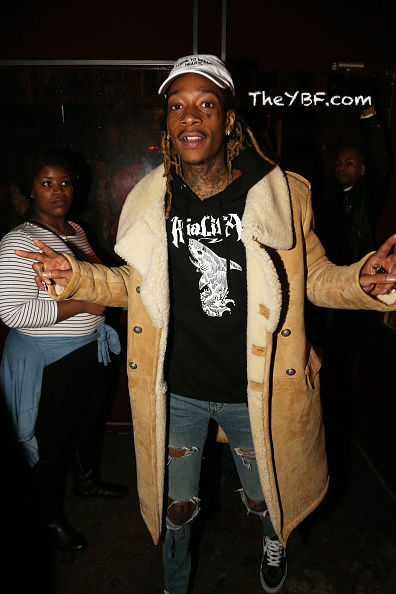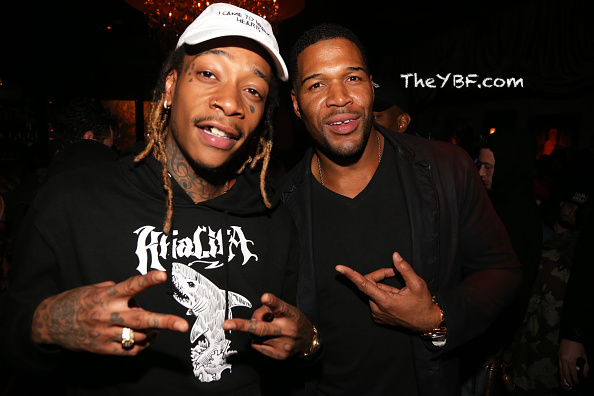 Fun times.
In foolery news....
Kanye West is back to his Twitter antics.
Yesterday, he posted a Rolling Stone cover announcing he was gracing the magazine's newest cover and that rapper Tyler The Creator shot the flick. Well apparently, Ye was just feeling himself because the cover he posted was NOT an official one.  Kanye made it himself.
Soon after Yeezy's "unauthorized" cover starting making its rounds on the Internet, Rolling Stone hopped on Twitter to respond. They tweeted: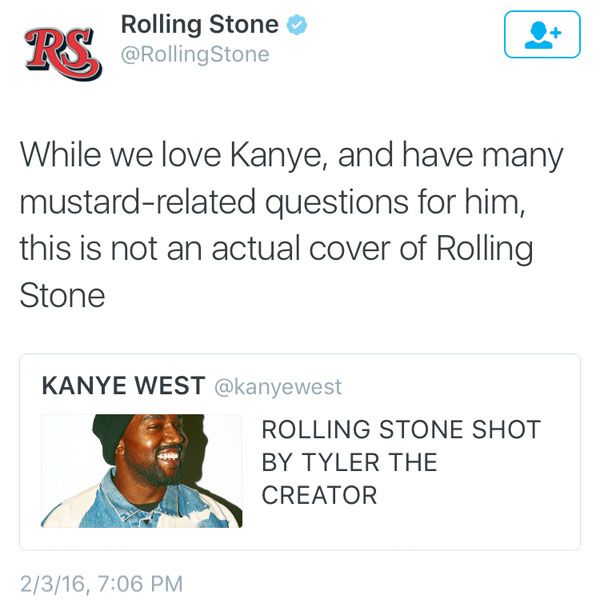 Bloop!
Following Rolling Stone's response, the "All Day" rapper posted up a poll asking his fans if he should be on the next cover. Hmph. He then started going in on Billboard for tweeting that he posted up a "fake" cover.
Peep his tweets (read from the bottom up):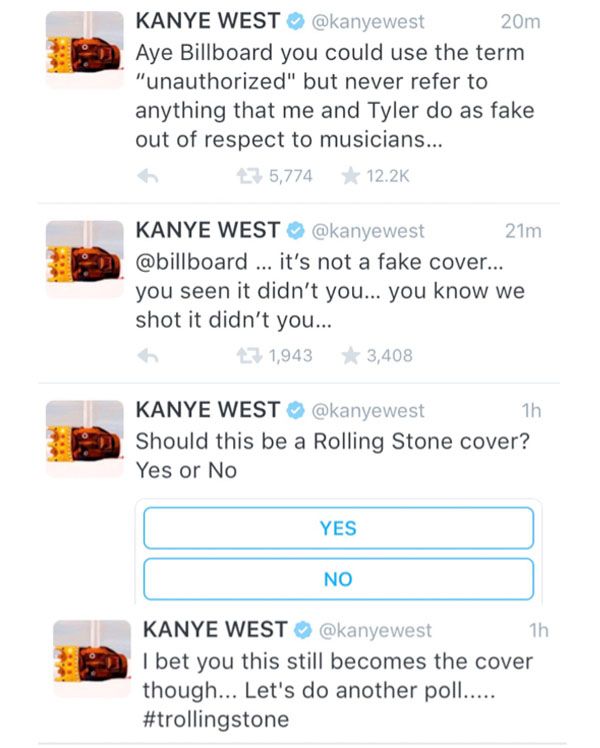 Guess he wants to troll them into putting him on the cover. It worked for VOGUE didn't it?
We've noticed Yeezy has been tweeting a lot more than normal. Guess he's going to keep with the dramatics before WAVES drops February 11th.
Photos: Johnny Nunez/Amber's IG/Billboard's Twitter/Kanye's Twitter/@culturecustodian