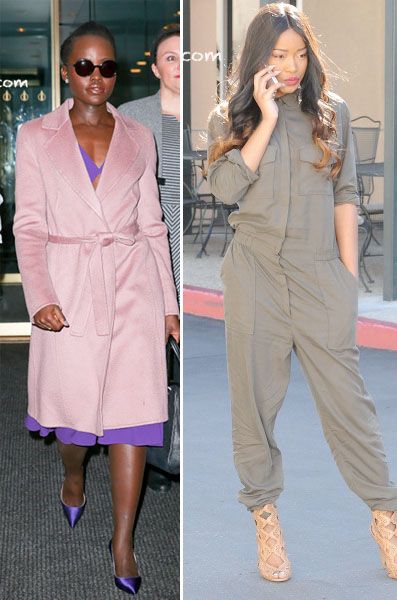 Lupita Nyong'o stopped by the TODAY" show to chop it up about her highly anticipated Broadway debut. Meanwhile, Keke Palmer dished on a few "Grease Live!" bloopers. More inside….
One YBF chick is gearing up for her newest gig, while another just wrapped up her live production.
Oscar winner Lupita Nyong'o rolled up to the "TODAY" show today like a total boss.
Chick kept it stylish in a deep purple Michael Kors dress, matching SJP Collection pumps and Zac Posen bag topped off with a soft pink coat to keep warm. So classic.
Inside, the Star Wars actress gushed on her Broadway debut in the all female production, "Eclipsed." She's super excited about the gig in more ways than one.
With the show coming to Broadway soon, she said it was a full-circle moment for her. She understudied the character she's playing back in 2009 at Yale Repertory Theatre. The Kenya beauty said she remembers making a promise to herself that she HAD to play this role one day. Now, that time has come and the fact that it's now on Broadway (after a 10-week off-Broadway run) is more than she could ever ask for.
As an Oscar winner, she also touched on the #OscarsSoWhite controversy once again. She addressed a while back it on her Instagram saying she was standing with her peers who were calling for change. During the interview she added,
"It's a symptom of something else. What we're asking for is inclusion in the stories that are being told. It's good for all of us when we hear a diverse number of stories. It's more reflective of the world we live in. I think that's what we ultimately want is for a diversity of stores to be told."
The Yale graduate then said she feels grateful for the position she's in because she's able to use the little weight she has to push for more untold stories to be told. Check it below:
"Eclipsed" begins previews on February 23rd and opening day is March 6th at the Golden Theatre.
Another fab chick on the move...
Keke Palmer did her thing as Marty Maraschino in the live production of "Grease Live!" this past Sunday with 12 million people tuning in. Now the 22-year-old star is dishing on the bloopers that most viewers may not have even noticed.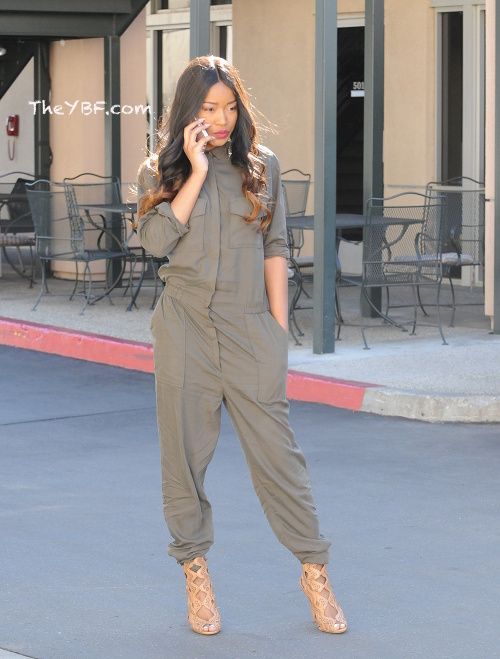 She was spotted chatting it up on her cell phone after an interview with Entertainment Tonight recently. In the interview, Keke revealed co-star Kether Donohue, who played Jan, flubbed a line.
"I told her, 'Girl, nobody heard that,'" she said about a conversation they had after the show.
While the show seemed flawless, there were also issues with crackling microphones AND it rained!
"We rehearsed for the last week with umbrellas and literally 30 minutes before we went live, we did it," Keke said. "We wanted to make sure it was safe."
She credited her Broadway experience (where she starred as Cinderella) on how she was able to get through the super quick wardrobe changes.
Later, Keke also talked about her co-star Vanessa Hudgens having to perform a day after her father passed away due to cancer. She said her strength brought her to tears. "To see her grace -- that's the kind of thing that ended up bringing a lot of tears to our eyes," Keke said.
Peep the interview below:
Meanwhile...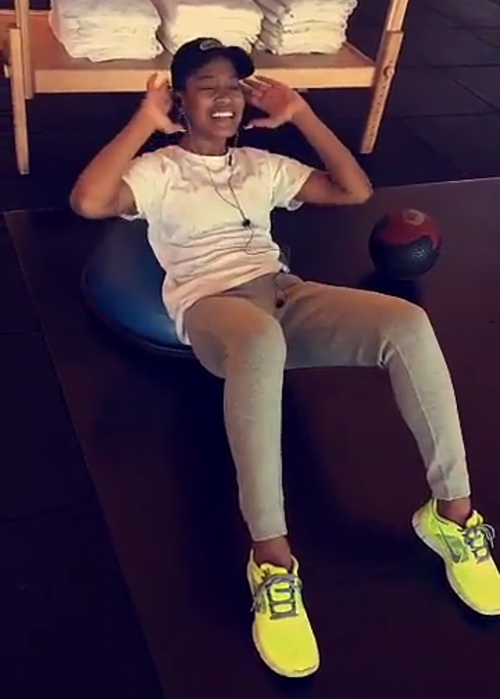 Today, Keke hit the gym and worked up a good sweat. Looks like she's ready for whatever new gig comes her way. We still don't know if she's returning to the newly renewed "Scream Queens" series, but once we do, we'll keep you posted.
Photos: Splash/Pacific Coast News/TODAY's IG/Keke's Snap