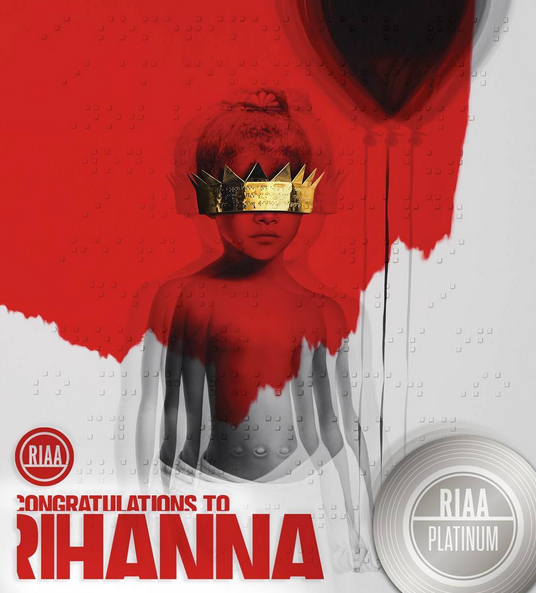 RIAA is changing up the game on how how albums sales are counted, bumping up Kendrick Lamar and Big Sean's new albums (along with others) to platinum staus. Plus, we've got deets on Rihanna's certified platinum album ANTI and why the numbers aren't as they seem. More inside....
Technology is changing the way the RIAA hands out certifications.
The Recording Industry Association of America recently announced the new Album Award methodology for its Gold & Platinum Program.
As one of the biggest changes in its six decade history, the RIAA will now include on-demand audio and video streams as part of its singles and albums certification process. So what does that mean? It means, a lot of albums are being pushed to gold and platinum status.
Big Sean's Dark Sky Paradise and Kendrick Lamar's To Pimp a Butterfly are now certified Platinum. And they aren't the only ones. Michael Jackson's Thriller is now 32X Multi-Platinum, The Weeknd's Beauty Behind the Madness is 2X Multi-Platinum and Wale's Ambition is now Gold.
Here's how they're breaking down the streams:
The RIAA set the new Album Award formula of 1,500 on-demand audio and/or video song streams = 10 track sales = 1 album sale. Also effective today, RIAA's Digital Single Award ratio will be updated from 100 on-demand streams = 1 download to 150 on-demand streams = 1 download to reflect streaming's enormous growth in the two plus years since that ratio was set.
Interesting.
While most artists are likely happy to hear the news, Kendrick Lamar's Top Dawg Entertainment CEO Anthony Tiffith is criticizing the new rule calling it BS. He says to save the congratulatory tweets until Kendrick's album sells 1 million copies the old school way. He tweets:
we don't stand behind this @RIAA bs. ole skool rules apply, 1 million albums sold is platinum.until we reach that #, save all the congrats.

— dangeroo kipawaa TDE (@dangerookipawaa) February 1, 2016
no cheat codes 2 platinum... #TDE

— dangeroo kipawaa TDE (@dangerookipawaa) February 1, 2016
Speaking of RIAA certified platinum albums....
Rihanna's studio album ANTI was certified Platinum by the RIAA roughly 36 hours after her album was leaked (on the night of January 27th) and then released for free the following day on TIDAL.
The announcement caused some controversy as some were wondering…how on earth did her album become platinum so quickly? Well, it all boils down to that $25 million contract with Samsung.
Since the mobile giant bought a million copies of ANTI, it was guaranteed it would go platinum. But, if you're wondering how the album fared the old school way, ANTI only sold approximately 460 copies on Thursday, Jan. 28th, according to a source with knowledge of the Nielsen numbers. It debuted at No. 27 on the Billboard 200, selling less than 1,000 copies in the United States in its first day on sale.
In fact, ANTI is reportedly one of RiRi's lowest-charting album debuts. According to TIDAL, the album been streamed 5.6 million times, while Nielsen says the album has been streamed 4.7 million times by the end of the January 28th. If you're looking to get your hands on a physical copy, ANTI is expected to be released in stores on Friday, Feb. 5th.
It's interesting to see how technology is starting to change the music game. How do you feel about it? Are you here for the RIAA's new streaming rule?
Photo: Rihanna's IG