In a new interview, Wiz Khalifa opens up about squashing his beef with Kanye West and whether or not they'll be joining forces on a new track. In another interview, Meagan Good sets the record straight after a news outlet alluded to her having multiple relationships with a few high-profile men. Get all of the deets inside…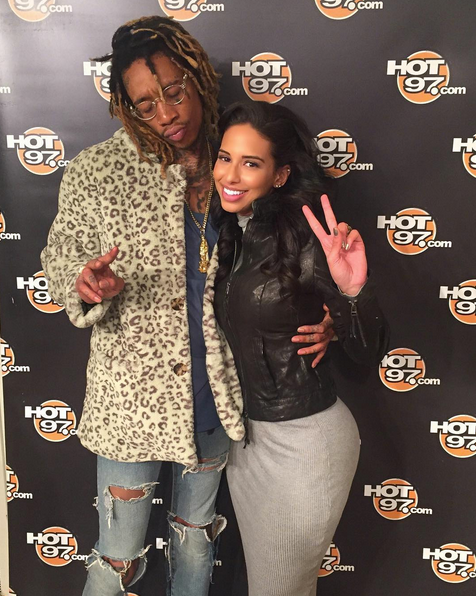 Wiz Khalifa has a new album dropping on Friday, so he's making his rounds to promote his sixth studio album titled Khalifa, the follow-up to his 2014 LB Blacc Hollywood.
The Taylor Gang honcho hit up HOT 97 to chop it up with radio personality Nessa where he opens up about burying the hatchet with Kanye West, following Ye's disrespectful rant aimed at him, his ex Amber Rose and his son Sebastian.
"We spoke on the phone," Wiz said. "Kim and Amber spoke on the phone. It's all good."
He added,
"It was crazy because I don't think that's anything that wouldn't happen between anybody else. That could have happened between anybody. The way that we settled it, the way that we bounced back, that's all the really matters.
So IS all of this just some fake drama to help boost both his and Yeezy's album sales? He said it's not.
"It's the universe man," Wiz calmly said. "The universe puts a lot of things. It could have went so many different ways. Individually, we all have control When you put certain elements together you can make something that people see as impossible."
Well, since the two have let bygones be bygones and are on good terms now, can we expect a joint track featuring the two? The "Young Wild & Free" rapper responded, "We're focusing on friendship. Let's focus on being friends first."
Switching gears, Wiz was asked if he was single these days. He said he's currently "spreading love" and that he does not have a Valentine's Day date.
He then went on to talk about if he would ever get married again."I love having a family, Wiz said. "Amber and Sebastian, that's my family. Am I looking for more of that? Not really."
Later, Wiz revealed his son Sebastian is on his new album, he talked about how a fan tried to steal his shoes off his feet during his tour in South America and more. Check it:
In another interview with 107.5 Chicago's Tone Kapone, Wiz briefly touched on RIAA's new rules and shared exactly what he was doing when Ye initially started going in on Twitter. He also confirmed he did NOT play Kim Kardashian's sextape during one of his recent shows and he responded to rumors about his watch getting stolen. Take a listen below:
In another radio interview...
Meagan Good and her husband DeVon Franklin have been heavy on the promo trail promoting their new book "The Wait" (which was released on Feb. 2nd). But, they found time to call into Power 105's "The Breakfast Club" to address a few rumors that have been circulating about her alleged promiscuous past.
The New York Post posted an article that said she had been in many high-profile relationships, including Lil Wayne, Jamie Foxx, Nick Cannon, 50 Cent, and "Being Mary Jane" star Thomas Jones. While she didn't deny her relationships with Thomas and 50, she did confirm she has never been with the other men listed. She said,
"I haven't been with Lil Wayne, I haven't been with Jamie Foxx, I haven't been with Nick Cannon. It's really disappointing. Why would someone print something in a story that I never said?"
In the article, it said Meagan started abstaining from sex after a boyfriend cheated on her, which she said is simply not true.
"I never said I gave up sex after an ex-boyfriend cheated on me," Meagan said. "I gave up sex because I got tired of being in relationships and getting the same results and I wanted to grow. It's something I believed I should have done all along."
The article also gave wrong facts when sharing how long she had been celibate and how long she has been a born again Christian. She clapped back:
"I wasn't celibate for two years, I was celibate for a year. I've been a born again Christian since a teenager I was just a work in process."
By the way, she also has kicked her smoking habit. She said, "Yeah. I quit smoking two years ago." Well good for her. Check out the interview above.
You can grab a copy of her and DeVon's new relationship book "The Wait" now.