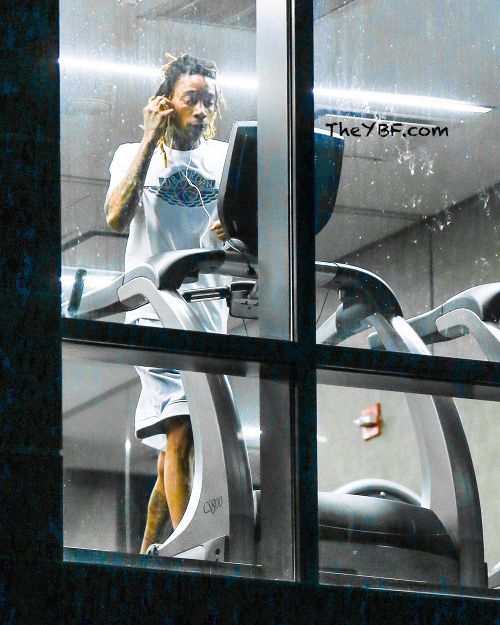 Wiz Khalifa and Kanye West have squashed their beef. It's a good thing too because Wiz was spotted "training" in a NYC gym. In other news, Usher, Killer Mike, Jermaine Dupri and Big Krit kicked off Black History Month in a mjor way. Pics inside…
Looks like all is well with all parties involved in the Twitter beef that took over the Internet last week. FollowingAmber Rose and Kim Kardashian West's truce, Wiz Khalifa and Kanye West hashed it out and are now on good terms.
Yeezy hopped on Twitter today and announced: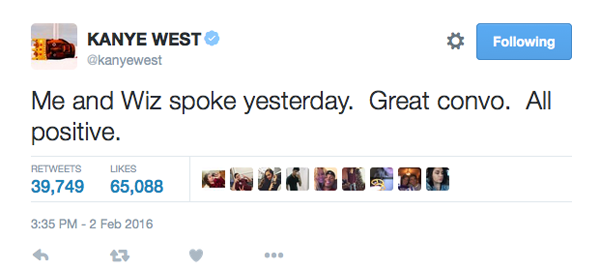 Well good for them.
We can't help but think this was all concocted drama to help with Ye's WAVES (Feb. 11th) album sales. Oh, and Wiz is a dropping a new LP titled Khalifa on Feb. 5th. How convenient.
Following his chat with the "Gold Digger" rapper....
The Taylor Gang honcho hit up the gym to train. What he's training for, we're not exactly sure, but a good workout does the body good. Wiz was spotted burning up calories on the treadmill (gotta get that cardio in for endurance) and doing shoulder presses while listening to music:
The "Black and Yellow" rapper just returned to the States after performing a few shows in South America.
In some do-gooder news...
Yesterday, R&B crooner Usher, producer Jermaine Dupri, rapper/activist Killer Mike and rapper Big Krit celebrated the first day of Black History Month in a major way.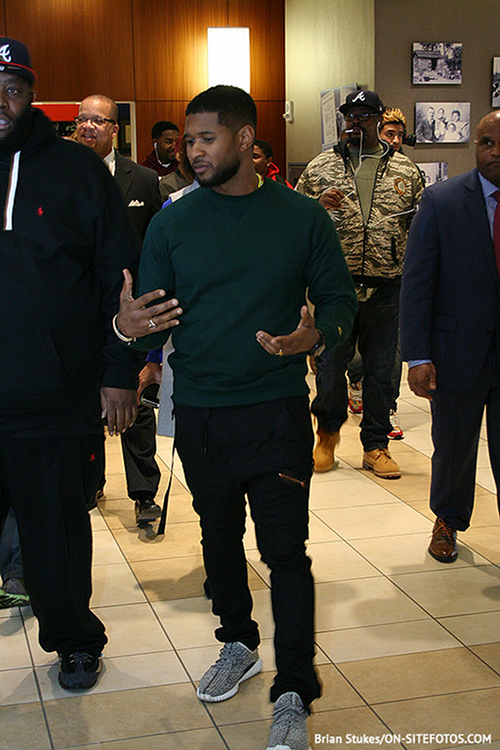 The four entertainers made their way to Citizens Trust Bank in Atlanta to open up new personal accounts at the small, black owned financial institution. In doing that, they hope to inspire others to start banking small and "banking black."
Killer Mike said on Instagram, "Four Entertainers Four New Accounts! #BankSmall #BankLocal #BankBlack #CitizensTrustBank #happyblackhistorymonth" 
In another IG post, Mike said, "A buncha guys with #CitizensTrustBank President Cynthia Day. She is the most powerful human in the pic. This is why I love ATL, Amercia, My Culture and My people. #CitizensTrustBank #BankSmall #BankLocal #BankBlack #95Yrs #CuzImBlack"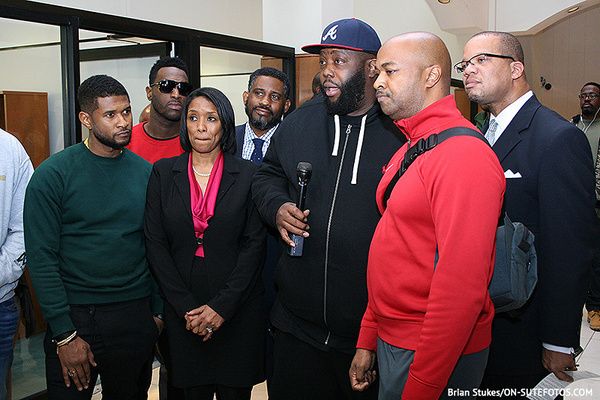 Nice! Big ups to them. 
Photos: Splash/INF/On-SitePhotos/Killer Mike's IG