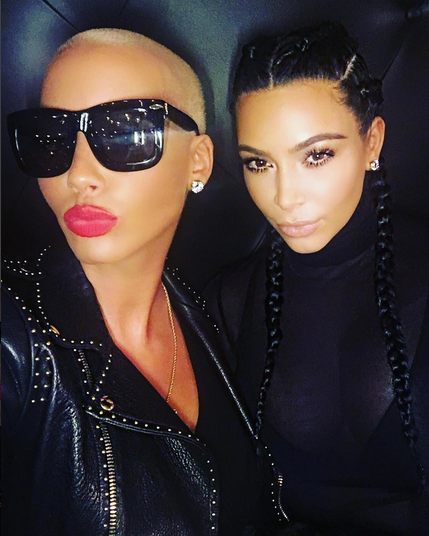 So, this happened.  While most of America was watching the Iowa Caucus results, Amber Rose & Kim Kardashian joined forces on the Gram. Lord help us all....
In Kanye's "apology tweets" a few days ago to Amber Rose, Wiz Khalifa, and their son Sebastian, he mentioned he and his wife have the kind of "love" that can turn exes into best friends. He calls that love, we call it something entirely different.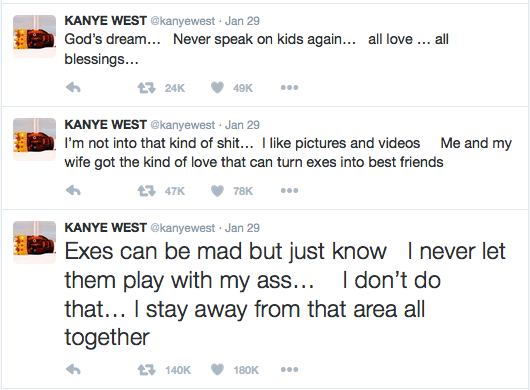 Like with most things Kanye says, we wrote it off as gibberish. But it looks like he's intent on pulling out all the stops in promoting this new Waves album.  He made his tweet come to life in the pic atop in an apparent come to Yeezus meeting.
Amber and Kim snapped a selfie together either last night or in the wee hours of this morning (sources are reporting Kim invited Amber to a secret meeting at Kim's mom's house last night to squash the beef).  Both conveniently posted the same pic at the same time with captions that read:

Oh.
Amber also just followed Kim on IG.
Kanye's exes Amber & Kim have been at war for a couple years now with cheating accusations and insults hurled at each other.  Friends and families on both side have gotten involved. The latest was Kim's husband and Amber's ex Kanye disrespecting Amber and her baby boy Sebastian.
Plenty of commenters on both their timelines are calling it all a thirsty PR stunt for reality show ratings and Kanye's album sales.  Others, like us, also believe Amber MAY have been offered some selfie action so the Wests could make sure she didn't spill any more #FingerInTheBooty tea.
And then there's this:
Yep, that's Blac Chyna back in full effect at Ace of Diamonds West Hollywood strip club early this morning...with bestie Amber in the same outfit she's in for the pic with Kim. Chyna was spotted driving boyfriend Rob Kardashian's Bentley up to the scene, by the way.
Either all three chicks linked up together or happened to see each other elsewhere or...who knows. Our brains can't process this anymore.
Photos/Video: Instagram/INF.com