Chris Brown and his baby mama Nia Guzman are involved in some more drama. Find out what they're feuding over now and get the deets on Rob Kardashian supposedly driving several miles to Austin from L.A. to pick up his rumored girlfriend Blac Chyna from jail inside…
Chris Brown and his baby mama Nia Guzman are at odds once again. Breezy is clapping back at Royalty's mother after she made claims their 1-year-old daughter developed asthma due to Breezy smoking weed and cigarettes around her. Nia told TMZ, every time Royalty comes home, all of her clothes smell like smoke.
Well, Chris claims that is a LIE! The Grammy Award winning singer hopped on his Instagram to slam Nia's claims, saying he quit smoking on New Year's and NO ONE is allowed to smoke around Royalty. He said he would never put his daughter in harm's way. He posted (then deleted):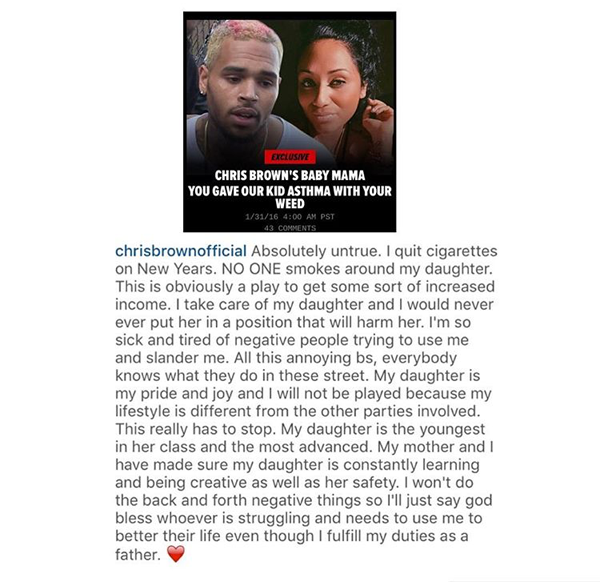 Smoking around Royalty isn't the only thing Nia is accusing Breezy of.
In legal documents, she also claims that Chris has relapsed and is back to abusing drugs (specifically sizzurp/lean). Now, she wants Chris' visitation to be restricted, allegedly forcing him to hire a full-time nanny or give up his time with her. She also wants him to be drug tested randomly AND she's still trying to get more child support. She currently receives $2,500 a month, but she wants a whopping $16,000 a month.
Sighs to it all….
In coupledom news...
So we told you Blac Chyna was released from an Austin jail after posting an $8,000 bail on public intoxication and drug possession charges. Now we know, her new rumored boyfriend Rob Kardashian was the one to pick her up.
But get this…
Sources tell TMZ Rob allegedly drove from L.A. to Austin (approx. 1,377 miles) in his Bentley to go get his boo! No lie. Peep the pic above. It's reported he hopped in his whip soon after he got news that she was in jail. He was likely driving to go get her when they were FaceTiming yesterday.
You know the four-leaf clover emojis is their "thing" and you see the Beverly Hills Bentley tag on the car (TMZ confirms it's his ride) above. Chyna posted the flick to her SnapChat and she also shared a video riding in the car on her way home:
We put the distance from L.A. to Austin in Google Maps and it equals out to about 19 hours and 49 minutes on the road. Sheesh. Someone's head over heels.
Oh, and new flicks have surfaced of the moment Chyna was arrested by law enforcement:
Looks like Chyna has a ride-or-die dude....
EXTRAS:
1. Blac Chyna & Rob Kardashian have been approached to do a sex tape, following in the footsteps of his sister Kim Kardashian, who released a sex tape that catapulted her into stardom. STORY
Photos: Chris' IG/Chyna's Snap/TMZ