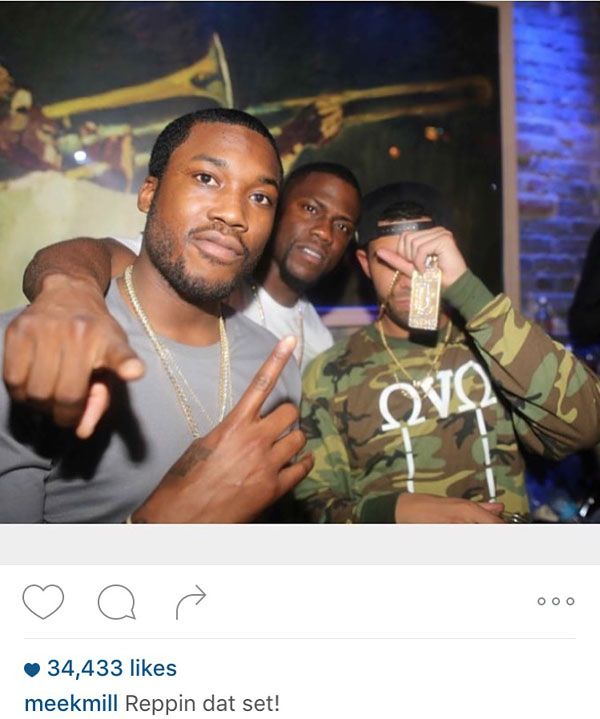 Looks like the Drake vs. Meek Mill rap beef has spilled over into 2016. Drizzy unleashed a new track dissing Meek Mill (and a few others) and the Philly rapper quickly responded. Now, there are conspiracy theories surrounding the Young Money rapper and his alleged "ghost writing." Find out what we mean inside…
Drake is looking for "revenge" and he did so by dropping his new single "Summer Sixteen" on OVO Radio yesterday. It's the first single from his upcoming Views In The 6 LP, set to drop in April.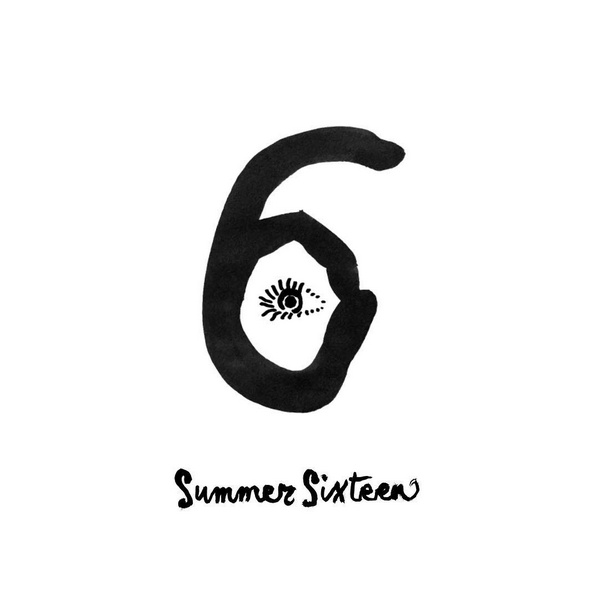 On the new track, the Young Money rapper takes aim at a few folks including fellow Canadian rapper Tory Lanez ("All you boys in the new Toronto want to be me a little"). After President Barack Obama said he would choose Kendrick Lamar over Drizzy in a rap battle, Drake had a response to that rapping, "Tell Obama that my verses is just like the whips that he in / The bullet proof" And he also name drops a few Hip Hop powerhouses such as Jay Z and Kanye West.
But, things get interesting when Drake comes for his enemy Meek Mill. As you all by know, Drake and Meek started a legendary rap back last summer after the MMG rapper blasted Drizzy for ghostwriting his lyrics on his track "R.I.C.O." Since then, Drake dropped two records ("Charged Up & "Back to Back), straight bodying Meek. The Philly rapper tried to come back at Drake on his track "Wanna Know," but by the time he dropped it, most people were over it.
Fast forward to now, the guys are back at it with Drake dropping "Summer Sixteen" and Meek releasing his response "War Pain," about an hour after. And their tracks have some folks coming up with their own conspiracy theories.
On Drizzy's new track, he suggests that he and Meek (along with Nicki Minaj) were in the same hotel when he unleashed "Back to Back." Rumor has it, once Drake found out which hotel Meek and Nicki were staying at (when they made a stop in Toronto on the Pinkprint Tour), he and his homies went and got a room right above Meek & Nicki and BLASTED the track all night.
Drake rapped: "I'm just a sicko a real sicko when you get to know me, n*gga / I let the diss record drop you were standing right below me, nigga / We must have played it a hundred times, you was going to bed."
In the beginning of Meek's "War Pain" track, he too, addresses that night at the Four Seasons Hotel in Toronto. He raps: "Location: Toronto. Status: five star hotel, Four Seasons. Them chumps right upstairs, they know not to come up here playin' no real niggas. Mu, I'm still up countin' five hundred thousand cash. Nicki in the bedroom sleep, life is good"
Then things get even more interesting….
Meek directly addresses many of Drake's lyrics from his track. Check it:
Drake: "I used to wanna be on Roc-A-Fella, then I turned into Jay / Now I got a house in LA / Now I got a bigger pool than Ye / and look man, Ye's pool is nice / Mine's just big is what I'm saying."

Meek: "And you claimin' you HOV now? Why you state that shit?/ I hate that shit/Niggas be talking out they face but soon as you body something they be singing like they Drak"

Drake: "Then I hit 'em with the Hotline, Chris Breezy with the dance moves."

Meek:"Niggas dancing like they fruit cakes/Hotline Bling, don't get no bing up in this new Wraith."
Meek is saying Drizzy's alleged ghostwriter tipped him off with the lyrics: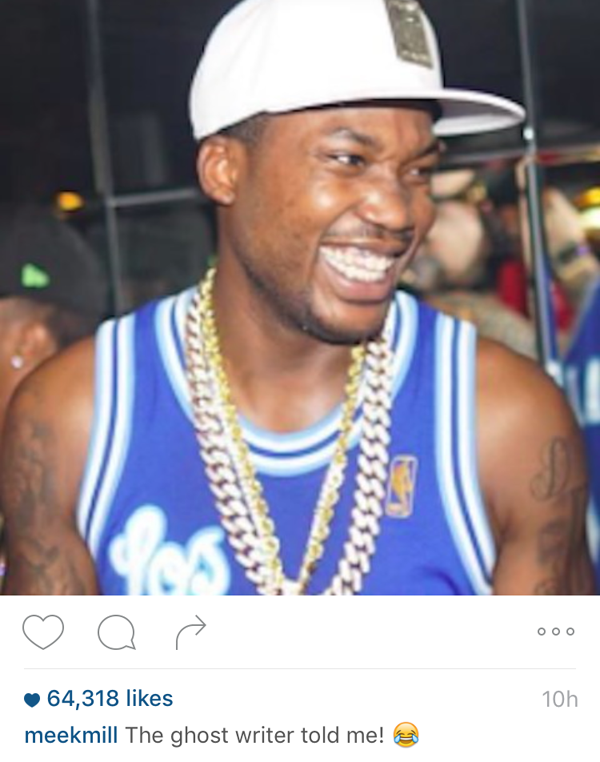 Now look, Drake dropped his track around 6PM EST yesterday and then Meek dropped his about an hour later.
Hmmm...One could say, Meek hopped in the studio and threw in a few lyrics to directly respond to Drizzy, but he was at the Sixers vs. Warriors game in Philly with his girlfriend Nicki Minaj when "War Pain" dropped. Here are the receipts: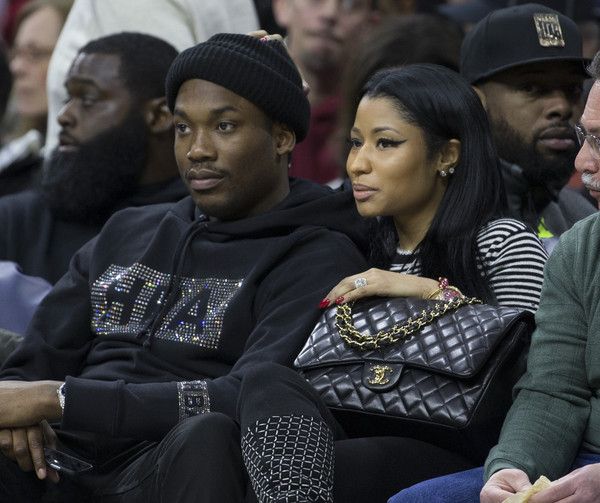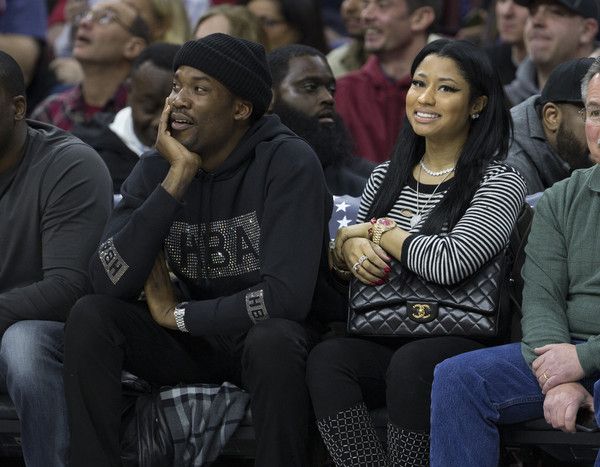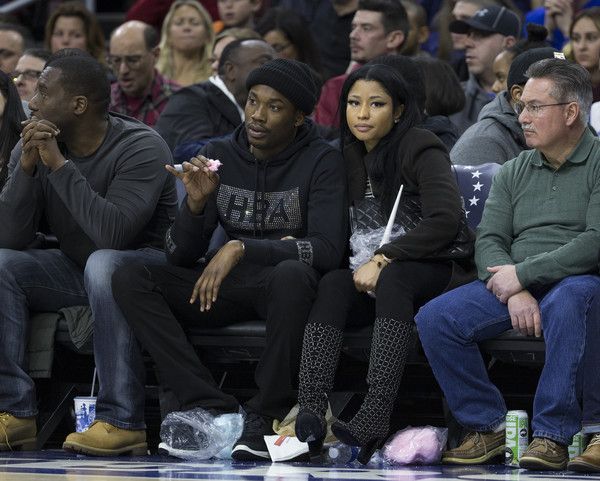 Unbothered.  Chick pulled out her pink bedazzled mirror to check her make up. Ha!
The timing of it all is very interesting to say the least.
Rihanna even joined in and showed her support for Drake, who is featured on her new track "Work" from her recently released ANTI album.
Check out Meek's "War Pain" below:
And you can take a listen to Drake's "Sweet Sixteen" on Apple Music HERE.
So, we have to ask...what's really good with Drake and these alleged ghost writing rumors? How did Meek release his diss track so quickly after Drake dropped his? Is there a mole in the OVO camp? So many questions, not enough answers....
Photos: Getty/Meek's IG/Drake's IG