Kanye West is BACK.  He's responding to Amber Rose's #FingerInTheBooty slap heard around the world.  Get his response inside, and hear what else Amber had to say about her ex's antics....
It took 24 hours to respond, but respond he did. 
On Wednesday night, Amber Rose responded to Kanye's Twitter rant that dragged her and her child into the mix for no reason.  Her final response to 'Ye was: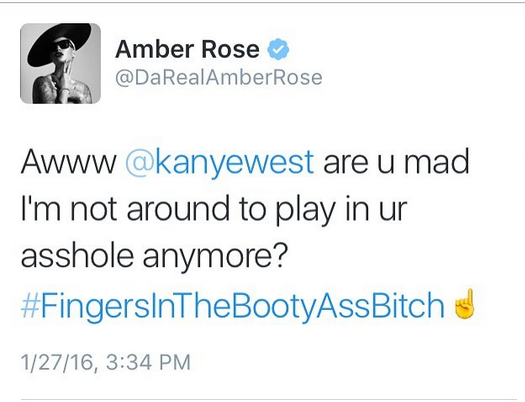 It was epic enough for 'Ye to delete all his 20+ tweets he had just put up.
Now, a whole day later, he's breaking his silence claiming he's actually NOT into all that.
Oh.
Meanwhile, more from Amber's podcast interview has leaked.  Before the full episode airs today, a source tells Page Six that Amber called 'Ye a "f—–g clown."  Oh, and she also dished on her bestie Blac Chyna and Rob Kardashian:
[Amber] confirmed the couple's status during an interview set to air on the podcast "Allegedly" on Friday, explaining how the new relationship is good for both Chyna and Kardashian.

"Amber said the vibe between them is right," a source told Page Six of the yet-to-be-released interview.

"She thinks Rob is an awesome guy and Chyna is cooking him meals now and helping him. They seem really happy," said our source.
Interesting...