The men are flexin' on the gram.  Aaron Neville shows us what 75 looks like (we had to pick our mouths up off the floor) and LeBron James' washboard abs are on and poppin'.  Get a dose of YB Fitness inside...
Legendary singer Aaron Neville turned 75 on Sunday.  And he celebrated with a workout session at the gym. 
Oh, and he followed the session with a thirst trap pic for the gram.
The New Orleans native has been pumping iron harder than most 30-year-olds we know, and it shows.
He shared the pic above that had us like daaaaaamn.  Work it out then Aaron!  This is 75 folks.
The R&B and Soul singer, who is one of the famous Neville Brothers, shared his outlook on life at the experienced age of 75.  Get his words of wisdom below:
Who would have thought --years ago-- that I'd still be alive?
God watched over me, kept me safe, and I made it to seventy five.

When I did things to hurt myself, God would make me whole. Each time He'd wipe away my transgressions and cleanse my soul. He held my hand through some deep, dark days, holding a lantern to light my way.

I remember praying from the bowels of hell and He picked me up every time I fell. Angels watched over me when I put my soul in hock. God was there to set me free. He had the key to that lock. He untangled the barbed wire that blocked my path. He pulled me from the streets' treacherous path.

Many who ran beside me ventured far and wide. We had different destinations. Some fell by the wayside.

There must be a reason for me to have survived, I guess someone up there likes me. I made it to seventy-five! Amen.
Happy birthday Aaron!
Also at the gym today: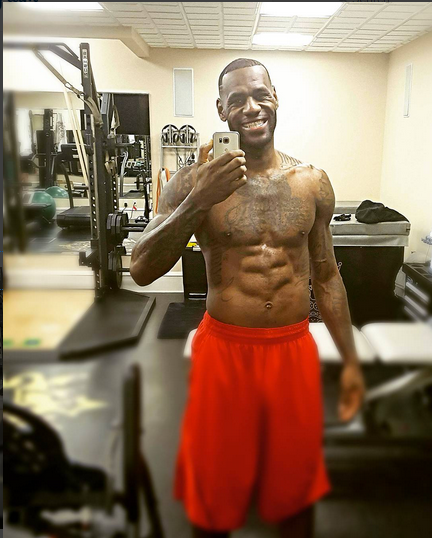 We're not sure what diet The Cavs star has been on lately, but it's more than just those daily workouts and balling out at games.
LeBron is looking snatched in his newest shirtless fitness photo he shared on the 'Gram.
His washboard abs and extra lean physique were on full display.
We guess he's more focused than ever this year to bring home a championship to Ohio.  Do you Bron.
Photos: Instagram