After Stacey Dash's asinine (and false) statements about why BET Black History Month and anything else black needs to go away, folk are clapping back.  Loudly.  Even her own cousin.
Deets inside...
She covered every black men's booty magazine (from Smooth to King), co-starred in the BLACK comedy series "The Game" on BET, stared on the first season of the heavily black show "Single Ladies," but Stacey Dash seems to have wiped away those memories and stated anew.  Because chick has a whole new take on what should be in operation and what shouldn't be.
This week, the actress turned Fox News talking head cut her hair into a bob and started running her mouth about why the Oscar boycott hot topic is B.S.  And no one should be mad, they should simply earn it.  Oh, and there's no need for BET or black history month, according to Stacey.
Needless to say, the internets dragged her.  Dragged her with history lessons, #facts (she said ONLY black people are nominated at the NAACP Image Awards and that is incorrect), and good ol shade.
Here's a few from folks we know:
Stacey's own cousin, Dame Dash, hit up Dr. Boyce Watkins' Youtube show to say:
"It really isn't the best thing to hear 'Dash' associated with cooning," the Rap mogul says, "but it is what it is. That's my life."
He continued about her likely getting paid to be foolish on Fox News saying:
"I think she was saying, you can't be, 'Yo BET we have our own Black stuff that we don't invite White people to and then get mad when White people don't invite us to their stuff.' That's how I looked at it. But then I was just like, 'She didn't have to say it like that or there or get paid to say it.' I would have way preferred her, if she has that opinion, to say it on BET or have a conversation with someone Black when she was saying that and let someone Black have a conversation back with her as opposed to some White man nodding his head."
Hmph.  Check out the interview above.
Meanwhile, BET just threw the best shade of 2016 thus far:
Oh how quickly we forget.
Stephen Hill, President of Programming, co-signed saying:
Charlamagne over at The Breakfast Club went all the way in on her idiocy, breaking her down point by point.  Check it above.
Comedian Gary Owen of the Think Like A Man franchise dropped some nuggets on Stacey: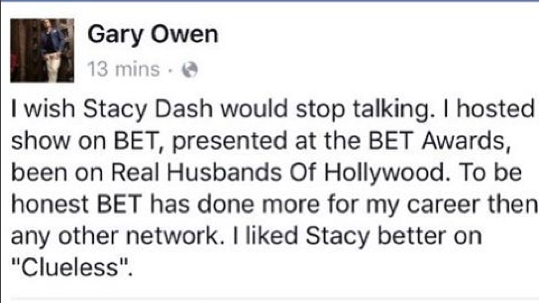 Bun B. said what we were all thinking:
Unfortunately, a Stacey supporter flagged the post and got it deleted.