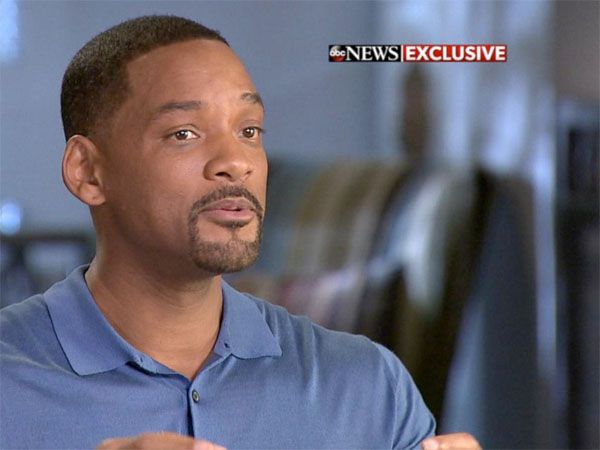 Will Smith is speaking out about his wife Jada Pinkett Smith's boycott of this year's Oscars and he's standing with his wife...like any good husband would. Find out what he said inside….
There was a ton of Oscar buzz surrounding Hollywood actor Will Smith for his role in Concussion. But unfortunately, he was NOT nominated in any category for the 88th Academy Awards. As you all know by now, NO person of color was nominated in the any of the 20 major acting categories.
Following the nominations, Will's wife Jada Pinkett Smith announced she would be boycotting this year's awards ceremony. Now, Will is speaking out confirming he's standing with his wife and will be boycotting the ceremony as well in a new interview with "Good Morning America" co-anchor Robin Roberts.
When asked if he would be attending the awards he said,"No." He continued, "With my wife not going, it would be awkward to show up with Charlize [Theron]."
Well, invites only go to nominees and past winners so their boycott may be with the remote, like others have said they will do.
The Concussion star said he had no idea Jada was making the video because he was out of the country. But, after viewing the video, he said he was floored and super proud to call her his wife.
"She's deeply passionate and when she is moved she has to go," Will said. "I heard her words and I was knocked over. I was happy to be married to that woman."
Folks have been up in arms (mainly Janet "Aunt Viv" Hubert) saying Jada only made the video because Will wasn't nominated, but the Oscar winner says that's far from the truth.
"There's probably a part of that in there but, for Jada, had I been nominated and no other people of color were, she would have made the video anyway," Smith said. He continued, "We'd still be here having this conversation. This is so deeply not about me. It's about children who are going to sit down and watch this show and they're not going to see themselves represented."
Hmm....
Will continued saying this is not the Hollywood he wants to leave behind for his kids and younger generations:
"There is a position that we hold in this community, and if we're not part of the solution, we're part of the problem," he added. "It was her call to action, for herself, and for me and for our family to be a part of the solution."
"The nominations reflect the Academy. The Academy reflects the industry [Hollywood] and then the industry reflects America. There is a regressive slide towards separatism, towards racial and religious disharmony and that's not the Hollywood that I want to leave behind. That's not the industry, that's not the America I want to leave behind," he added.
Check it:
Thoughts?
Photo: ABC