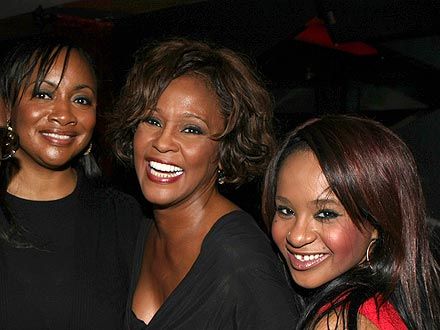 Well this ought to be interesting.  The family of the late Whitney Houston has nabbed a reality docu-series through Lifetime to showcase how families heal themselves through major loss and tough times.  And it's starring Pat & Gary Houston, Cissy Houston & even Bobbi Kristina.
Deets inside...
According to Deadline.com, Lifetime's Exec. VP announced today that the network has picked up The Houston Family Chronicles (working title), an all-new docu-series that will follow the lives of the late Whitney Houston's family, led by Pat Houston, Whitney's sister-in-law and manager, and including Pat's daughter Rayah, Whitney's brother Gary, daughter Bobbi Kristina and mother, Cissy Houston.
The network ordered 10 hour long episodes premiering later this year.  Not sure how I feel about this, but here's the synopsis:
The Houston Family Chronicles follows those closest to the pop music icon as they try to pick up the pieces after her untimely death. Pat Houston, Whitney's sister-in-law, manager and most trusted confidant, manages the business and estate of the beloved singer and her most prized possession, her daughter Bobbi Kristina. The series will follow Pat and her husband, Gary, Whitney Houston's brother, as they take on their greatest challenge, supporting and guiding Bobbi Kristina as she faces the world alone, without the one person she relied on the most, her Mother.
A mother to her own teenage daughter, Rayah, Pat understands the difficulty of raising a young woman in a world where social media and peer pressure are the norm. As she tries to guide her own daughter into womanhood, Pat also has the responsibility of raising Bobbi Kristina, who, while trying to move forward with life and make decisions about her future, must also learn to cope with such a devastating loss. With the certainty of a microscopic lens focused on this young woman and her every move, Pat, Gary and their tight-knit group of family and friends are committed to seeing that Bobbi Kristina can grow and experience life unscathed. A true believer in the bond that women share called sisterhood, and a self proclaimed "woman's woman," Pat enlists the help of her and Whitney's inner circle, including Grammy Award winner Dionne Warwick and Gospel legend CeCe Winans, to assist her in such difficult times.
And Pat says she's doing this to help other families heal themselves:
"I have been working with Simmons Shelley over the past few years developing a project suitable for myself and our family. The unexpected passing of Whitney certainly affects the direction of the show. However, it is my hope that others will be enlightened as they watch our family heal and move forward."
Really?  Working on this for years?  I guess.  Will you be watching?