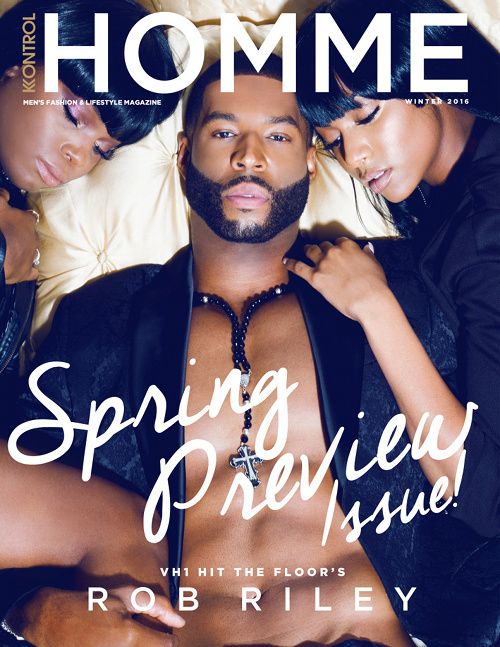 Rob Riley is addressing several rumors about him in the newest KONTROL HOMME magazine issue. Find out what rumors he cleared up and peep more hot pictorials inside…
Hottie Rob Riley stars on the hit VH1 scripted series "Hit The Floor," which premiered the third season last night. And now, he's heating up the magazine circuit with a sexy new cover.
The fantastically fit...and FINE...actor is gracing the cover of KONTROL HOMME magazine's Winter 2016 issue. And he sets the record straight about a few rumors circulating the Internet about him.
Apparently, there was a rumor that the reason season 3 took so long to premiere was because Rob and his co-star Logan Browning secretly had a love child. News to us. He quickly denounced it as FALSE saying:
"No I don't have any children and she [Logan] and I definitely don't have any…They may be referring to a plot in this upcoming season…a woman accuses Terrence of being the father of her child, and you know Jelena ain't having that! [He laughs]"
There you have it.  It's not real life people!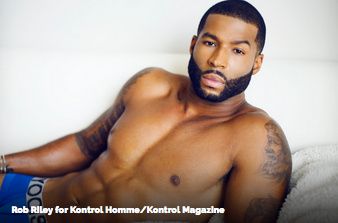 Word on the curb is that he and his (sexy) co-star McKinley Freeman were at odds. In fact, rumor has it, that the two got into a physical altercation. Rob says…that's not true!
"He [McKinley Freeman] and I are brothers, said Rob. "They're absolutely off on that one…"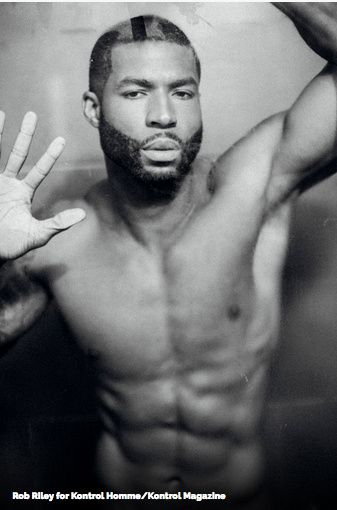 Lastly, there is another rumor going around that Rob would be starring in a major role as supervillain Tombstone in Marvel Comics' new Netflix original series Luke Cage.
"I haven't heard anything about that, but if there's any truth to it I'm all for it," Rob said excitedly. "I'd definitely like to work with Marvel, they're doing some really amazing things over there…"
While he may not be starring in the new Marvel Comics series, he does have a number of films coming down the pipeline this year. Not only that, he is also working on a show for the Travel Channel that will specialize in carnivals around the world. He has a company (Holyood Massive) that literally helps throw carnivals everywhere in the world.  And if you follow Rob on Instagram, you KNOW he's LOVES carnivals.
"Most people don't know it but I love carnivals!," Rob said. "I'm a really silly guy who likes to have fun and they are just my speed."
Nice. Check out his full interview here.
Be sure to check out Rob and the entire "Hit The Floor" cast every Monday at 10/9c on VH1.
EXTRAS:
1. Tyler Perry is gearing up for a new Madea movie just in time for Halloween. Boo! A Madea Halloween is currently in production in Atlanta and is expected to hit theaters October 21st.  And he's also set to play the villain in the upcoming installment of The Teenage Mutant Ninja Turtles movie!
2. The "Wendy Williams Show" has been renewed through 2020. STORY
Photos: Corey Guevarra via KONTROL magazine