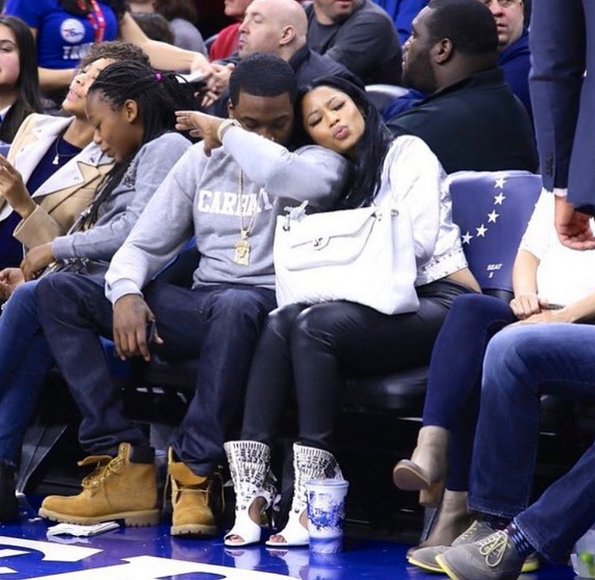 Nicki Minaj and Meek Mill were cuddled up courtside at the Sixers vs. Trailblazers game in Philly last night. Peep their coupledom pics and also check out Rihanna starring in a new CBS promo that suggests she may perform at this year's Grammys inside…
Nicki Minaj and Meek Mill couldn't spend New Year's Eve together to ring in 2016, but they're getting in lots of coupledom time recently to make up for it.
Last night, the "Anaconda" actress and the MMG rapper took their seats courtside inside the Wells Fargo Center in Philly to watch the Philadelphia 76ers go head-to-head against the Portland TrailBlazers.
The twosome was all wrapped up in love as they smiled and laughed with one another during the game. At one point, Meek was caught hitting the Dab as Nicki laid her head on his shoulder blowing kisses at the cameras.
Nicki and Meek couldn't spend NYE together because Meek is currently on awaiting sentencing after violating his probation, so he couldn't meet her in Vegas for their scheduled show together. A judge ordered him to stay in Philly until he's due back court in February for sentencing.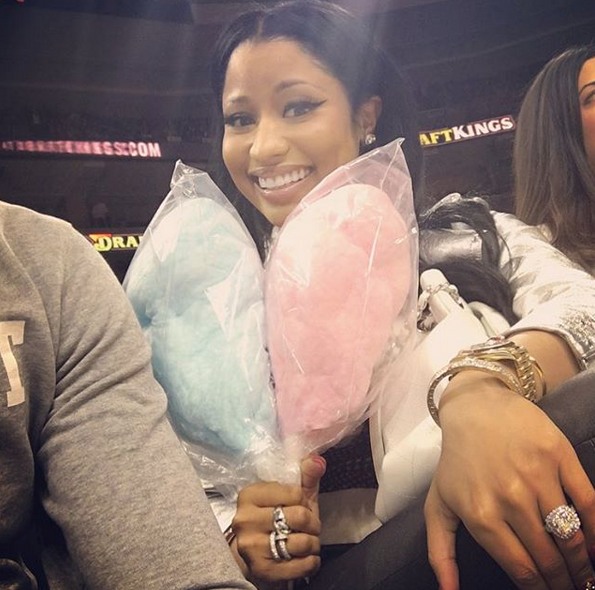 While waiting to find out how much time (if any) your boyfriend might receive is nerve wrecking enough, but Nicki seems to be in good spirits. We see she's still rocking her birthday diamond on THAT finger although she claims she's not engaged.
Speaking of Meek..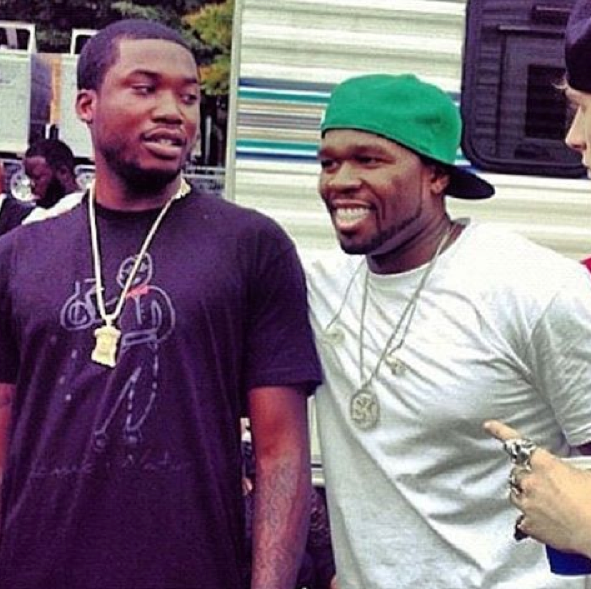 The Philly rapper released a new EP titled 4/4 where he goes in on his old enemy Drake. On the track "I'm The Plug Freestyle" (a remix to Drake & Future's "I'm Da Plug") he pops off at Drizzy about not writing his rhymes...again. Meek spit, "Jumpman, Jumpman, Jumpman / Ain't nobody tell 'em this ain't what they want, man / You ain't really write it, I'm like, 'Who's your stuntman?'"
But that's not the only person Meek came for on his new EP. He also fires shots at 50 Cent another rap beef.
On the track "Gave Em Hope," the Philly rapper starts talking about someone who likes to start ish on Instagram. He starts letting you know who he is referring to in the next few lines rapping, "I got 50 reasons say you're taking dick / And it's 50 reasons I should kill, nigga."
While he didn't drop his name, the "50" references are clear. He also raps, "You know the game, if you cosign a rat, you forever a rat / We were never with that / You tried to go 'Money' May with that paper, but now you in debt cause you never were that"
Meek is reportedly referring to Fif being cool with a "rat". The rat he's referring to is allegedly the groundskeeper Rick Ross allegedly pistol whipped over the summer. Apparently Fif posed in a picture with the groundskeeper at one of his EFFEN events.
Take a listen to the track below:
So, in true 50 Cent style, he started going in on Meek via his social media page:
He captioned, "LMAO Hey shit head, your career is over already.you better focus on getting Nikki pregnant so you can at least get child support girl. new meek emoji lol"
Another caption said, "But your honor, I'm not a gangsta, I'm just retarded. Look I went at DRAKE, FUTURE, and 50cent. Smh Shit head! #EFFENVODKA #FRIGO #SMSAUDIO"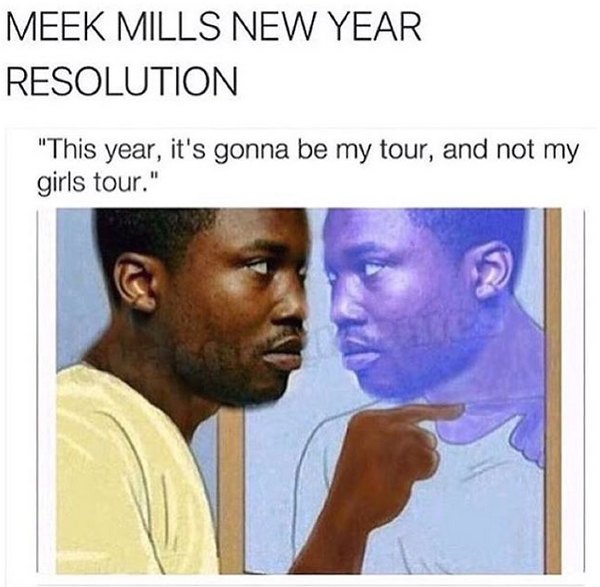 Of course, Meek responds: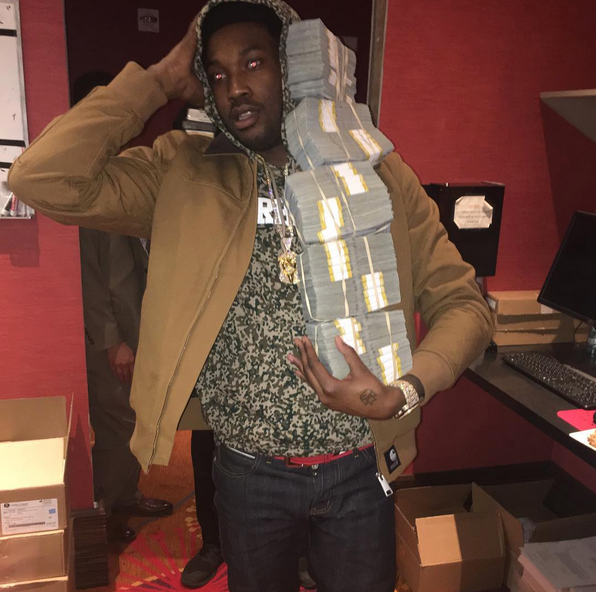 The "Lord Knows" rapper let loose on Fif in an Instagram post:
"U pop shit on social media 24/7 ... U never in the places everybody b at.... The whole queens say you a rat.... Ross baby mom hit you for that check you sick .... Ross finished you "career over? How dare you speak on that? .... All you artist that came under you broke" ya son hate you smfh! Ya swag on below "0" lol hold up..... U always hating on puff and Hov other go getters from ya city...... U going broke and you miserable .... U really miserable bro.... You like 40 on the internet all day. Mayweather ain't got tickets for you nomore .... Ya liquor is piss... U really miserable and don't really have friends ... You scared to play the mixes everybody b at! U never played with me in person because u know how we rocking lol I'm done wit you ... This my last insta-fingers post for a min lol

Norm Kelly hold up...... Young black dude that came from nothing vs old white racist man from Toronto.... I got more money than you already? You took the real "L" in life champ! Oh fif all y'all dudes do is talk about Nicki ... This just my real life my fault for snapping on y'all weirdos! Hov gave you a half of bar bro ski... I bet any amount of money queens would trade me for you! "You the one made it cool to b a hater" I'm out

Sincerely -instafingers

@iamdiddy @ceoslow stop letting this dork play around ... He already been shot 9 times lol he like a vegetable or something .... @irvgotti187 can you clarify that he told on y'all? We need answers!
Let the "Twitter fingers" war begin....
By the way, Toronto city councilor Norm Kelly, who loves throwing jabs at Meek, also fired shots at the Dreamchasers rapper on Twitter:
.@MeekMillpic.twitter.com/rBqHlV3kzX

— Norm Kelly (@norm) January 17, 2016
Bloop!
In a new promo:
Rihanna is starring in a new CBS promo ad for two HUGE events airing on the network. And she hints at a GRAMMY performance at this year's awards show. The network is gearing up for Super Bowl 50 and the 58th Annual Grammy Awards to take over the airwaves in February.
In the clip, the Pop princess faces off against CBS sportscasters Jim Nantz, Phil Simms and James Brown for a coin toss with late night talk show host Stephen Colbert serving as referee. The coin is flipped and Jim says, "We go first." RiRi responds, "I'm worth the wait." Check it above.
Hmm...Grammy performance perhaps? Sounds like it.
Get your snacks ready. Super Bowl 50 will take over our televisions on Sunday, February 7th with a special performance from Beyonce as she hits the stage alongside Coldplay. The, the 58th Annual Grammy Awards will air Monday, February 15th at 8/7c.
Will you be tuning in to see if Rihanna pops up at the Grammys?
Photos: Nicki's IG/Meek's IG/50's IG