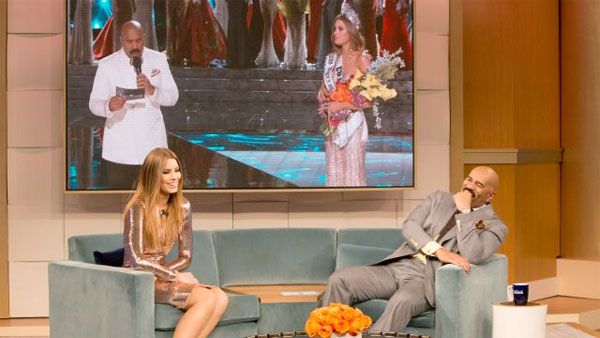 Steve Harvey will meet with Miss Colombia (for the first time since his huge mistake) and Miss Universe on his daytime talk show to apologize and to clear up any rumors after his Miss Universe snafu. More inside…
After one of the biggest mishaps on live television, Steve Harvey is ready to set the record straight.
The daytime talk show host, who mistakenly read the wrong name to announce the Miss Universe winner last month, invited Miss Colombia Ariadna Gutierrez and Miss Universe Pia Wurtzbach of the Philippines to appear on the "Steve Harvey Show" for a special two-day event, dubbed "Miss Universe: The Truth."
The two-day special will air Monday, January 18th & Tuesday, January 19th during the show's normal daytime slot. Check your local listings for the time.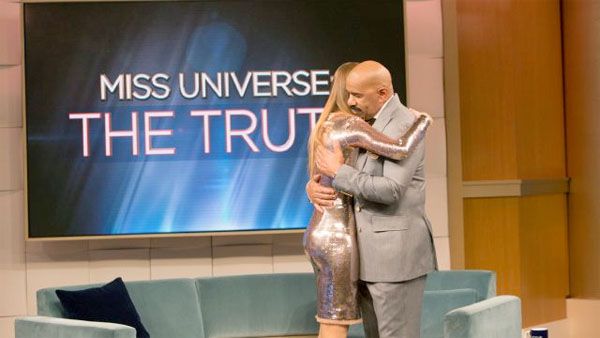 This will be the first time Miss Colombia and Steve meet face-to-face since the live ordeal that set off the Internet with tons of tweets, Instagram posts, FB statuses and countless memes attached to each post. At first, Ariadna was hesitant about coming on the show. Before agreeing to come, she did a poll on her Twitter account asking her followers if she should appear on the show. The majority of her fans encouraged her to go.
In a few sneak peek clips, Steve allows his audience members to ask some burning questions were dying to ask since the mishap went down on live television in December. Steve opens up saying,
"As bad as I felt, oh my God, Miss Colombia, how could she possibly have felt. And my heart bled for her and I haven't been able to speak to her since."
He then gets choked up talking about how his wife Marjorie Harvey was right there by his side every step of the way encouraging him and keeping him lifted up during the troublesome time. He says his mistake has majorly affected him AND also his family. People have gone as far as issuing death threats against him and his family on social media. Cold world.
Check it:
Steve then explains why he decided to walk back out on stage to fix his mistake. He says he would do it again if he had to:
In another clip, Miss Universe opens up about how she felt the moment she realized SHE was actually the winner:
We don't blame her, we would have kept our distance too. Ha!
Miss Universe then asked Steve to stop beating himself up about it, urging him to move on and be happy!:
Steve's sitdown with Miss Universe will air January 18th and his sitdown with Miss Colombia will air on the 19th. Will you be watching to get the full story?
Photos: NBC