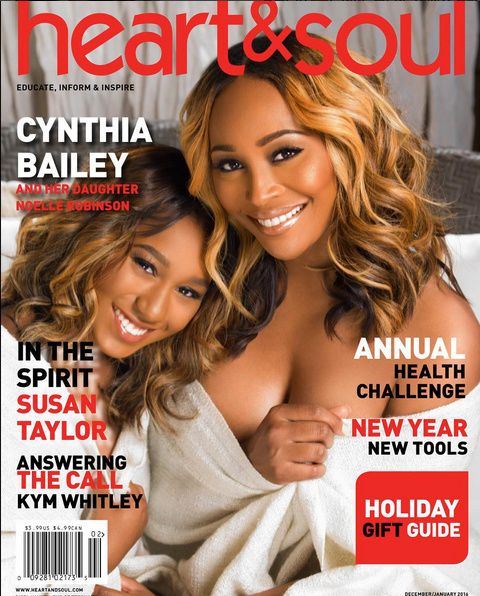 Cynthia Bailey and her daughter Noelle Robinson are bringing the mother-daughter fab on the newest issue of Heat & Soul magazine. Check out their first cover together inside….
Like mother, like daughter!
"Real Housewives of Atlanta" star Cynthia Bailey and her 16-year-old daughter Noelle Robinson are sitting pretty for Heart & Soul's December/January 2016 issue. The mother-daughter duo posed it up for their first magazine cover together. Looks like Noelle has been paying attention to her mom's modeling tips. They both look gorgeous.
The full spread and cover story hasn't been released yet, but Cynthia chopped it up with BRAVO's The Daily Dish recently about her daughter's ambitions to become a model. Yep, Noelle is following in her mother's footsteps and she couldn't be more excited to help her get her foot in the door.
Cynthia revealed Noelle was really into acting and singing (like her dad Leon Robinson) at first, but is now leaning towards a modeling career.
"In terms of modeling with Noelle, she's never really showed an interest before. She mostly gravitated toward the whole acting and singing thing. That's what her dad does. However, lately, she actually has been talking to me about doing some modeling.
Unfortunately, Cynthia, owner of modeling agency The Bailey Agency, had to inform her daughter she's not exactly ideal model height (she's 5'5"), but said there are many exceptions to the rule.
"There's always exceptions to the rule. There's different types of modeling. She would have to be definitely more of a petite model, but she wants to go for it. Of course, as her mom and CEO of the Bailey Agency School of Fashion, I'm going to help her open some doors."
Nice! Good luck Noelle.
Photo: Cynthia's IG