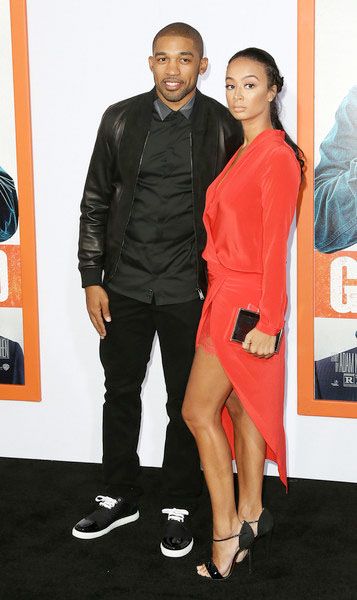 There is drama brewing in two reality show relationships. Draya, who's 6 months along with a son, and Orlando Scandrick have seemingly called off their engagement...again. Meanwhile, Joseline Hernandez went into a rage and trashed her husband Stevie J's home. Get the deets and see the damage inside….
There seems to be trouble in Draya and Orlando Scandrick's relationship…once again...nine days after Draya announces she pregnant with his baby. Oddly, he hasn't said a word about the pregnancy.
Apparently, the "Basketball Wives: L.A." star and Dallas Cowboys cornerback have called it quits, calling off their engagement.. AGAIN. You'll recall, Orlando called it off back in July 2015 saying he realized marrying her would be a poor decision.
This morning, Draya hopped on Instagram to celebrate reaching the 6-month mark in her pregnancy, but she also threw in a few subliminals that would lead one to believe she and Orlando were done. She mentions being surrounded by her two "kings," her son Kniko and the baby boy she's carrying.
She posted and wrote:
So we did a little digging, and found out Draya gave Orlando the $400K engagement ring back on New Year's. She told Black Sports Online writer Tamantha Gunn:
So you see, it appears she ended it this time.
BSO reported Orlando may have had doubts about whether the baby is his due to their on/off relationship. The site said there are rumors going around that Rap-A-Lot Records CEO Jas Prince could be the father. We're not sure how valid these rumors are, but someone caught Orlando semi-responding to the rumors on social media:
BSO reported Orlando stopped following Draya on Instagram. That's true, we checked his account and he does not follow her, but he does still follow her swimwear company's IG Mint Swim. BSO also reported Orlando deleted all pictures of Draya from his account, but doesn't seem to be true. We found a picture he still has up (at the time of this post) of them attending a basketball game together back in November:
Meanwhile, Draya has been opening up about heartache in a series of captions on her Instagram account. If the rumors are true, let's hope they can get along well enough to co-parent effectively for their baby boy. He'll be here soon!
If history continues to repeat itself, they'll be back together by next week.
In other break up news...
Well, it's not like we haven't seen these two go AT IT before...but Joseline Hernandez just took it up several notches that may have pushed Stevie J to his boiling point.
According to TMZ,"Love & Hip Hop: Atlanta" star Joseline lost her sh*t and TRASHED her husband's home. There was bleach used, things were smashed and items were destroyed, totaling more than $65,000 in damages. Yikes!
Stevie talked to the site revealing he returned to his house flipped upside down on Monday following a studio session with Faith Evans and Kelly Price in the studio. He even documented his session on Instagram posting:
We're here for that collabo! Back to the story....
Stevie claims Joseline went into a jealous rage because he was in the studio with them and totally trashed his belongings. He claims she destroyed a vintage $10k Bad Boy jacket (that was a gift from Diddy), $40k worth of clothes, $15k worth of Versace china and at least 20 pairs of sneakers. He claims she also ruined several gifts he was given from his kids on Christmas.
See him explain what went down and check out the damage she caused in a video clip here. Hmm...promo for their spinoff show?
SIGHS to it all....
Photos: Getty/BSO/Draya's IG