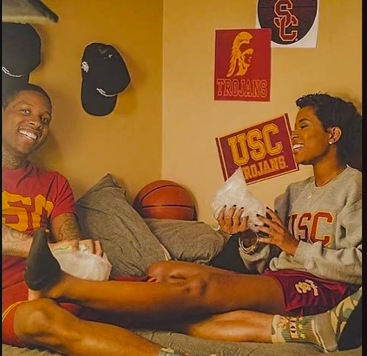 Even if you're confused on who rappers Lil Durk and Dej Loaf are, you may like their cute little video.  Check out the official "My Beyonce" video, plus actress Rashida Jones is bringing us back to the 90's in a new music video....
Def Loaf, who recently toured with Nicki Minaj, has been putting her love and affection for rapper Lil Durk on display these days.  Whether or not it's a publicity stunt to make everyone know who they are has yet to be confirmed.  But we'll admit, we love a "Love & Basketball" recreation.
For his track "My Beyonce" off his 300 Days 300 Nights mixtape, Durk plays Dej for her heart and vice versa.  Check out the video below:
In other music videos, the official music video for "Flip and Rewind" from Boss Selection just got an actress upgrade. Rashida Jones is in the video trying to relive the vibe and times of the 90's, an era she says she misses so much.  She recently told Rolling Stone:
The inspiration for the video that Will [McCormack] and I directed was to try to evoke the feeling of the Nineties, but not in a mocking way. I think for you and I both, it's such an important time musically, emotionally and psychologically. Every part of us formed during the Nineties, and we took all of the quintessential R&B videos from the Nineties and did our best to recreate them.
Jermaine Dupri and Tevin Campbell, L.A. Reid, her sister Kidada and more make an appearance. Rashida channels old school TLC, Mary J. Blige and a few other 90's videos we all loved.
Check it below: