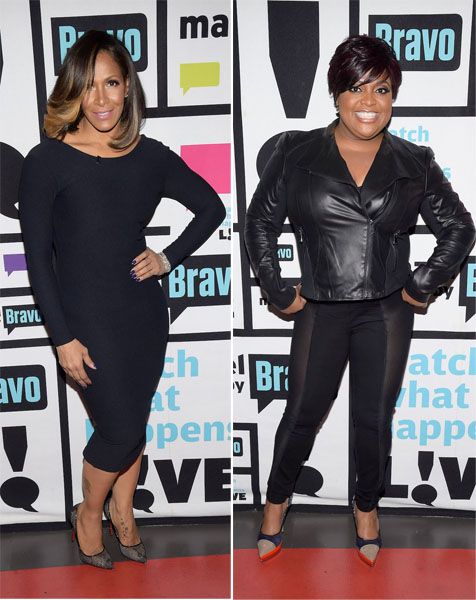 Sheree Whitfield and Sherri Shepherd dropped in the clubhouse to chop it up with Andy Cohen about a number of topics. Come inside to see what the ladies were dishing on….
"Real Housewives of Atlanta" star Sheree Whitfield and former "The View" co-host Sherri Shepherd stopped by the clubhouse to chit chat with Andy Cohen on "Watch What Happens Live" last night.
Both Sheree and Sherri went for black-on-black outfits (Sherri rocking DKNY) for their late night television appearance.
Once seated, the ladies were ready to dish to Andy and the audience on a number of topics. Sheree, who starred on the show previously, went on to explain why she decided to return to the hit reality series.
Sheree said when she was on the show the first few seasons, she was going through a lot of personal stuff (divorce, child support):
"Being away I was able to work on myself and my kids and felt like now was a good time to return," said Sheree.
She said she missed the girls and felt now was a good time to come back. And of course, those reality show checks we're sure she missed as well.
Check it:
When Sheree was asked about her relationship with Kenya, she didn't throw shade. She said she doesn't consider Kenya a friend per say, she said she's playing her cards as they are dealt. "I don't want to use the word 'friend' too loosely, so I would say keeping my enemies close," she said.
Sheree also commented on the altercation that went down during their girls' getaway to Miami. You'll recall, Kenya Moore and Tammy McCall Browning's nephew, Glen Rice Jr., getting into it, which resulted in Glen being escorted off the property and his aunt Tammy being hauled off in an ambulance after he pushed her to the ground.
"I was not expecting that. It got out of control quickly." Sheree said.
Sherri then chimed in saying,"I thought that guy was a little bit aggressive with the ladies. That was one time I sided with Kenya. He needed to leave."
Sheree continued, "I did not feel threatened at all. I don't think any of us really felt threatened. Actually, they [Kenya and Glen] were going back and forth in a playful banter, almost like flirty for a little while, so it was really weird."
Figures.
Check out the video here.
Later in the conversation, Sherri opened up about how she feels about Kenya after their feud during an episode of "WWHL" that spilled over on to Twitter. She said, "I admire Kenya and I respect her. I think that we just didn't gel, but I wish Kenya the best."
Peep the clip below:
Sherri also touched on former castmate NeNe Leakes calling the ladies of "The View" catty saying:
"I think Nene [Leakes] and Joy need to be the new WWE Divas," Sherri said. "I thought that Raven was really nice but there's a back story with Nene and Raven before they even got to the table."
Oh?
She also commented on the online petition that asked for Raven Symone's removal as a host."I think that just bolstered Raven being at the table. That made people talk about 'The View.' And Raven's a sweetheart. I would actually like to see Raven in another sitcom because she's so funny. I think that's where her talent lies."
Backhanded shade?  Check that video here.
Speaking of "RHOA," did you see the previews for NEXT week's episode? The HBIC NeNe Leakes will be making a return!
Photos: WWHL