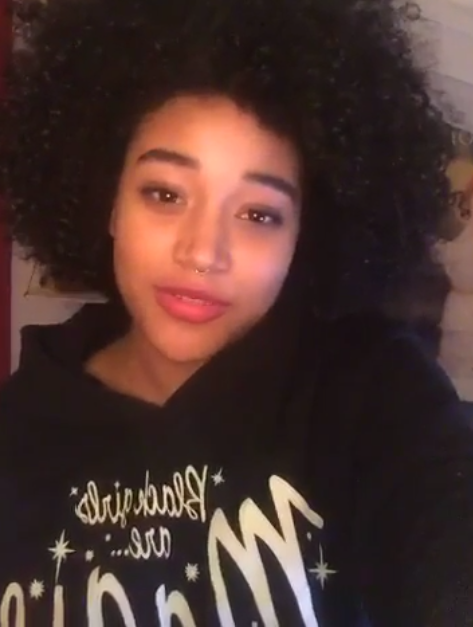 Well here's some news. Amandla Stenberg has revealed she's a bisexual black woman. Find out how she came out and take a listen to a new track by Willow Smith titled "FRAGILEHEART" inside….
Hunger Games starlet Amandla Stenberg graces the newest cover of Teen VOGUE where she offered up an interesting discussion with Solange Knowles Ferguson on black culture.
Following the release of her first ever Teen VOGUE cover, the 17-year-old actress took over the magazine's SnapChat account where she revealed she identities as a black bisexual woman.
She started off her series of Snap videos talking about the hardships of trying to mold oneself to fit the norm saying,
"It's a really really hard thing to be silenced and it's deeply bruising to fight against your identity and to mold yourself into shapes that you just shouldn't be in."
Then she made the revelation. The YBF actress, a self-described "feminist since birth," revealed that not only is she a black woman living in America, she's also sexually attracted to both men…and women. She continued,
"As someone who identifies as a black, bisexual woman I've been through it, and it hurts, and it's awkward and it's uncomfortable…but then I realized because of Solange [Knowles Ferguson] and Ava DuVernay and Willow [Smith] and all the black girls watching this right now, that there's absolutely nothing to change."
The socially conscious teen then went on to offer up some advice to other young, black women to always live in their truth and to be whatever it they were meant to be. She said,
"We cannot be suppressed. We are meant to express our joy and our love and our tears and be big and bold and definitely not easy to swallow...Here I am being myself and it's definitely hard and vulnerable and it's definitely a process but I'm learning and I'm growing."
Interesting. Press play above to hear her reveal above. Thoughts?
Meanwhile, Amandla's celeb bestie just dropped a track...
15-year-old Willow Smith is back to making waves on the music scene. Following the release of her debut album ARDIPITHECUS, the YBF teen offers up a brand new track for her fans titled "FRAGILEHEART." In the song (which has a funky beat), the daughter of Will & Jada Pinkett Smith croons about how all humans should show compassion and love to other human beings. Take a listen above.
Speaking of showing compassion....
The free-spirted teen also offered up support for her brother Jaden Smith who's the new face of Louis Vuitton's womenswear SS 2016 ad campaign. She defended her brother saying:
Don't you dare put the Smith kids' in a box. They are not here for society's "standards."