Proud parents Kandi Burruss Tucker and Todd Tucker have revealed the name of their son: Ace Wells Tucker. And they've been getting plenty of visits from their friends. Come inside to see their pics, plus shots of Mariah Carey, Roc& Roe on the beach along with a cute pic of Kelly Rowland, Baby Titan and Mama Tina….
"Real Housewives of Atlanta" star Kandi Burruss Tucker and her husband Todd Tucker welcomed their precious baby boy yesterday. And now we know his name: Ace Wells Tucker!
The 39-year-old singer explained why she chose the name Ace telling E! News, "We named our beautiful baby boy Ace because I wanted something unique. When he becomes school age, hopefully he won't have to worry about another person in the class having his name."
She added, "More than that, Ace represents the number 1 and that of the highest quality and our baby Ace is definitely that! His middle name Wells was Todd's mother's last name. Using her last name as his middle name was our way of honoring her memory."
Aww! What a nice way to remember his mom. And guess what? He already has his own Instagram account. Ha!
As expected, Kandi and Todd's family and friends are ecstatic that Baby Ace has made his arrival. So, all of Kandi's friends have been stopping by to get their first look and to meet the little bundle of joy.
Kandi's former Xscape band mate Tiny, who's also pregnant, stopped back to check on her friend and new baby. The "RHOA" star said, "I was happy to see my sis @majorgirl today. I'm mad we didn't get to do a pregnancy belly pic together. We should've thought of that before today! Lol!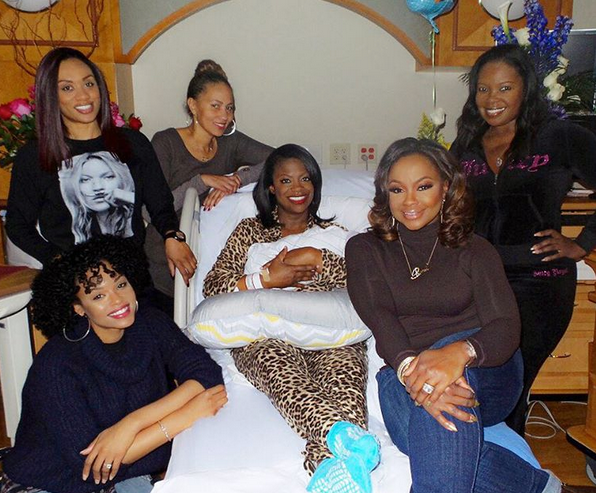 A few of Kandi's cast mates also dropped by including newly engaged Demetria McKinney and Phaedra Parks even made an appearance. Nice to see Phaedra stop by to visit her friend even after all of their drama. The R&B singer's bestie Carmon and her friend Tobey Renee also dropped by.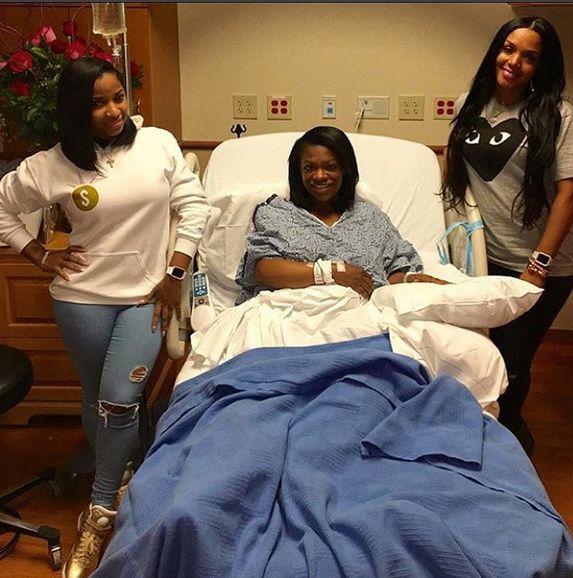 Former reality star Toya Wright and "Love & Hip Hop: Atlanta" star Rasheeda showed love.
Papa Todd got in some bonding time with his baby boy. And have this sweet message:
Me and my little man!!! I wish my mom could be here to meet him. She would be so happy and proud of Kandi and I!!! God is good!!! All the time!!!
Mama Joyce wasn't far behind. She was all smiles craddling her first grandson.
Baby Ace's big sisters Kaela Tucker and Riley Burruss gazed at their baby brother with excitement.
Kandi's "Kandi Koated Nights" co-host Nikki Nicole stopped by to show love.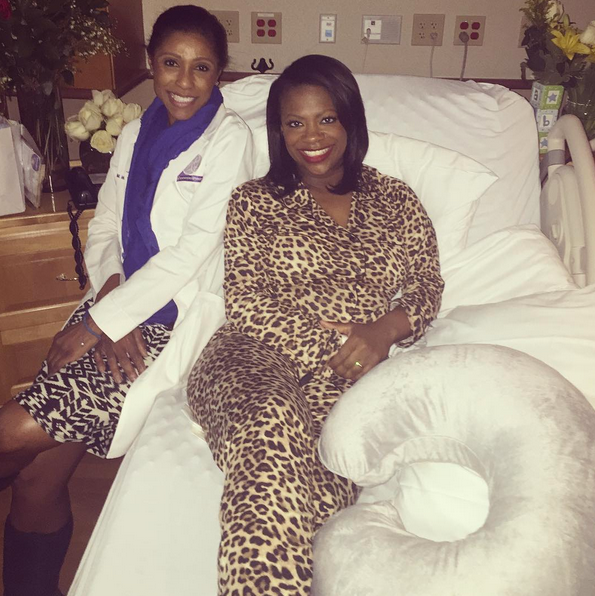 And of course, her doctor Jackie Waters, who stars on "Married to Medicine," stopped for a photo-op.
Congrats again to the couple on their new bundle of joy!
On an island...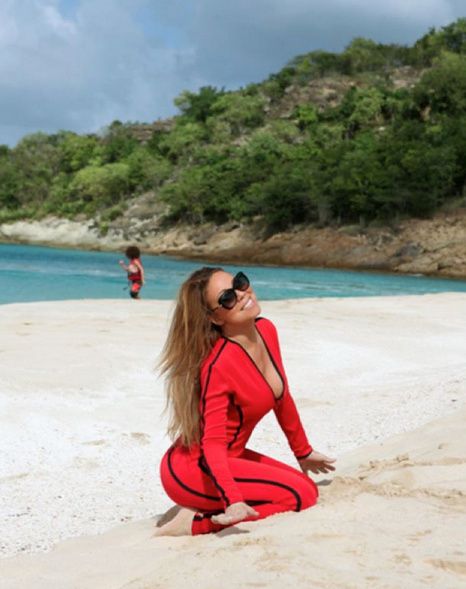 Mariah Carey stays on a beach these days doesn't she? We're not mad about it either. The Elusive Chanteuse songstress hit the beach with her twins Roc and Roe for some fun in the sun on an island.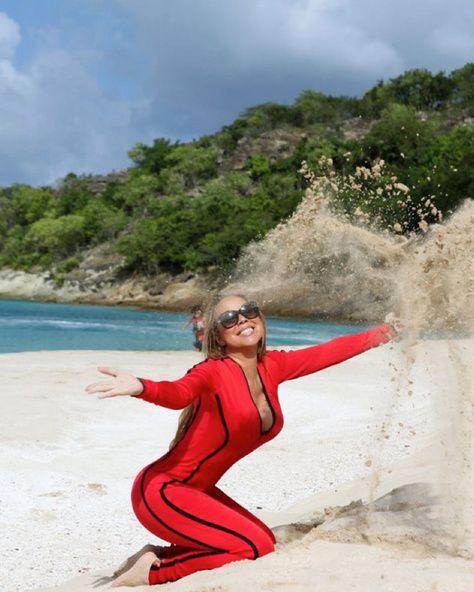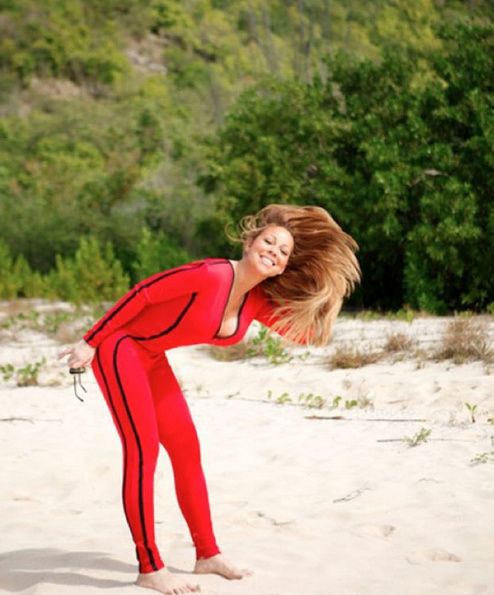 Chick is definitely enjoying life these days.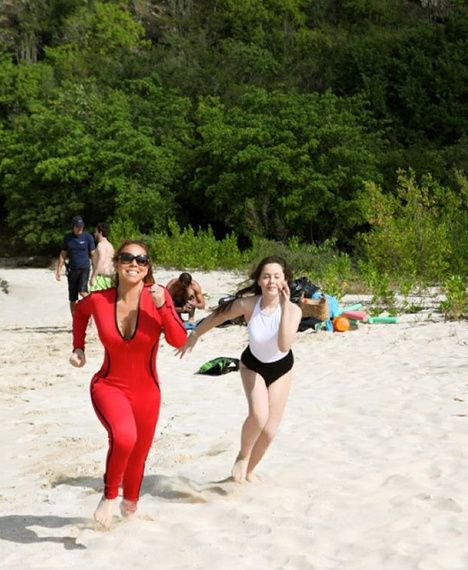 Her career is going good, she has a man who loves her and her kids are healthy. We'd say, life couldn't be better.
Speaking of living the good life...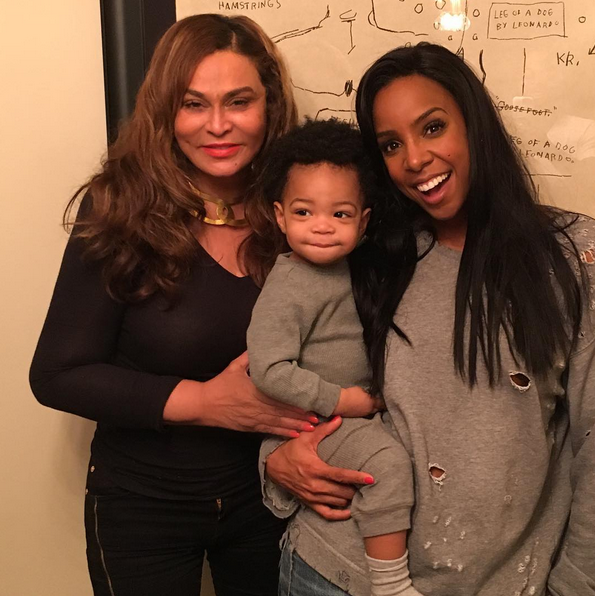 Mama Tina is also in good spirits these days. She recently celebrated her 62nd birthday with her daughters, Beyonce and Solange, along with her "daughter" Kelly Rowland and step-daughter Bianca Lawson at Del Friscos Grille in Santa Monica, California. She has found love and is living the married life with her husband Richard Lawson.
On Instagram, Mama Tina shared a cute family flick with Kelly and Baby Titan above with the caption, "I am soo blessed to have all my beautiful girls in my life, and of course my awesome grandchildren!" Aww...#FamilyGoals!
Photos: Kandi's IG/Ace's IG/Mariah's IG/Tina's IG