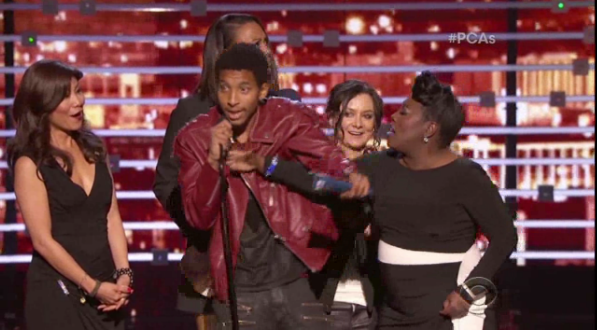 If you were watching, foolishness occurred at last night's People's Choice Awards.  Now, the perpetrator of it all has been arrested.  Get the update inside, plus a HILARIOUS Ride Along reunion with Kevin Hart, Ice Cube and Conan O'Brien....
Sheryl Underwood and Sharon Osbourne put their gangsta on display last night at teh People's Choice Awards.  While accepting their Award for Favorite Talk Show Hosting Team, a man, now identified as Zicario Nicasio, stormed the stage and jacked the mic Kanye-style.  No clue what this guy was trying to say, but "The Talk" hosts weren't having it.
Sheryl and Sharon yanked the mic back and kicked him off stage.  Check it:
Now, the crasher has been arrested.  He was actually snatched by private security last night and charged with a misdemeanor for interfering with a live event. His court date is scheduled for Jan. 27.
In other videos, Ice Cube & Kevin Hart are cutting up again with Conan O'Brien.  They all went on a car ride while promoting the first Ride Along movie, so it's only right they reunite before Ride Along 2 comes out.
This time, the talk show host brought one of his employees along who is learning how to drive.  And pure foolery ensues.  Check out their weed smoking, traffic law breaking, Popeye's eating adventure above...