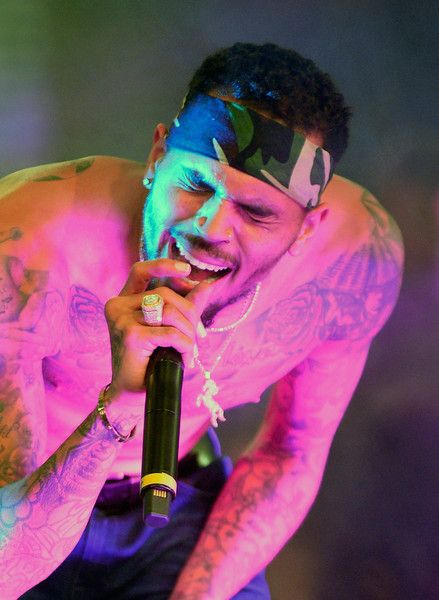 Here we go again.  In Vegas, a woman is throwing around accusations that Chris Brown punched her in the face Saturday in Vegas.  Details inside...
[UPDATE]: Chris just posted on his social media about tightening up his circle:
Oh.
Maybe it's time for Breezy to rethink his stay in Vegas.  Whether he's guilty of the accusations thrown at him or not.
Just eight months after the singer was accused of punching a man in the face on the basketball court of his Vegas hotel suite, he's being accused in another Vegas punching incident.
Now, a woman named Lizane Gutierrez (who is allegedly a Brazilian model) tells TMZ that she was in Chris' suite at the Palms hotel early Saturday morning at an afterparty.  She got her phone passed his security and whipped it to take a photo of Chris, and that's when he allegedly snapped.  The site reports:
The alleged victim tells us she was at a private party in Brown's suite at the Palms Hotel in Vegas early Saturday morning. She says she was able to get her cellphone into the suite without his security noticing and when she took a pic of the singer, he went off, yelling at her and punching her once in her right eye.

The alleged victim, whose name is Liziane Gutierrez (we're only identifying at her request) says she left the party and called the cops a few hours later but was not taken to the hospital. 
There's pics of her alleged injury HERE.
As quickly as the accusations surfaced, Chris Brown's team has already issued a flat out denial.  Vegas police are currently investigating.
Chris is currently in Vegas to perform at DRAIS nightclub (pictured above on Friday night).
EXTRAS:
1. Why?! North Carolina Powerball lotto winner's boyfriend posts $12M bond in fourth bail-out since she won $188M jackpot
Photo: Getty