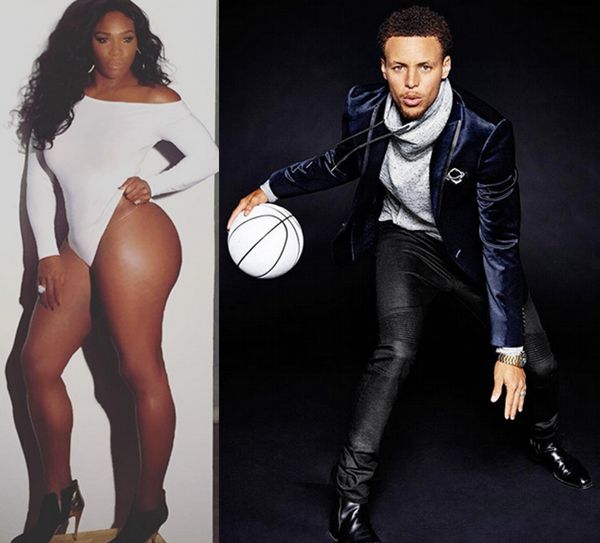 In case you missed it, two of our fave athletes had the best sports year ever.  Steph Curry's and Serena Williams' big year just got the stamp of approval from the AP.  Deets inside...
The AP has announced the top male and female athletes of 2015.  And it's no surprises here.
Golden State Warriors guard Stephen Curry has been named the 2015 Associated Press Male Athlete of the Year.  After leading the Warriors to the team's first championship 40 years this summer, and making NBA history with the 24-0 record to kick off this new season, 27-year-old Steph Curry has arguably become the fresh new face of the NBA.
His daughter Riley is giving him 'internet streets' cred thanks to her memes (ha!) and wife Ayesha is bomb in her own right. We love watching the Currys do what they do, and so does everyone else it seems.  Steph -- who is now the face of Express -- joins Larry Bird (1986), Michael Jordan (1991-93) and LeBron James (2013) who are the only other NBA players to nab this title.
As for the ladies, our spirit animal Serena Williams has been named the 2015 Associated Press Female Athlete of the Year.  She set too many records to even name this year, but the 34-year-old now has 69 career singles titles to her name.  She's played through sickness and injury, gotten through personal tribulations, and is still one of, if not THE, best tennis player in the world.
Serena took to her social media to thank her fans saying:
Female athlete of the year from AP. Thank you. It's been an incredible year. I look forward to making more memorable memories next year. I love you all
Major.  Congrats to Serena and Steph!