The rumors have been proven true.  NFL star Cam Newton just welcomed his first child with girlfriend Shakia Proctor.  But....did he confirm it before his recent official announcement?  Deets inside...
For months now, we've heard rumblings that Panthers QB Cam Newton was expecting a baby with his girlfriend.  A while back, the twosome were spotted in VERY grainy pics walking around an Atlanta mall and a baby bump seemed to be present.  Then a few baby shower pics popped up on social media that were allegedly from Kia's shower.
Cam has been notoriously private about his personal life, including his relationship.  He's hit a red carpet or two and a basketball game or two with Kia, but has never spoken publicly about her.
So when Cameron made the announcement on Twitter late last night that he recently welcomed a baby boy with his long time girlfriend, plenty of folks were caught by surprise.  He said: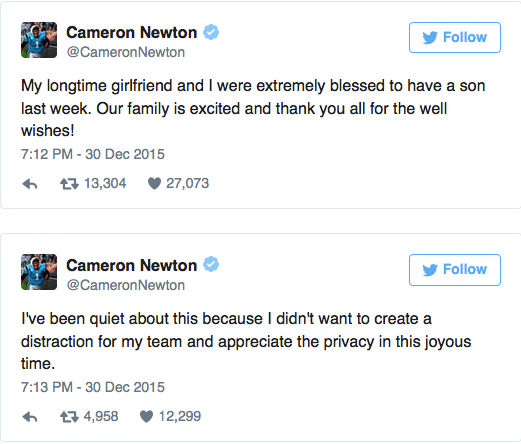 We hear the baby actually was born on Christmas Eve.  Reports state that Cam left practice early that day to rush to Atlanta -- before his big game the following Sunday right there in his hometown.
Despite the Panthers losing their first game of the season against the Falcons that Sunday, Cam was upbeat in the post game conference.  We're sure his new baby boy had something to do with that.
And then there's this:
During Sunday's game, several days before he made the official announcement, Cam did a rock-the-baby dance after a touchdown (and before the Dab, ha!).  When he was asked about it in his post game conference, he said he'll just leave it at that.  Hmph.
As for his girlfriend of close to 3 years Kia, who is allegedly a former model (many sites say a former stripper) named Hazel according to the images, video and reports on the net, the new baby is actually her second.  She has a pre-teen daughter from a previous relationship.
Congrats to the couple!
Photos: Getty/Kia's IG