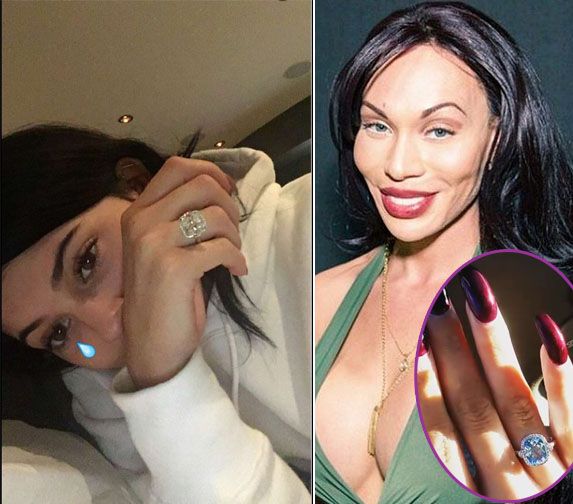 Hmm…is trans "model" Mia Isabella shading Tyga's (on-again?) girlfriend Kylie Jenner on social media? Seems like it. Get the latest inside…
Well, well, well. It appears Tyga may have found himself in some ish…again.
Over the holiday weekend, the rapper's girlfriend Kylie Jenner was busy showing off a new (and gorgeous) massive diamond ring she was given for Christmas, likely from her (on-again?) beau Tyga. No, she's not engaged. She's wearing it on her right hand. But, it appears that guys giving their chicks these huge diamond rings with no proposal is the new "in" thing these days.  We've seen it with a few celebrity men and women.
She didn't post a caption, just a Santa Claus emoji.
Well, remember the trans "model" Mia Isabella who claimed she once had a relationship with T-Raww? Chick hopped on Instagram yesterday to show off her bling as well. She posted up a video (where we snapped a screenshot) of a huge diamond ring on her finger saying:
"Anybody can do that lol hw bought me one too except I've had mine for years"
Oh? While, Mia didn't name any names it's pretty obvious whom she's referring to. Mmhmm...
Meanwhile, Kylie is on SnapChat posting clips of herself make-up free rocking her new bling:
Hmm...is this Kylie's way of clapping back?
Everyone should just stop the subliminals and call a spade a spade. If Mia has some (more) tea she wants to spill, she should come on out with it.
EXTRAS:
1.  Matt Barnes -- Smacked With Two Game Suspension ... For Derek Fisher Incident STORY
Photos: Mia's IG/Kylie's SnapChat