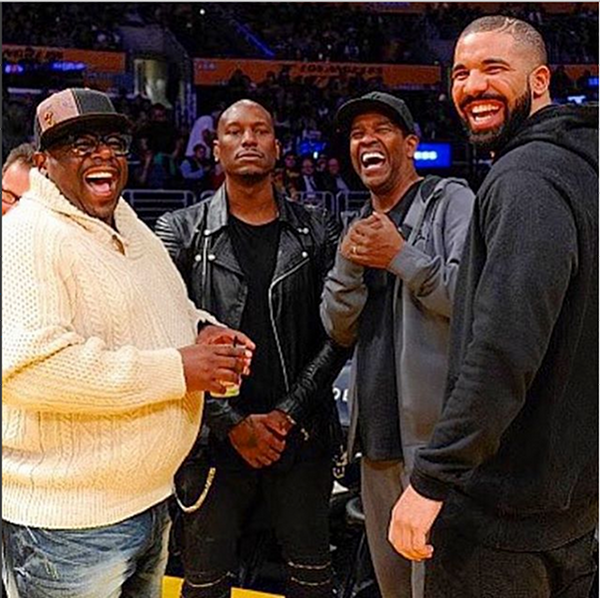 Drake, Denzel Washington and Cedric the Entertainer were all smiles at the Lakers vs. OKC game last night. Tyrese must have missed the joke. Ha! More inside…
Drake made his way back to the Staples Center last night to see the Los Angeles Lakers go head-to-head against the Oklahoma City Thunder. And his night out was certainly one for the books.
Sitting courtside, he linked up with Hollywood veteran Denzel Washington, comedian/actor Cedric the Entertainer and singer Tyrese. The guys were all smiles as they were kiki'n it up on the sidelines, but it's apparent Ty either missed the joke or didn't find it amusing because he wasn't smiling at all in the picture. Ha!
Drizzy experienced a full circle moment as he shared laughs with one of the greatest actors of our time. The Young Money rapper shared a story on how he had a chance to meet Denzel back in the day, but got cold feet when it was time to ask for a picture. Here's what he said:
I went to see Denzel Washington in Julius Caesar years ago in NYC with my best friend Mazin. After the play was done Denzel was standing outside and my boy asked him for a pic and of course he said yes. I was too nervous to ask him for another one so I walked away. I regretted that decision for years. I used to have to look at my boys epic pic and I was convinced I missed the chance to freeze a moment with one of the biggest inspirations in my life. Now its the end of 2015 and here is a picture of me and Tyrese trying to help Denzel work his phone. Life is a wonderful thing when you are living right. Grateful for this moment
Now look at him! He's schooling Denzel on how to work his phone and laughing it up like old friends. Nice!
Oh…and there's also a funny video clip of the guys assisting the "Training Day" actor with his phone. Check it:
Fun times!
By the way, the Thunder defeated the Lakers 120-85.
Photos: Drake's IG/Tyrese's IG